An Effective Non-skid.
9th January 1923
Page 22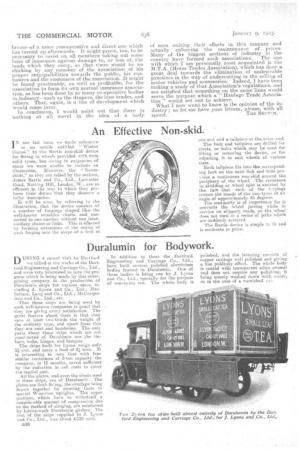 Page 22, 9th January 1923 —
An Effective Non-skid.
Close
IN our last issue we made reference
in an article entitled " Winter Comes" to the Bartle non-skid device for fitting to wheels provided with twin solid tyres, but, owing to exigencies of space we were unable to include an illustration. However, the " Neverskids," as they are called by the makers, James Bartle and Co., Ltd., Lancaster Bead, Notting Bill, London, W. are so efficient in the way in which they perform their duties that they deserve a fuller description.
It will be seen, by referring to the illustration, that the device consists of a number of forgings shaped like, the well-known swastika Charm and connected to one another without any intermediary chains or links. This is effeCted by forming extensions of the centre of each forging into the shape of a. fork at one end and a tailpiece at the osnes end.
The fork and tailpiece are drilled for rivets, or bolts which may be used for fitting or removing the device, or for adjusting it to suit wheels of various sizes, Each tailpiece fits into the correspond-• ing fork on the next link and thus provides a continuous non-skid around the periphery of the wheel. The resistance to skidding or wheel spin is assisted by the fact that, each of the forgings crosses the treads of the two tyres at an single of approximately.45 degrees. The continuity is of importance for it prevents the wheel jarring while in service on slippery roads, as-the wheel does not turn in a series f jerks which are suddenly arrested.
The Bartle device is simple to fit and is moderate in price.