Passenger-Vehicle Topics.
9th January 1913
Page 8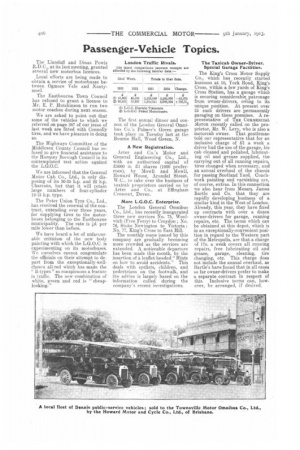 Page 8, 9th January 1913 —
Passenger-Vehicle Topics.
Close
The Llandaff and Dinas Powis R.D.c., at its last meeting, granted several new motorbus licences.
Local efforts are being made to obtain a service of motorbuses between Ogmore Vale and Nantymoel.
The Eastbourne Town Council has refused to grant a licence to Mr. E. P. Hutchinson to run two motor coaches during next season.
We are asked to point out that some of the vehicles to which we referred on page 387 of our issue of last week are fitted with Connolly tires, and we have pleasure in doing
SO.
The Highways Committee of the Middlesex County Council has refused to give financial assistance to the Hornsey Borough Council in its contemplated test action against the L.G.O.C.
We are informed that the General Motor Cab Co., Ltd., is only disposing of its 3045 h.p. and 22 Charrons, but that it will retain large numbers of four-cylinder 12-15 h.p. type.
The Peter Union Tyre Co., Ltd., has received the renewal of the contract, extending over three years, for supplying tires to the motorbuses belonging to the Eastbourne municipality. The rate is id, per mile lower than before.
We have heard a lot of unfavourable criticism of the new body painting with which the L.G.O.C. is experimenting on its motorbuses. We ourselves cannot congratulate the officials on their attempt to depart from the exceptionally-Wellchosen all-red which has made the " B-types " so conspicuous a feature in traffic. The new combination of white, green and red is "cheaplooking-" The first annual dinner and concert of the London General Omnibus Co.'s Palmer's Green garage took place on Tuesday last at the Bourne Hall, Wood Green, N.
A New Registration.
Arter and Co.'s Motor and General Engineering Co., Ltd., with an authorized capital of 15000 in El shares (1000 preference), by Mowll and Mown, Howard House, Arundel Street, W.C., to take over the business of taxicab proprietors carried on by Arter and Co,, at Effingham Crescent, Dover.
More L.G.O.C. Enterprise.
The London General Omnibus Co., Ltd., has recently inaugurated three new services No. 75, Woolwich (Free Ferry) to Croydon ; No. 76, Stoke Newington to Victoria ; No. 77, King's Cross to East Hill.
The monthly maps issued by this company are gradually becoming more crowded as the services are extended. A noticeable departure has been made this month, by the insertion of a leaflet headed "Hints on how to avoid accidents." This deals with cyclists, children, and pedestrians on the footwalk, and the advice is largely based on the information culled during the company's recent investigations.
The Taxicab Owner-Driver, Special Garage Facilities.
The King's Cross Motor Supply Co., which has recently started business at 10, York Road, King's Cross, within a few yards of King's Cross Station, has a garage which is securing considerable, patronage from owner-drivers, owing to its unique position. At present over 25 such drivers are permanently garaging on these premises. A representative of THE COMMERCIAL .310TOR recently called on the proprietor, Mr. W. Levy, who is also a motorcab owner. That gentleman told our representative that for an inclusive charge of £1 a week a driver had the use of the garage, his cab cleaned and polished, lubricating oil and grease supplied, the carrying out of all running repairs, tires changed when necessary, and an annual overhaul of the chassis for passing Scotland Yard. Coachwork painting and varnishing are, of course, extras. In this connection we also hear from Messrs. James Bartle and Co. that they are rapidly developing business of a similar kind in the West of London. Already, this year, they have fixed up contracts with over a dozen owner-drivers for garage, running repairs, etc. The terms which can be obtained at this depot, which is in an exceptionally-convenient position in regard to the Western part of the Metropolis, are that a charge of 17s. a week covers all running repairs, free lubricating oil and grease, garage, cleaning, tire changing, etc. This charge does not include the annual overhaul, as Bartle's have found that in all cases so far owner-drivers prefer to make a separate contract in respect of this. Inclusive terms can, however, be arranged, if desired.