Lancashire and Yorkshire Railway Enterprise.
9th January 1913
Page 6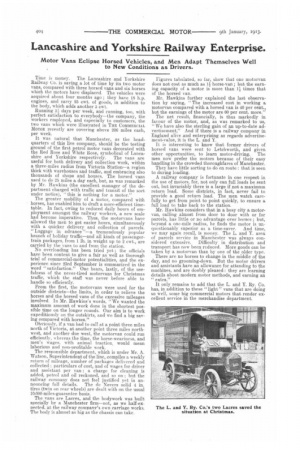 Page 6, 9th January 1913 —
Lancashire and Yorkshire Railway Enterprise.
Close
Motor Vans Eclipse Horsed Vehicles, and Men Adapt Themselves Well to New Conditions as Drivers.
Time is money. The Lancashire and Yorkshire Railway Co. is saving a lot of time by its two motor vans, compared with three horsed vans and six horses which the motors have displaced. The vehicles were acquired about four months ago ; they have 18 h.p. engines, and carry 25 cwt. of goods, in addition to the body, which adds another 5 cwt.
Running days per week, and running, too, with perfect satisfaction to everybody—the company, the
workers employed, and especially to customers, the two vans which were illustrated in THE COMMERCIAL MOTOR recently are covering above 200 miles each, per week.
It was natural that Manchester, as the headquarters of this live company, should be the testing ground of the first petrol motor vans decorated with the Red Rose and White Rose, symbolical of Lanca shire and Yorkshire respectively. The vans are useful for both delivery and collection work, within a three-miles radius from Victoria Station—a region thick with warehouses and traffic, and embracing also
thousands of shops and houses. The horsed vans used to do 25 miles a day each, but, as was remarked
by Mr. Hawkins (the excellent manager of the department charged with traffic and transit of the sort under notice), " this is nothing for a motor." The greater mobility of a motor, compared with horses, has enabled him to draft a more-efficient time table. In fact, owing to reduced daily hours of em ployment amongst the railway workers, a new scale had become imperative. Thus, the motorvans have allowed the men to get easier hours, simultaneously with a quicker delivery and collection of parcels. "Luggage in advance "—a tremendously popular branch of holiday traffic—and all kinds of passengertrain packages, from 1 lb. in weight up to 2 cwt., are carried by the vans to and from the station.
No overloading has been tried yet ; the officials have been content to give a fair as well as thorough trial of commercial-motor potentialities, and the ex perience since 23rd September is summarized in the word "satisfaction." One hears, lastly, of the use fulness of the never-tired motorvans for Christmas traffic, which the staff was never before able to handle so efficiently. From the first, the motorvans were used for the outside districts—the, limits, in order to relieve the horses and the horsed vans of the excessive mileages involved. In Mr. Hawkins's words, "We wanted the maximum amount of work done in the shortest pos sible time on the longer rounds. Our aim is to work expeditiously on the outskirts, and we find a big saving compared with horses."
Obviously, if a van had to call at a point three miles north of Victoria, at another point three miles north west, and another due west, the inotorvan could run efficiently, whereas the time, the horse-weariness, and men's wages, with animal traction, would mean laborious and nonearofitahle work.
The responsible department, which is under Mr. A. Watson, Superintendent of the line, compiles a weekly return of mileage, number of packages delivered and collected : particulars of cost, and of wages for driver and assistant per van a charge for cleaning is added, petrol and oil reckoned, and so on ; but the railway comnany does not feel justified yet in an nouncing full details. The de Nevers solid 4 in. tires (twin on rear wheels) are dealt with on the usual 10.000-miles-guarantee. basis.
The vans are La,cres, and the bodywork was built specially by a Manchester firm—not, as we half-exfleeted. at the railway company's own carriage works. The body is almost as big as the chassis can take. Figures tabulated, so far, show that one motorvan does not cost as much as fi horse-van ; but the earning capacity of a motor is more than 11 times that of the horsed van.
Mr. Hawkins further explained the last observation by saying, "The increased cost in working a motorvan compared with a horsed van is 40 per cent., but the earnings of the motor are 60 per cent. more."
The net result, financially, is thus markedly in favour of the motor, and, as was remarked to us, "We have also the sterling gain of an up-to-date advertisement," And if there is a railway company in England alive and enterprising as regards advertisement-value, it is the L. and Y. It is interesting to know that former drivers of horsed vans were sent to Letchworth, and given other opportunities, to learn motor-driving. The men now prefer the motors because of their easy handling in the crowded thoroughfares of Manchester. They have little sorting to do en route : that is seen to during loading. A railway company is fortunate in one respect in the use of motors, for, not only can full loads be sent out, but invariably there is a large if not a maximum return load. Some districts, in fact, never fail to provide a good return load. The men watch carefully to get from point to point quickly, to ensure a full load to take back to the station.
Mr. Hawkins considers that in a busy city a. motorvan, calling almost from door to door with or for parcels, has little or no advantage over horses ; but, beyond a one-mile radius, he finds the motor is un questionably superior as a time-saver. And time, we may again recall, is money. The L. and Y. area of parcels service in Manchester was always considered extensive. Difficulty in distribution and transport has now been reduced. More goods can be taken by a motorvan than by one of the older type.
There are no horses to change in the middle of the day, and no grooming-down. But the motor drivers and assistants have an allowance for attending to the machines, and are doubly pleased : they are learning details about modern motor methods, and earning an " extra."
It only remains to add that the L. and Y. Ry. Co. has, in addition to these "light" vans that are doing so well, some big commercial motors that render excellent service in the merchandise department.