One Hears— That no two tubes scale alike.
9th January 1913
Page 3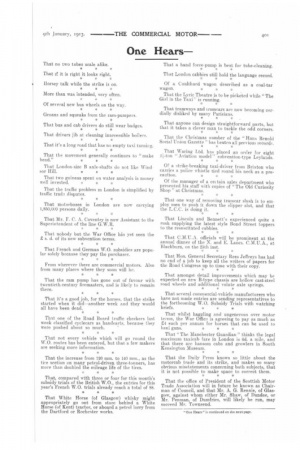 Page 4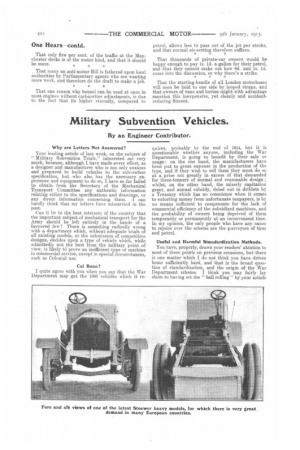 Page 3, 9th January 1913 —
One Hears— That no two tubes scale alike.
Close
Keywords :
That if it is right it looks right.
llorsey talk while the strike is on.
More than was intended, very often.
Of several new bus wheels on the way.
Groans and squeaks [rum the ram-pumpers.
That bus and cab drivers do still wear badges.
That drivers jib at cleaning inaccessible boilers.
That it's a long road that has no empty taxi turning.
That the movement generally continues to "make head."
That London-size B axle-shafts do not like Wind sor Hill.
That two guineas spent on water analysis is money well invested.
That• the traffic problem in London is simplified by traffic trade disputes.
That motorbuses in London are now carrying 1,850,CM persons daily.
That Mr. F. C. A. Coventry is now Assistant to the Superintendent of the line G.W.R.
That nobody but the War Office hits yet seen the s. d. of its new subvention terms.
That _French and German W.O. subsidies are popular solely because they pay the purchaser.
From wherever there are commercial motors. Also from many places where they soon will be.
That the ram pump has gone out of favour with twentieth-century firemasters, and is likely to remain there.
That it's a good job, for the horses, that the strike started when it did—another week and they would all have been dead.
That one of the Road Board traffic checkers last, week classified cyclecars as handcarts, because they were pushed about so much.
• That not every vehicle which will go round the W.O. routes has been entered, but that a few makers are seeking more information.
That the increase from 120 mm. to 140 mm., as the tire section on many petrol-driven three-tonners, has more than doubled the mileage life of the tires.
That, compared with three or four for this month's subsidy trials of the British W.O., the entries for this year's French W.O. trials already reach a total of 88.
That White Horse (of Glasgow) whisky might appropriately go out from store behind a White Horse (of Kent) tractor, or aboard a petrol lorry from the Dartford or Rochester works. That a hand force-pump is best for tube-cleaning.
That London cabbies still hold the language record. * Of a Coulthard wagon described as a coal-tar wagon.
That the Lyric Theatre is to be picketed while "The Girl in the Taxi" is running.
That tramways and tramcars are now becoming cordially disliked by many Parisians.
That anyone can design straightforward parts, but that it takes a clever man to tackle the odd corners.
That the Christmas number of the "Hans Renold Social Union Gazette " has beaten all previous records.
That Waring Ltd. has placed an order for eight "Aviation model" subvention-type Leylands.
O a. strike-breaking taxi-driver from Brixton who carries a police whistle tied round his neck as a precaution.
Of the manager of a eel tairt sales department who presented his staff with copies of "The Old Curiosity Shop" at Christmas.
That one way of removing tramcar slush is to employ men to push it down the slipper slot, and that the L.C.C. is doing it.
That Lincoln and Bennett's experienced quite a rush supplying the latest style Bond Street toppers to the resuscitated cabbies.
That C.M.U.A. officials will be prominent at the annual dinner of the N. and E. Lancs. C.M.U.A., at Blackburn, on the 25th inst.
That Hon. General Secretary Rees Jeffreys has.had no end of a job to keep all the writers of papers for the Road Congress up to time with their copy.
That amongst detail improvements which may be expected on new B-type chassis are hollow cast-steel road wheels and additional volute axle springs.
That several commercial-vehicle manufacturers who have not made entries are sending representatives to the forthcoming W.O. Subsidy Trials with watching briefs.
That whilst haggling and ungenerous over motor terms, the War Office is agreeing to pay as much as 24 each per annum for horses that can be used to haul guns.
That "The Manchester Guardian" thinks the legal maximum taxicab fare in London is Gd. a mile, and that there are hansom cabs and growlers in South Kensington Museum.
That the Daily Press knows so little about. the motorca,b trade and its strike, and makes so many obvious misstatements concerning both subjects, that it is not possible to make space to correct them.
That the office of President of the Scottish Motor Trade Association will in future be known as Chairman of Council, and that Mr. A. G. Rennie, of Glasgow, against whom either Mr. Shaw, of Dundee, or Mr. Penman, of Dumfries, will likely be run, may succeed Mr. Townsend. That only five per cent. of the traffic at the Manchester docks is of the motor kind, and that it should be more.
That many an anti-motor Bill is fatheredupon local authorities by Parliamentary agents who are wanting more work, and therefore do the draft to make a job.
That one reason why benzol can be used at once in most engines without carburetter adjustments, is due to the fact that its higher viscosity, compared to petrol, allows less to pass out of the jet per stroke, and that normal air-setting therefore suffices.
That thousands of private-ear owners would be happy enough to pay 1s. 1d. a gallon for their petrol, and that they cannot make out how 8d. and is. 1d, come into the discussion, or why there's a strike.
That the starting-handle of all London motorbuses will soon be held to one side by looped straps, and that owners of vans and lorries might with advantage sanction this inexpensive, yet cleanly and accidentreducing fitment.