Answers to Queries.
9th January 1913
Page 16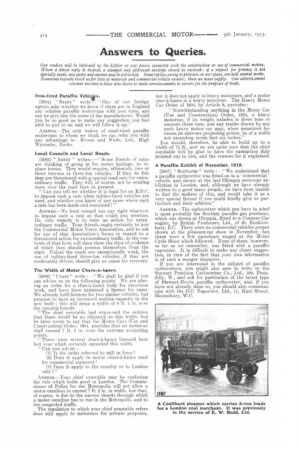 Page 16, 9th January 1913 —
Answers to Queries.
Close
Our readers will be informed by the Editor on any points connected with the construction or use of commercial Motors. Where a direct reply is desired, a stamped and addressed envelope should be enclosed : if a request for privacy is not specially made, any query and answer may be published. Some replies, owing to pressure on our space, are held several weeks. Numerous requests reach us for lists of motorcab and commercial-vehicle owners ; these we never supply. Our advertirement columns are obeli to those who desire to make announcements to owners for the P.47POSCS of trade.
Iron-tired Paraffin Vehic.iips. •
[2084] " SALES " One of our foreign agents asks whether we know if there are in England any reliable paraffin motorvans with iron tires, and can we give him the name of the manufacturer. Would you be no good as to make any suggestion you feel able to put to us, and we will follow it up."
ANSWER.—The only maker of steel-tired paraffin motorvans to whom we think we can refer you with any advantage is : Broom and Wade, Ltd., High Wycombe, Bucks.
Local Councils and Local Roads. •
[2085] "AGENT writes:—' Seme friends of mine are thinking of going in for motor haulage. to replace horses. They would require, ultimately, two or three two-ton or three-ton vehicles. If they do this they are threatened with a special road rate for extraordinary traffic. They will, of course, not be sending more over the road than at present.
" Can you tell me whether it is legal for an R.D.C. to impose such a rate when rubber-tired vehicles are used, and whether you know of any cases where such a rate has been made and sustained 1" ANSWER.—No local council has any right whatever to impose such a rate as that which you mention. Its only remedy is to. raise an action for extraordinary traffic. Your friends ought certainly to join the Commercial Motor Users Association, and to ask for one of that Association's forms in regard to a threatened action for extraordinary traffic, as the contents of that form will show them the class of evidence of which they should possess themselves from the start. Unless the roads are exceptionally weak, the use of rubber-tired three-ton vehicles, if they are moderately driven, should give no cause for recovery.
The Width of Motor Chars-a-banes.
[2086] "COAST" write :—" We shall be glad if you can advise us on the following points. We are placing an order 'ksr a char-h-bance body for excursion work, and have been promised a licence for same. We already hold licences for two similar vehicles, hut propose to have an increased seating capacity in the new body ; this will mean a width of 8 ft. 4 in. over the running boards.
" The chief constable had expressed the ouinion that there would be no objection to this width, but he later wrote to say that. the Motor Cars (Use and Construction) Order, 1901, provides that no motorcar shall exceed 7 ft. 2 in. over the extreme projecting points. " There were several ethers-b.-banes licensed here last year which certainly exceeded this width.
"Can you advise : (I) Is the order referred to still in force ?
(2) Does it apply to motor chars-k-bancs used for commercial purposes ? (1) Does it apply to the country or to London only 2"
ANSWER—Your chief constable may he confusing the rule which holds good in London. The Commissioner of Police for the Metropolis will not allow a motor omnibus to exceed 7 ft. 2 in. in width, but that, of course, is due to the narrow streets through which a motor omnibus has to run in the Metropolis, and to the congested traffic.
The regulation to which your chief constable refers does still apply to motorcars for private purposes,
but it does not apply to heavy motorcars, and a motor char-h-bancs is a heavy motorcar. The Heavy Motor Car Order of 1904, by Article 9, provides : "Notwithstanding anything in the Motor Car (Use and Construction) Order, 1904, a heavy motorcar, if its weight. unladen is three tons or exceeds three tons, and any trailer drawn by any such heavy motor car may, when measured between its extreme projecting points, be of a width not exceeding seven feet six inches."
You should, therefore, be able to build up to a width of 7 ft., and we are quite sure that the chief constable will be glad to have the exemption duly pointed out to him, and the reasons for it explained.
A Paraffin Exhibit of November, 1912.
[2087] " SCOTLAND" write :—" We understand that a paraffin carburettor was fitted on to. a ' commercial ' vehicle, and shown at the last Olympia motorcar exhibition in London, and, although we have already written to a good many people, we have been unable to find the makers of this, and would take it as a very special favour if you could kindly give us particulars and their address."
ANSWER—The ckrburetter which you have in mind is most probably the Southey paraffin gas produces-, which was shown at Olympia, fitted to a Commer-Car engine, by British Producers, Ltd.., of 20, Bucklersbury, E.C. There were no commercial vehicles proper shown at the pleasure-car show in November, but there were a few pareelears staged at the Motor Cycle Show which followed. None of these, however, so far as we remember, was fitted with a paraffin vaporizer. It is difficult to make any closer suggestion, in view of the fact that your own information is of such a meagre character.
If you are interested in the subject of paraffin carburetters, you might also care to write to the Stewart Precision Carburetter Co., Ltd., 199, Piccadilly, W., and ask for particulars of the latest type of Stewart-Morris paraffin carburetter, and, if you have not already done so, you should also communieate with the G.C. Vaporizer, Ltd., 11, Hart. Street, Bloomsbury, W.C.