Out and Home.
9th January 1913
Page 12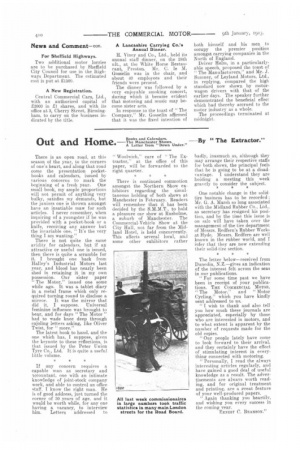 Page 12, 9th January 1913 —
Out and Home.
Close
Books and Calendars. The Manchester Shows. A Letter From "Down Under,"
-By "The Extractor."
There is an open road, at this season of the year, to the corners of one's heart, and along that road come the presentation pocketbooks and calendars, issued by various concerns to mark the beginning of a fresh year. One small book, my ample proportions will not permit of anything very bulky, satisfies my demands, but the juniors one is thrown amongst have an insatiable maw for such articles. I never remember, when inquiring of a youngster if he was provided with a pocket-book or a knife, receiving any answer but the invariable one, " It's the very thing I am wanting." There is not quite the same avidity for calendars, but if an attractive or useful one is issued, then there is quite a scramble for it. I brought one back from Halley's Industrial Motors last year, and blood has nearly been shed in retaining it in my own possession. Our sister paper " The Motor," issued one some while ago. It was a tablet diary in a metal frame which only required turning round to disclose a mirror. It was the mirror that did it, I suppose. Universal feminine influence was brought to bear, and for days "The Motor" had to wade knee deep through cajoling letters asking, like Oliver Twist, for " more."
The latest book to hand, and the one which has, I suppose, given the keynote to these reflections, is that issued by the Peter Union Tyre Co., Ltd. it is quite a useful little volume.
If any concern requires a capable man as secretary and accountant, one with an intimate knowledge of joint-stock company work, and able to control an office staff. I know the right man. He is of good address, just turned the corner of 30 years of age. and it would be worth while, for any one having a vacancy, to interview him. Letters addressed to " Woolwich," care of " The Extractor," at the office of this paper, will be forwarded to the right quarter.
There is continued commotion amongst the Northern Show exhibitors regarding the simultaneous holding of both shows at Manchester in February. Readers will remember that it has been decided by the S.M.M.T., to hold a pleasure car show at Rusholme, a suburb of Manchester. The Commercial-Vehicle Show at the City Hall, not far from the Midland Hotel, is held concurrently. This affects several local, and some other exhibitors rather
badly, inasmuch as, although they may arrange their respective staffs for both shows, the principal feels that he is going to be at a disadvantage. I understand they are holding a' meeting this week gravely to consider the subject.
One notable change in the solidtire business has to be recorded Mr. G. A. Marsh so long associated with the Midland Rubber Co., Ltd., as secretary has resigned his position, and by the time this issue is on sale will have taken over the management of the tire department of Messrs. Redfern's Rubber Works at Hyde. Messrs. Redfern are well known in the rubber world, and I infer that they are now extending their solid-tire section.
The letter below—received from Dunedin, N.Z.—gives an indication of the interest felt across the seas in our publications.
" For some time past we have been in receipt of your publications, THE COMMERCIAL MOTOR, "The Motor," and "Motor Cycling," which you have kindly sent addressed to
"I wish to thank and also tell you how much these journals are appreciated, especially by those who are interested in motors, and to what extent is apparent by the number of requests made for the old copies.
"Our people lately have come to look forward to their arrival, and they certainly have the effect of stimulating interest in everything connected with motoring.
" Personally, I read the always interesting articles regularly, and have gained a• good deal of useful knowledge as a result. The advertisements a re always worth reading, and for original treatment and printing, are a great feature of your well-produced papers. "Again thanking you heartily, and wishing you every success in the coming year.
ERNEST C. BRANSON."