Find out the facts before you order
9th February 1979
Page 41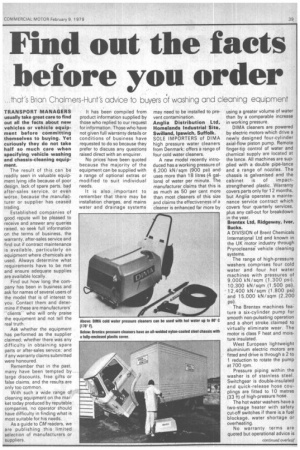 Page 42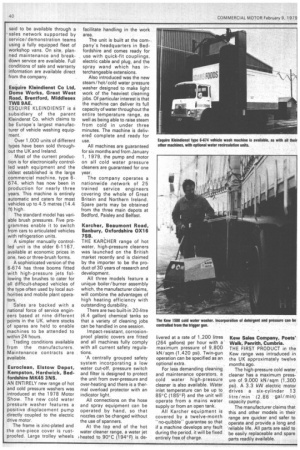 Page 43
Page 44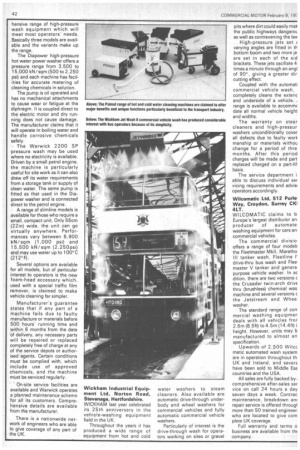 Page 41, 9th February 1979 —
Find out the facts before you order
Close
Keywords :
Home
,
Home Appliances
,
Technology
,
Pressure Washer
,
Plumbing
,
Fluid Dynamics
,
Laundry
,
Car Wash
,
Water Heating
,
Pump
,
Recreational Vehicle
,
Spray
...that's Brian Chalmers-Hunts acvice to buyers of washing and cleaning equipment
TRANSPORT MANAGERS usually take great care to find out all the facts about new vehicles or vehicle equipment before committing themselves to buying. Yet curiously they do not take half so much care when specifying vehicle washing and chassis-cleaning equipment.
The result of this can be readily seen in valuable equipment lying idle because of poor design, lack of spare parts, bad after-sales service, or even worse, because the manufacturer or supplier has ceased trading.
Established companies of good repute will be pleased to receive and answer any queries raised, so seek full information on the terms of business, the warranty, after-sales service and find out if contract maintenance is available, particularly on equipment where chemicals are used. Always determine what requirements have to be met and ensure adequate supplies are available locally.
Find out how long the company has been in business and ask for names of several users of the model that is of interest to you. Contact them and determine if these are manufacturers' "clients" who will only praise the equipment and not tell the real truth.
Ask whether the equipment has performed as the supplier claimed; whether there was any difficulty in obtaining spare parts or after-sales service; and if any warranty claims submitted were honoured.
Remember that in the past, many have been tempted by large discounts, free gifts or false claims, and the results are only too common, With such a wide range of cleaning equipment on the market today produced by reputable companies, no operator should have difficulty in finding what is most suitable for his needs.
As a guide to CM readers, we are publishing this limited selection of manufacturers or suppliers. It has been compiled from product information supplied by those who replied to our request for information. Those who have not given full warranty details or conditions of business have requested to do so because they prefer to discuss any questions raised direct with an enquirer.
No prices have been quoted because the majority of the equipment can be supplied with a range of optional extras or modified to suit individual needs.
It is also important to remember that there may be installation charges, and mains water and drainage systems may need to be installed to prevent contamination.
Anglia Distribution Ltd, Homelands Industrial Site, Swilland, Ipswich, Suffolk. SOLE IMPORTERS of DIMA high pressure water cleaners from Denmark: offers a range of four cold water cleaners.
A new model recently introduced has a working pressure of 6,200 kN /sqm (900 psi) and uses more than 18 litres (4 gallons) of water per minute. The manufacturer claims that this is as much as 50 per cent more than most cleaners of this size and claims the effectiveness of a cleaner is enhanced far more by using a greater volume of water than by a comparable increase in working pressure.
DIMA cleaners are powered by electric motors which drive a newly designed four-cylinder axial-flow piston pump. Remote finger-tip control of water and chemical supply are located at the lance. All machines are supplied with a double pipe-lance and a range of nozzles, The chassis is galvanised and the
cabinet is of impactstrengthened plastic. Warranty covers parts only for 12 months, but Anglia operates a maintenance service contract which covers four quarterly services, plus any call-out for breakdown in the year.
Brentex Ltd, Ridgeway, Iver, Bucks.
A DIVISION of Brent Chemicals International Ltd and known in the UK motor industry through Pryrocleanse vehicle cleaning systems.
The range of high-pressure washers comprises four cold water and four hot water machines with pressures of 9,000 kN /sqm (1,300 psi), 10,300 kN / sqm (1,500 psi), 12,400 kN/ sqm (1,800 psi) and 15,000 kN/sqm (2,200 psi).
The Brentex machines feature a six-cylinder pump for smooth non-pulsating operation and a short stroke claimed to virtually eliminate wear. The motor is class F heat and moisture insulated.
West European lightweight aluminium electric motors are fitted and drive is through a 2 to 1 reduction to rotate the pump at 700 rpm.
Pressure piping within the washer is of stainless steel. Switchgear is double-insulated and quick-release hose couplings are fitted to 10 metres (33 ft) of high-pressure hose.
The hot water washers have a two-stage heater with safety cut-off switches if there is a fuel blockage, water shortage or overheating.
No warranty terms are quoted but operational advice is said to be available through a sales network supported by service/demonstration teams using a fully equipped fleet of workshop vans. On site, planned maintenance and breakdown service are available. Full conditions of sale and warranty information are available direct from the company.
Esquire Kleindienst Co Ltd, Dome Works, Great West Road, Brentford, Middlesex TW8 9AE.
ESQUIRE KLEINDIENST is a subsidiary of the parent Kleindenst Co, which claims to be Europe's largest manufacturer of vehicle washing equipment.
Over 1,000 units of different types have been sold throughout the UK and Ireland.
Most of the current production is for electronically controlled wash equipment and the oldest established is the large commercial machine, type 6674, which has now been in production for nearly three years. This machine is entirely automatic and caters for most vehicles up to 4.5 metres (14.4 ft) high.
The standard model has variable brush pressures. Five programmes enable it to switch from cars to articulated vehicles with refrigeration units.
A simpler manually controlled unit is the older 6-1167, available at economic prices in one, two or three-brush forms.
A sophisticated version of the 6-674 has three booms fitted with high-pressure jets following the brushes to cater for all difficult-shaped vehicles of the type often used by local authorities and mobile plant operators.
Sales are backed with a national force of service engineers based at nine different points in the UK, where stocks of spares are held to enable machines to be attended to within 24 hours.
Trading conditions available from the manufacturers. Maintenance contracts are available.
Euroclean, Elstow Depot, Kempston, Hardwick, Bedfordshire MK45 3NS.
AN ENTIRELY new range of hot and cold pressure washers was introduced at the 1978 Motor Show. The new cold water pressure washer features a positive displacement pump directly coupled to the electric drive motor.
The frame is zinc-plated and the one-piece cover is rustproofed. Large trolley wheels facilitate handling in the work area.
The unit is built at the company's headquarters in Bedfordshire and comes ready for use with quick-fit couplings, electric cable and plug, and the spray wand which has interchangeable extensions.
Also introduced was the new steam/hot/cold water pressure washer designed to make light work of the heaviest cleaning jobs. Of particular interest is that the machine can deliver its full capacity of water throughout the entire temperature range. as well as being able to raise steam from cold in under three minutes. The machine is delivered complete and ready for use.
All machines are guaranteed for six months and from January 1, 1979, the pump and motor on all cold water pressure cleaners are guaranteed for one year.
The company operates a nationwide network of 25 trained service engineers covering the whole of Great Britain and Northern Ireland. Spare parts may be obtained from the three main depots at Bedford, Paisley and Belfast.
Karcher, Beaumont Road, Banbury, Oxfordshire OX16 7SB.
THE KARCHER range of hot water, high-pressure cleaners was launched on the British market recently and is claimed by the importer to be the product of 30 years of research and development.
All three models feature a unique boiler/burner assembly which, the manufacturer claims, will combine the advantages of high heating efficiency with outstanding durability.
There are two built-in 20-litre (4.4 gallon) chemical tanks so that a variety of cleaning jobs can be handled in one session.
Impact-resistant, corrosionproof plastic covers are fitted and all machines fully comply with all current safety regulations.
'A centrally grouped safety system incorporating a low water cut-off, pressure switch and filter is designed to protect the unit from over-pressure and over-heating and there is a thermal overload protector with an indicator light.
All connections on the hose and spray equipment can be operated by hand, so that nozzles can be changed without the use of spanners.
At the top end of the hot water cleaner range, a water jet I heated to 90°C (194° F) is de livered at a rate of 1,200 litres (264 gallons) per hour with a maximum pressure of 9,800 kN/sqm.(1,420 psi). Twin-gun operation can be specified as an optional extra.
For less demanding cleaning and maintenance operators, a cold water high-pressure cleaner is also available. Water inlet temperature can be up to 85°C (185°F) and the unit will operate from a mains water supply or from an open tank.
All Karcher equipment is covered by a twelve-month "no-quibble" guarantee so that if a machine develops any fault during the period, it will be fixed entirely free.of charge. Kew Sales Company, Poets' Walk, Penrith, Cumbria.
THE FIRST PRODUCT in the Kew range was intraduced in the UK approximately twelve months ago.
The high-pressure cold water cleaner has a maximum pressure of 9,000 kN/sqm (1,300 psi). A 3.3 kW electric motor drives a six-cylinder .13 litre/min (2.8E galinlIn) capacity pump.
The manufacturer claims that this and other models in their range are quicker and safer to operate and provide a long and reliable life. All parts are said to be easily replaceable and spare parts readily available. The major differences betveen the Kew range and other ligh-pressure washers are said o be in the specification of the :omponents and the built-in exra features which are grouped inder two headings: safety and )erformance.
The electric motor is of iluminium and built to Class F nsulation. Quick-release coudings are fitted to the heavyluty wire-braided pressure loses, and the on/off electric ontrol switch is rubberovered. A special trigger gun is ully heatand electrically-isulated and incorporates a deice to lock the gun "off" when ot in use.
Kew manufactures its own six-cylinder pump which is made of aluminium with steel liners and brass heads.
Other features common to all Kew machines are a nyloncoated and insulated chassis frame, an unbreakable hinged synthetic cover, comprehensive instrumentation and a comprehensive range of nozzle types and sizes. Wide wheels are fitted to facilitate handling over rough floors.
All machines are backed by a twelve-month parts guarantee A fleet of service/ sales vans operates out of Penrith.
Kismet Dynaflex Ltd, Fenlake Road, Bedford NIK42 OEX. KISMET DYNAFLEX, the wellknown garage equipment manufacturer, produces a highpressure hot and cold water wash machine and a Minimaster Mk11 steam cleaner.
Known as the KWE 1500, the high-pressure washer can be wheeled through a 76.2cm (2ft 6in) standard door opening. The chassis is of unit construction with separate water, detergent and fuel tanks. The coil chamber is designed to serve as a chassis' and is mounted on a rigid axle. Solid tyres are fitted and all operating parts are protected by a hinged one-piece canopy.
A range of electric motors from 0.75kW (1hp) to 1.3kW (1.9hp) may be fitted which run off single or three-phase 1.1kW (1 .Shp) mains-only supply. The pump pressure ranges from 2,600 to 5,200 kN/sqm (380 750psi) and the machine must be connected to a water supply capable of delivering a minimum of 688 litres/ hr (160 gal/ hr).
The Minimaster Mk11 steamcleaner is the latest in a 25year-history of steam cleaners and the basic construction is similar to that of the washer. The electric motor has class E insulation and is fitted with an automatic-reset thermal overload device.
In the steam line is a relief valve set to blow to atmosphere at 830 kN/sqm (120 psi). A range of electric motors is available, depending on customer's requirements, and the water pump is the diaphragm type operating at a speed of 510rpm Details of the company's terms of business are available direct from the company.
Laycock Engineering Ltd, Anchor Road, Sheffield S8 OJY.
THE LAYCOCK Merline Mk 11 washer is well known to many people as a good basic machine.
It operates at a pressure of 2,600 kN/sqm (375 psi) with a water delivery from 3.4 litres (0.75 gallon) up to a maximum of 27.2 litres (6 gallons) per minute.
The machine incorporates an internal water tank with ballcock control which is easily drained for frost protection. A range of models is available depending on requirements.
Laycock also produces a mobile washer which can operate from a static water tank or anywhere where a suction feed is required. A single-phase electric motor only is available.
Warranty covers the replacement of parts found defective and making good defects within a period of 12 months which arise solely from faulty material or bad workmanship. No guarantee or warranty is given in respect of any proprietary electrical or other equipment made by other manufacturers but benefit of any other guarantee will, if possible, be transferred to the purchaser from the original manufacturer.
Psimat Ltd, Newton Road, Henley-on-Thames, Oxon RG9 1HG.
PSIMAT'S four high-pressure water cleaners cover most cleaning requirements for the transport industry.
The popular H4 hot water model has a non-pressurised "no-coil" heat exchanger and a motor-driven detergent pump with an accurate metering control.
The heat exchanger has an electronically controlled burner which maintains water at the correct operating temperature at all times. A positive displacement three-cylinder plunger pump is driven by a totally enclosed fan-cooled motor directly coupled to the pump. A range of different specification motors is available.
The C6 is a cold water version and is obtainable with a singleor three-phase motor. There is a facility for switching instantly from water to water plus detergent or to pre-mix without disturbing the detergent control. The pre-mix inlet can be used as a suction water inlet in places where mains pressure is inadequate.
The chassis and cabinet are epoxy resin-coated for allweather protection. Safety feaNres include push-button stop/ start with no-volt and thermal overload protection in a sealed control box. The drive coupling is fully guarded even when the cabinet is open and the springloaded trigger on the operator's gun ensures automatic shut-off when released.
All models have a six-month guarantee for both labour and parts. A fleet of 18 service vehicles equipped with a range of spare parts operates nationally and the manufacturer claims that equipment can normally be repaired in 24 hours. Contract maintenance is available for the hot water machine at present, but will soon be extended to all machines.
Warwick Pump and Engineering Company Ltd, Oxford Road, Berinsfield, Oxford 0X9 8LZ.
WARWICK produces a compre hensive range of high-pressure wash equipment which will meet most operators' needs. Basically three models are available and the variants make up the range.
The Diapower high-pressure hot water power washer offers a pressure range from 3,500 to 15,000 kN /sqm (500 to 2,250 psi) and each machine has facilities for accurate metering of cleaning chemicals in solution, The pump is oil operated and has no mechanical attachments to cause wear or fatigue at the diphragm. It is coupled direct to the electric motor and dry running does not cause damage. The manufacturer claims that it will operate in boiling water and handle corrosive chemicals safely.
The Warwick 2200 SP pressure wash may be used where no electricity is available. Driven by a small petrol engine, the machine is particularly useful for site work as it can also draw off its water requirements from a storage tank or supply of clean water. The same pump is fitted as that used in the Diapower washer and is connected direct to the petrol engine.
A range of slimline models is available for those who require a small, compact unit. Only 56cm (22in) wide, the unit can go virtually anywhere. Performances vary between 6,900 kN /sqm (1,000 psi) and 15,500 kN/sqm (2,250psi) and may use water up to 100°C (212°F).
Several options are available for all models, but of particular interest to operators is the new foam-head accessory which, used with a special traffic film remover, is claimed to make vehicle cleaning far simpler.
Manufacturer's guarantee states that if any part of a machine fails due to faulty manufacture or materials before 500 hours' running time and within 6 months from the date of delivery, any necessary parts will be repaired or replaced completely free of charge at any of the service depots or authorised agents. Certain conditions must be complied with, which include use of approved chemicals, and the machine must be serviced regularly.
On-site service facilities are available and Warwick operates a planned maintenance scheme for all its customers. Comprehensive details are available from the manufacturer.
There is a nationwide network of engineers who are able to give coverage of any part of the UK. Wickham Industrial Equipment Ltd, Norton Road, Stevenage. Hertfordshire. WICKHAM last year celebrated its 25th anniversary in the vehicle-washing equipment field in the UK.
Throughout the years it has produced a wide range of equipment from hot and cold water washers to steam cleaners. Also available are automatic drive-through underbody and wheel washers for commercial vehicles and fully automatic commercial vehicle washers.
Particularly of interest is the drive-through wash for operators working on sites or gravel pits where dirt could easily mak the public highways dangeroc as well as contravening the lays High-pressure jets set varying angles are fitted in th bottom boom and two more je are set in each of the sid brackets. These jets oscillate 4 times a minute through an angl of 90°, giving a greater dir cutting effect.
Coupled with the automati commercial vehicle wash, completely cleans the exteric and underside of a vehicle. , range is available to accommc date all normal vehicle height and widths.
The warranty on steer cleaners and high-pressur washers unconditionally cover all defects due to faulty work manship or materials withou change for a period of thre months. After this period charges will be made and part replaced charged on a part-lit basis.
The service department i able to discuss individual ser vicing requirements and advisi operators accordingly.
Wilcomatic Ltd, 512 Pude. Way, Croydon, Surrey CKI 4LT.
WILCOMATIC claims to b Europe's largest distributor an producer of automate• washing equipment for cars am commercial vehicles
The commercial divisio offers a range of four modek the Fleetmaster MkII, Maratha III tanker wash, Fleetline I' drive-thru bus wash and Flee. master V tanker and genera purpose vehicle washer. In at dition, there are two versions c the Crusader twin-arch drivE thru (brushless) chemical was machine and several versions c the Jetstrearn and Whee washer The standard range of conmercial washing equipmen deals with all vehicles fror 2.6m (8.5ft) to 4.5m (14.4ft) i height. However, units may b manufactured to almost an specification.
Upwards of 2,500 Wilcc matic automated wash system are in operation throughout th UK and Ireland, and severe have been sold to Middle Eas countries and the USA.
All sales are fully backed by comprehensive after-sales ser vice on call 24 hours a day seven days a week. Contrac maintenance, breakdown an repair service is offered througl more than 50 trained engineer who are located to give com plete UK coverage.
Full warranty and terms o business are available from th( company.