Records showed up on-going neglect
9th February 1979
Page 22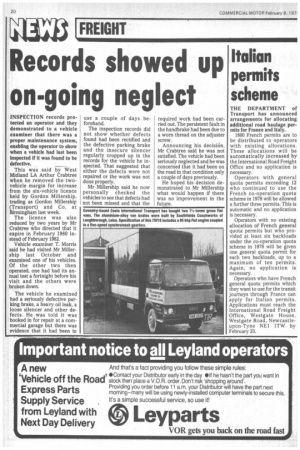 Page 22, 9th February 1979 —
Records showed up on-going neglect
Close
INSPECTION records protected an operator and they demonstrated to a vehicle examiner that there was a proper maintenance system, enabling the operator to show when a vehicle had last been Inspected if it was found to be defective.
This was said by West Midland LA Arthur Crabtree when he removed the twovehicle margin for increase from the six-vehicle licence held by Gordon Millership, trading as Gordon Millership (Transport) and Co, at Birmingham last week.
The licence was also reduced by two years by Mr Crabtree who directed that it expire in February 1980 instead of February 1982.
Vehicle examiner T. Morris said he had visited Mr Millership last October and examined one of his vehicles. Of the other two then operated, one had had its annual test a fortnight before his visit and the others were broken down.
The vehicle he examined had a seriously defective parking brake, a heavy oil leak, a loose silencer and other defects. He was told it was booked in for repair at a commercial garage but there was evidence that it had been in use a couple of days beforehand.
The inspection records did not show whether defects found had been rectified and the defective parking brake and the insecure silencer regularly cropped up in the records for the vehicle he inspected. That suggested that either the defects were not repaired or the work was not done properly.
Mr Millership said he now personally checked the vehicles to see that defects had not been missed and that the required work had been carried out. The persistent fault in the handbrake had been due to a worn thread on the adjuster screw.
Announcing his decision, Mr Crabtree said he was not satisfied. The vehicle had been seriously neglected and he was concerned that it had been on the road in that condition only a couple of days previously.
He hoped his decision demonstrated to Mr Millership what would happen if there was no improvement in the future.