ASSOCIATION FOR MUNICIPAL. TRANSPORT ENGINEERS.
9th December 1938
Page 37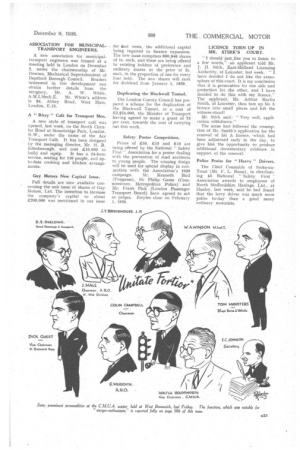 Page 37, 9th December 1938 —
ASSOCIATION FOR MUNICIPAL. TRANSPORT ENGINEERS.
Close
Keywords :
A new association for municipaltransport engineers was formed at a meeting held in London on December 2, under the chairmanship of Mr. Downes, Mechanical Superintendent of Deptford Borough Council. Readers interested in this development can obtain further details from the secretary, Mr. A. W. White, A.M.I.Mech.E. Mr. White's address is 84, Abbey Road, West Ham, London, E.15.
A " Ritzy " Cafe for Transport Men.
A new style of transport café was opened, last week, on the North Circular Road at Stonebridge Park, London, N.W., under the name of the Ace Transport Cafe. It has been designed by the managing director, Mr. H. R. Edenborough, and cost £10,000 to build and equip. It has a 24-hour service, seating for 110 people, and upto-date cooking and kitchen -arrangements.
Guy Motors New Capital Issue.
Full details are now available concerning the neUr issue of shares of Guy Motors, Ltd. The intention to increase the company's capital to about £200,000 was mentioned in our issue for elast week, the additional capital being required to finance expansion. The new issue comprises 800,946 shares of is. each, and these are being offered to existing holders of preference and ordinary shares at the price of 2s. each, in the proportion of one for every four held. The new shares will rank for dividend from January 1, 1939.
Duplicating the Blackwell Tunnel.
• The London County Council has prepared a scheme for the duplication of the Blackwall Tunnel, at a cost of :82,824,000, the Minister of Transport having agreed to make a grant of 75 per cent, towards the cost of carrying Out this work.
Safety Poster Competition.
Prises of £50, £.15 and £10 are being offered by the National " Safety First " Association for a poster dealing with the prevention of re:md accidents to young people. The winning design will be used for special display in connection with the Association's 1939 campaign. Mr. Kenneth Bird (Fougasse), Sir Philip Game (Commissioner, Metropolitan Police) and Mr; Frank Pick (London Passenger Transport Board) have agreed to act as judges. Entries close on February 1, 1939. LICENCE TORN UP IN MR. STIRK'S COURT.
I should .just like you to listen to a few words," an applicant told Mr. J, H. Stirk, East-Midland Licensing Authority, at Leicester, last week. " I have decided I do not like the atmosphere of-this court. It is my conclusion that it is persecution for one side and protection for the other, and I have decided to do this with my licence." The applicant, Mr. Arthur Martin Smith, of Leicester, then tore up his A licence into small pieces and left the witness-stand!
Mr. Stirk said : ".Very well, application withdrawn."
The scene had followed the resumption of Mr. Smith's application for the renewal of hi i A licence, -which had been adjourned early in the day, to give him the opportunity to produce additional documentary evidence in support of the renewal,
Police Praise for " Heavy " Drivers.
The Chief Constable of Stoke-onTrent' (Mr. F. L. Bunn), in distributing 45 National " Safety First ' Association awards to employees of North Staffordshire Haulage, Ltd., at Hanley, last week, said he had found that the lorry driver was much more polite to-day than a good many ordinary motorists.