Shelved and Taped
9th August 1957
Page 53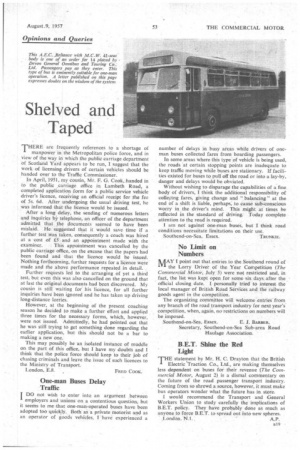 Page 53, 9th August 1957 —
Shelved and Taped
Close
THERE are frequently references to a shortage of manpower in the Metropolitan police force, and in view of the way in which the public carriage department of Scotland Yard appears to be run, I suggest that the work of licensing drivers of certain vehicles should be handed over to the Traffic Commissioner.
In April, 1951, my cousin, Mr. F. G. Cook, handed in to the public _carriage office in Lambeth Road, a completed application form for a public service vehicle driver's licence, receiving an official receipt for the fee of 5s. 6d. After undergoing the usual driving test, he was informed that the licence would be issncd.
After a long delay, the sending of numerous letters and inquiries bk telephone, an officer of the department admitted that the documents seemed to have been mislaid. He suggested that it would save time if a further .test was taken, consequently a coach was hired at a cost of t5 and an appointment made with the
examiner. This appointment was cancelled by the public carriage office, on the excuse that the papers had been found and that the licence would be issued. Nothing forthcoming, further requests for a licence were made and the above performance repeated in detail.
Further requests led to the arranging of yet a third test, but even this was also cancelled on the ground that at fast the original documents had been discovered. My cousin is still waiting for his licence, for all further inquiries have been ignored and he has taken up driving long-distance lorries.
However, at the beginning of the present coaching season he decided to make a further effort and applied three times for the necessary forms, which, however, were not issued. Admittedly, he had pointed out that he was still trying to get something done regarding the earlier application, but this should not be a bar to making a new one.
This may possibly be an isolated instance of muddle on the part of this office, but I have my doubts and I think that the police force should keep to their job of chasing criminals and leave the issue of such licences to the Ministry of Transport.
London, E.8. FRED COOK.
One-man Buses Delay Traffic
DO not wish to enter into an argument .between 1 employers and unions on a contentious question, but it seems to me that one-man-operated buses have been adopted too quickly. Both as a private motorist and as
an operator of goods vehicles, have experienced a number of delays in busy areas while drivers of oneman buses collected fares from boarding passengers.
In some areas where this type of vehicle is being used, the roads at certain stopping points are inadequate to keep traffic moving while buses are stationary. If facilities existed for buses to pull off the road or into a lay-by, danger and delays would be obviated.
Without wishing to disparage the capabilities of a fine body of drivers, I think the additional responsibility of collectng fares, giving change and " balancing " at the end of a shift is liable, perhaps; to cause sub-conscious worry in the driver's mind. This might at times be reflected in the standard of driving. Today complete attention to the road is required.
I am not against one-man buses, but I think road conditions necessitate limitations on their use.
Southend-on-Sea, Essex. TRUNKIE.
No Limit on Numbers
NfiAY I point out that entries to the Southend round of I". the Lorry Driver . of the Year Competition (The Commercial Motor, July 5) were not restricted and, in fact, the list was kept open for some six days after the official closing date. I personally tried to interest the local manager of British Road Services and the railway goods agent in the competition.
The organizing committee will welcome entries from, any branch of the road transport industry for next year's competition, when, again, no restrictions on numbers will be imposed.
Southend-on-Sea, Essex. E. J. BARBER, Secretary, Southend-on-Sea Sub-area Road Haulage Association.
B.E.T. Shine the Red Light
THE statement by Mr. H. C. Drayton that the British Electric Traction Co., Ltd., are making themselves less dependent on buses for their revenue (The Comnzercial Motor, August 2) is a dismal commentary on the future of the road passenger transport industry. Coming from so shrewd a source, however, it must make bus operators wonder what the future has in store. I would recommend the Transport and General Workers Union to study carefully the implications of B.E.T. policy. They have probably done as much as anyone to force B.E.T. to spread out into new spheres.
London. Ni., A.P.