Trunk Hauliers in Publicity Discussion
9th August 1957
Page 37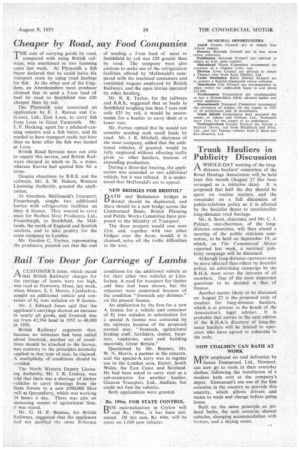 Page 37, 9th August 1957 —
Trunk Hauliers in Publicity Discussion
Close
PAA WHOLE-DAY meeting of the longdistance hauliers' committee of the Road Haulage Association will,be held later this month (August 27 has been arranged as a tentative date). It is proposed that half the day should be spent on routine matters, and the remainder on a full discussion of public-relations policy as it is affected by the Socialist threat to renationalize long-distance road haulage.
Mr. A. Scott, chairman, and Mr. C. J. Palmer, vice-chairman, of thelongdistance committee, will then attend a meeting of the public relations committee, to be held on September 19, at which, as The Commercial Motor reported last week, a national publicity campaign will be discussed.
Although long-distance operators may be more affected, than others by Socialist policy, art advertising campaign by the R.H.A. must cover the interests of all members. One of the most important questions to be decided is that of finance.
Another matter likely to be discussed on August 27 is the proposed code of conduct for long-distance hauliers, which is at present in the hands of the Association's legal. adviser. It is probable that entries in the next edition of the R.1-1.A.'s directory of long-distance hauliers will be limited to operators who have agreed to subscribe to the code.