Objectors Worried by Contract 4 Transfers
9th August 1957
Page 36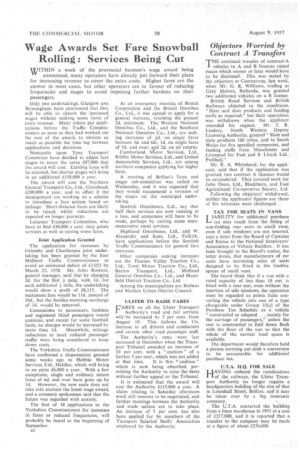 Page 36, 9th August 1957 —
Objectors Worried by Contract 4 Transfers
Close
Keywords :
Stone
,
Conscientious Objection
,
Conscientious Objector
,
Conscription
,
Military Sociology
,
Nonviolence
,
Slate Gray
,
Slate
,
Violence
,
Sociology
,
Materials Science
,
Business / Finance
THE continual transfer of contract-A vehicles to A and B licences raised issues which sooner or later would have to be discussed. This was stated by the objectors at Caernarvon, last week, when Mr. G. R. Williams, trading as Grey Motors, Bethesda, was granted two additional vehicles on a B licence.
British Road Services and British Railways objected to the conditions, "Slate and slate products and feeding stuffs as required," but their opposition was withdrawn when the applicant amended his request. Mr. I. R. Lindsay, North Western Deputy Licensing Authority, granted "Slate and Slate products 100 miles, and to South Wales for five specified companies, and feeding stuffs from Manchester and Liverpool f or Feel and S. Lloyd, Ltd.. Pwllheli."
Mr. E A. Whitehead, for the applicant, said that if the application was granted, two contract A licences would be surrendered. They covered work for John Dean, Ltd., Blackburn, and Foel Agricultural Co-operative Society, Ltd Following the objectors' withdrawal, neither the applicants' figures nor those of his witnesses were challenged,