One Hears—
9th August 1957
Page 31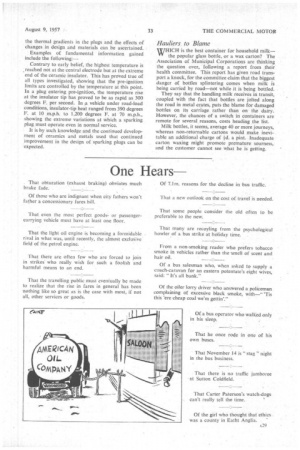 Page 31, 9th August 1957 —
One Hears—
Close
That obturation (exhaust braking) obviates much brake fade. _ Of those who are indignant when city fathers won't father a concessionary fares bill.
That even the most perfect goodsor passengercarrying vehicle must have at least one floor.
That the light oil engine is becoming .a formidable rival in what was, until recently, the almost exclusive field of the petrol engine.
That there are often few who are forced to join in strikes who really wish for such a foolish and harmful means to an end.
That the travelling public must eventually be made to realize that the rise in fares in general has been nothing like so great as is the case with most, if not all, other services or goods.
Of 7.1 m. reasons for the decline in bus traffic. That a new outlook on the cost of travel is needed.
That some people consider the old often to be preferable to the new.
That many are recoyling from the psychological howler of a bus strike at holiday time.
From a non-smoking reader who prefers tobacco smoke in vehicles rather than the smell of scent and hair oil.
Of a bus salesman who, when asked to supply a coach-caravan for an eastern potentate's eight wives, said: "it's all bunk."
Of the oiler lorry driver who answered a policeman complaining of excessive black smoke, with--" 'Tis this 'ere cheap coal we'rn gettin'."
Of a bus operator who walked only in his sleep.
That he once rode in one of his own buses.
That November 14 is "stag " night in the bus business.
That there is no traffic jamboree at Sutton Coldfield.
That Carter Paterson's watch-dogs can-t really tell the time.
Of the girl who thought that ethics was a county in Eatht Anglia.