One Hears—
9th April 1914
Page 3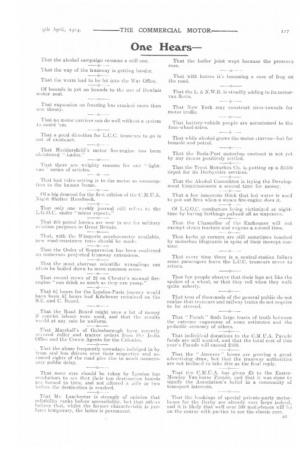 Page 3, 9th April 1914 —
One Hears—
Close
That the alcohol campaign remains a still one. That the way of the tramway is getting harder. That the worm had to be let into the War Offiee.
Of bounds in yet no hounds to th2 use, of Dowlais motor coal.
That expansion on freezing has cracked more than one theory.
That no motor carriers can do well without a system to assist 'em.
That a good direction for L.C.C. tramears to go is out of existence.
That Huddersfield's motor fire-engine has been chi istened " Ladas."
That there are weighty reasons for our " an " series of articles,
That bad valve-setting is to the motor as consumption to the human frame.
Of a big demand for the first edition of the C.M.U.A. Night Shelter Handbook.
That only one weekly journal still refers to the L.G.O.C. under " minor reports."
That ,`20-3 petrol lorries are now in us.c fur military aviation purposes in Great Britain.
That, with the Wimperis acceleremeter available, new road-resistance tests should be made.
That the Order of Suppression has been conferred on numerous projected tramway extensions.
That the most abstruse scientific wrangling:3 can often be boiled down to mere common sense.
That casual crews of 22 on Chester's manual fireengine " can drink as much as they can pump."
That 6', hours for the London-Paris journey would have been 51 hours had Kitchener remained ou the S.E. and C. Board.
That the Road Board might save a lot of money if convict labour were used, and that the results weak.' at any rate be uniform.
That Marshall's of Gainsborongh have recently .secured roller and tractor orders from the India Office and the Crown Agents for the Colonies.
That the abuse frequently nowadays indulged in by tram and bus drivers over their respective and asFumed rights of the road give rise to much unnecessilly public delay.
That more care should be taken by London bus conductors to see that their ton destination boards are turned to time, and not altered a mile or two before the destination is reached.
That Mr. Lanchester is strongly of opinion that reliability ranks before accessibility. but that others believe that, whilst the former characteristic is perforce temporary, the lattee is permanent. That the boiler joint wept because the pressura rose.
That with horses it's becoming a ease of frog on the road.
That the L, & N.W.R. is steadily adding to its motorvan fleets.
That New York may construct river-tunnels for motor traffic.
That battery-vehicle people are accustomed to the f ou w heel-drive.
That while alcohol grows the motor starves—but for benzoic and petrol.
That the Buda-Pest motorbus contract is not yet by any means positively settled.
That the Trent Motorbus Co. ie putting up a -25000 depot for its Derbyshire services.
That the Alcohol Committee is trying the Development Commissioners a second time for money.
That a few innocents think that hot water is used to put out fires when a steam fire-engine does it.
Of L.G.O.C. conductors being victimized at nighttime by having farthings palmed off as sixpences.
That the Chancellor of filo: Exchequer will 3lot exempt steam tractors and wagons a second time.
That herbs at corners are still sometimes touched by motorbus lifeguards in spite of their inswept contour.
That m.-ery time there is a central-station failure some passengers lea-ye the L.C.C. trame.ars never to return.
That few people observe that their legs act like the spokes of a• wheel, or that they roll when they walk quite soberly.
That tons of thousands of the general public do not realize that tramcars and railway trains do not req clime to be steered.
That "Punch" finds large tracts of truth between the extreme vagueness of some estimates and the pedantic accuracy of others.
That individual donations to the C.M.U.A. Parade funds are still AY all lea, and that the total cost of this year's Parade will exceed £500.
That the "Answers" buses are proving a great advertising draw, but that the tramway authorities are not inclined to take this as the final reply.
That the C.M.U.A. has given £5 to the EasterMonday Van-horse Parade, and that it was done to signify the Association's belief in a community of transport interests.
That the bookings of special private-party motorbuses for the Derby are already very large indeed, and it is likely that well over 500 motorbuses will b.) on the course with parties to see the classic race.