Answers to Queries.
9th April 1914
Page 21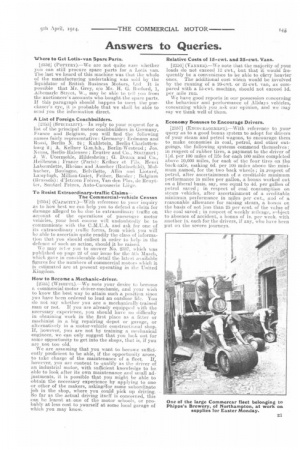 Page 21, 9th April 1914 —
Answers to Queries.
Close
Where to Get Lotis-van Spare Parts.
[2352j (POTTER).—We are not quite sure whether you can still procure spare parts for a Lotis van. The last we heard of this machine was that the whole of the manufacturing undertaking was sold by the liquidator of British Business Motors, Ltd It is possible that Mr_ Grey, e/o Mr. H. G. Burford, 1, Albemarle Street, W., may be able to tell 3 ou from the auctioneer's accounts who bought the spare parts. If this paragraph should happen to meet the purchaser's eye, it is probable that we shall be able to send you the information direct.
A List of Foreign Coachbuilders.
[2:IZ)3] (Sretokerev). In reply to your request for a, list of the principal motor eoachbuilders in Germany, France and Belgium, you will find the following names fairly representative: Germany: Erdmann and Rossi' Berlin N. 24; • Kuhlstein, Berlin-Charlottenburg 2; A. Kelluer G.m.b.h., Berlin-Westeed; Jos. Neuss, Berlin-Halensee ; Reutter and Co., Stuttgart ; J. W. Utermohle, Hildesheim ; G. Draux and Co., Heilbronn; France (Paris): Kellner et Fils. Henri Labourdette, Rheims and 'Auscher (Rothschild), Mill ba,cher, Boulogne, Belvilette, Aiim nd Liotard, Lamplugh, Million-Guiet, Feiber, Bander ; Belgium (Brussels): d'Ieteren Frions, Van den Plas, de Reuytter, Snutzel Freres, Auto-Carosserie Liege.
To Resist Extraordinary-traffic Claims- The Commercial-vehicle Census [2354] (CAraeiTY.)—With reference to your inquiry as to how best we can help you to defend a claim for damage alleged to be due to extraordinary traffic on account of the operations of passenger motor vehicles, your best course will undoubtedly be to communicate with the C.M.U.A. and ask for one of its extraordinary traffic forms, from which you will be able to ascertain quite readily the class of information that you should collect in order Lo help in the defence of such an action, should it be raised.
We may refer you to answer No. 2337, which was published on page 22 of our issue for the 5th March, which gave in considerable detail the latest 41 ailablo figures for the numbers of commercial motors which it is estimated are at present operating in the United Kingdom.
How to Become a Mechanic-driver.
[2355] (WISHFUL).--We note your desire to become a commercial motor driver-mechanic, and your wish to know the best way to attain such a position since you have been ordered to lead an outdoor life. You do not say whether you are a mechanically-trained man or not. If you are already equipped with the necessary experience, you should have no difficulty in obtaining work in the first place as a filter or machinist in a big repairing depot or garage, or alternatively in a motor-vehicle constructional shop. If, however, you are not by training a mechanical engineer, we can only suggest that you look out for some opportunity to get into the shops, that is, if you are not too old.
We are assuming that you want to become sufficiently proficient to be able, if the opportunity arose, to take charge of the maintenance of a fleet. If however, you are content to qualify as the driver of an industrial motor, with sufficient knowledge to be able to look .tifter its own maintenance and small adjustments, it is possible that you might be able to obtain the necessary experience by applying to one or other of the makers, askingAor some subordinate job in the shop, where you could pick up driving. So far as the actual driving itself is concerned, this can be learnt ate one of the motor schools, or probably at less cost to yourself at some local garage of which you may know. • Relative Costs of 15-cwt. and 25-cwt. Vans.
L2336] (VANNER).—We note that the majority of your loads do not exceed 12 cwt., but, that it would frequently be a convenience to he able to awry heavier ones. The additional cost which would be involved by the running of a 20-cwt. or 25-cwt. van, as compared with a 15-cwt. machine, should not exceed Id. per mile run.
We have good reports in our possession concerning the behaviour and performance of Alldays vehicles, concerning which you ask our opinion, and we may say we think well of them.
Economy Bonuses to Encourage Drivers.
[2357] (Excoetta0EmENT).—With reference to your query as to a good bonus system to adopt for drivers of your steam and petrol wagons, to encourage them to make economies in coal, petrol, and other Outgoings, the following systems commend themselves: in respect of rubber tires, a. payment to the driver of 1W. per 100 miles of life for each 100 miles completed above 10,000 miles, for each of the four tires on the back-axle, making 64. per 100 miles.axwe the minimum named, for the two back wheels ; in .respect of petrol, after ascertainment of a creditable minimum performance in miles per gallon, a bonus worked out on a liberal basis, say, one equal to 4d. per gallon of petrol saved ; in respect of coal consumption on steam vehicles, after ascertainment of a creditable minimum. performance in miles per cwt., and of a, reasonable allowance for raising steam, a bonus on the basis of not less than 25 per cent, of the value of the coal saved ; in respect of weekly mileage, sebject to absence of accident, a bonus of is. per week, with another Is. each for the drivers, if any, who have been put on the severe journeys.