Roadtrain powers up
8th September 1988
Page 5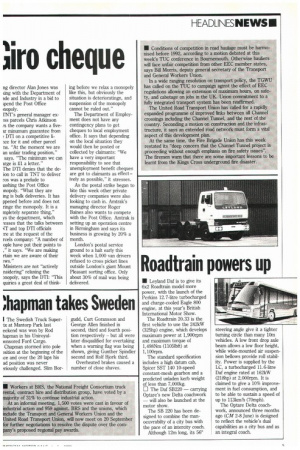 Page 5, 8th September 1988 —
Roadtrain powers up
Close
• Leyland Daf is to give its 6x2 Roadtrain model more power, with the launch of the Perkins 12.7-litre turbocharged and charge-cooled Eagle 800 engine, at this year's British International Motor Show.
The Roadtrain 20.33 is the first vehicle to use the 242kW (325hp) engine, which develops maximum power at 1,900rpra and maximum torque of 1,498Nm (11051bft) at 1,10Orpm.
The standard specification includes a high datum cab, Spicer SST 140 10-speed constant-mesh gearbox and a predicted unladen kerb weight of less than 7,000kg.
LI The Daf SB220 — carrying Optare's new Delta coachwork — will also be launched at the motor show.
The SB 220 has been designed to combine the manoeuvrabilty of a city bus with the pace of an intercity coach.
Although 12m long, its 560
steering angle give it a tighter turning circle than many 10m vehicles. A low front drop axle beam allows a low floor height, while wide-mounted air suspension bellows provide roll stability. Power is supplied by the LC, a turbocharged 11.6-litre Daf engine rated at 162kW (218hp) at 2,000rpm. It is claimed to give a 10% improvement in fuel consumption, and to be able to sustain a speed of up to 113kna/h (70mph).
The Optare Delta coachwork, announced three months ago (CM 2-8 June) is designed to reflect the vehicle's dual capabilities as a city bus and as an integral coach.