• PERKINS/VARITY DEVANEY Perkins Engines managing director John Devaney has
8th September 1988
Page 46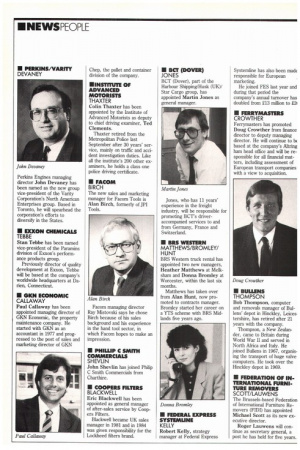 Page 46, 8th September 1988 —
• PERKINS/VARITY DEVANEY Perkins Engines managing director John Devaney has
Close
been named as the new group vice-president of the Varity Corporation's North American Enterprises group. Based in Toronto, he will spearhead the corporation's efforts to diversify in the States.
• EXXON CHEMICALS TEBBE Stan Tebbe has been named vice-president of the Paramins division of Exxon's performance products group.
Previously director of quality development at Exxon, Tebbe will be based at the company's worldwide headquarters at Darien, Connecticut.
IN MN ECONOMIC CALLAWAY Paul Callaway has been appointed managing director of GKN Economic, the property maintenance company. He started with GKN as an accountant in 1977 and progressed to the post of sales and marketing director of GKN Chep, the pallet and container division of the company.
• INSTITUTE Of ADVANCED MOTORISTS THAXTER Cohn Thaxter has been appointed by the Institute of Advanced Motorists as deputy to chief driving examiner, Ted Clements.
Thaxter retired from the Metropolitan Police last September after 30 years' service, mainly on traffic and accident investigation duties. Like all the institute's 200 other examiners, he holds a class one police driving certificate.
• FACOM BIRCH The new sales and marketing manager for Facom Tools is Alan Birch, formerly of JPI Tools.
Facom managing director Ray Mistovski says he chose Birch because of his sales background and his experience in the hand tool sector, in which Facom hopes to make an impression.
• PHILLIP C SMITH COMMERCIALS SHEVLIN John Shevlin has joined Philip C Smith Commercials from Charthire.
• COOPERS FILTERS BLACKWELL Eric Blackwell has been appointed as general manager of after-sales service by Coopers Filters.
Blackwell became UK sales manager in 1981 and in 1984 was given responsibility for the Lockheed filters brand. • BCT (DOVER) JONES BCT (Dover), part of the Harbour Shipping/Husk (UK)/ Star Cargo group, has appointed Martin Jones as general manager.
Jones, who has 11 years' experience in the freight industry, will be responsible for promoting BCT's driveraccompanied services to and from Germany, France and Switzerland.
• BRS WESTERN MATTHEWS/BROMLEY/ HUNT BRS Western truck rental has appointed two new managers, Heather Matthews at Melksham and Donna Bromley at Worcester, within the last six months.
Matthews has taken over from Alan Hunt, now promoted to contracts manager. Bromley started her career on a YTS scheme with BRS Midlands five years ago.
• FEDERAL EXPRESS SYSTEMLINE KELLY Robert Kelly, strategy manager at Federal Express Systemline has also been math responsible for European marketing.
He joined FES last year and during that period the company's annual turnover has doubled from £13 million to £21 • FIRRYMASTERS CROWTHER Ferrymasters has promoted Doug Crowther from finance director to deputy managing director. He will continue to Ix based at the company's Altring ham head office and will be responsible for all financial matters, including assessment of European transport companies with a view to acquisition.
• BULLENS THOMPSON Bob Thompson, computer and removals manager of Bullens' depot in Hinckley, Leices. tershire, has retired after 21 years with the company.
Thompson, a New Zealander, came to Britain during World War II and served in North Africa and Italy. He joined Bullens in 1967, organising the transport of huge valve computers. He took over the Hinckley depot in 1969.
• FEDERATION OF INTERNATIONAL FURNITURE REMOVERS SCOTT/LAUWENS The Brussels-based Federation of International Furniture Removers (FIDI) has appointed Michael Scott as its new executive director.
Roger Lauwens will continue as secretary general, a post he has held for five years.
Tags
People
:
Cohn Thaxter
,
Alan Birch
,
Eric Blackwell
,
Robert Kelly
,
Ted Clements
,
HUNT BRS
,
Donna Bromley
,
Alan Hunt
,
Martin Jones
,
Heather Matthews
,
PHILLIP C SMITH COMMERCIALS SHEVLIN
,
Stan Tebbe
,
Bob Thompson
,
Michael Scott
,
Ray Mistovski
,
Doug Crowther
,
Roger Lauwens
,
John Shevlin
,
Melksham Bromley
,
John Devaney