KEEP 'EM ROLLING
8th September 1988
Page 35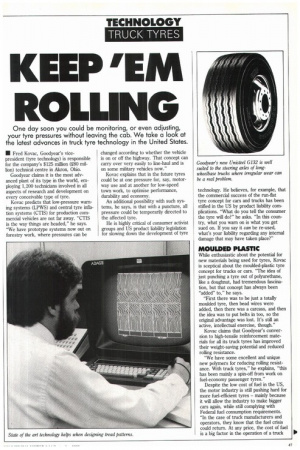 Page 36
Page 35, 8th September 1988 —
KEEP 'EM ROLLING
Close
One day soon you could be monitoring, or even adjusting, your tyre pressures without leaving the cab. We take a look at the latest advances in truck tyre technology in the United States.
• Fred Kovac, Goodyear's vicepresident (tyre technology) is responsible for the company's $125 million (£80 million) technical centre in Akron, Ohio.
Goodyear claims it is the most advanced plant of its type in the world, employing 1,200 technicians involved in all aspects of research and development on every conceivable type of tyre.
Kovac predicts that low-pressure warning systems (LPWS) and central tyre inflation systems (CTIS) for production commercial vehicles are not far away. "CTIS is the way things are headed," he says. "We have prototype systems now out on forestry work, where pressures can be changed according to whether the vehicle is on or off the highway. That concept can carry over very easily to line-haul and is on some military vehicles now."
Kovac explains that in the future tyres could be at one pressure for, say, motorway use and at another for low-speed town work, to optimise performance, durability and economy.
An additional possibility with such systems, he says, is that with a puncture, all pressure could be temporarily directed to the affected tyre.
He is highly critical of consumer activist groups and US product liability legislation for slowing down the development of tyre technology. He believes, for example, that the commercial success of the run-flat tyre concept for cars and trucks has been stifled in the US by product liability complications. "What do you tell the consumer the tyre will do?" he asks. "In this country, what you warn on is what you get sued on. If you say it can be re-used, what's your liability regarding any internal damage that may have taken place?"
MOULDED PLASTIC
While enthusiastic about the potential for new materials being used for tyres, Kovac is sceptical about the moulded-plastic tyre concept for trucks or cars. "The idea of just punching a tyre out of polyurethane, like a doughnut, had tremendous fascination, but that concept has always been "added" to," he says.
"First there was to be just a totally moulded tyre, then bead wires were added, then there was a carcass, and then the idea was to put belts in too, so the original advantage was lost. It's still an active, intellectual exercise, though."
Kovac claims that Goodyear's conversion to high-tensile reinforcement materials for all its truck tyres has improved their weight-saving potential and reduced rolling resistance.
"We have some excellent and unique new polymers for reducing rolling resistance. With truck tyres," he explains, "this has been mainly a spin-off from work on fuel-economy passenger tyres."
Despite the low cost of fuel in the US, the motor industry is still pushing hard for more fuel-efficient tyres — mainly because it will allow the industry to make bigger cars again, while still complying with Federal fuel consumption requirements. "In the case of truck manufacturers and operators, they know that the fuel crisis could return. At any price, the cost of fuel is a big factor in the operation of a truck fleet, so anything that can improve fuel economy is relevant," says Kovac.
In the US, fuel-efficient packages with low-rolling-resistance tyres, aerodynamic features such as underbody fairings and specific power/gearing combinations are increasingly being offered.
TREAD PATTERNS
Chuck Yurkovich, Goodyear's chief engineer (medium truck tyres), describes a recent Goodyear research programme, in which it collaborated with Texas University in the design of tread patterns and aspect ratios to minimise the splash and spray effect of commercial vehicle tyres. He says: "We followed that up with traction evaluations and have now combined research efforts with a major vehicle manufacturer. Over the next six months we will be evaluating the splash and spray performance of some new concept tyres from the tyre performance/consumer benefit standpoint. Our goal is to maintain or even increase traction — but at the same time cut down on splash and spray." Yurkovich realises, of course, that the tyre is a major factor in generating spray, and says that Goodyear is actively developing tyres that are more effective than some anti-spray flaps.
Wear problems with tyres fitted to three-axle trailers are a fact of life in Europe, but in the US these units are less common. "We have mainly tandem-axles or even double or triple-trailers with single axles," explains Yurkovich. "You get into a problem with tri-axle trailers because there are different wear rates for the individual axles. This can be minimised by using specific compounds, but it's virtually impossible, with just one tyre, to eliminate the different axle-wear rates due to scrubbing.
"The answer is for there to be a different compound — or even tyre configuration — on each axle, but getting away from the three-axle configuration would be the best answer," he believes.
US tyre manufacturers appear to have little difficulty in complying with Federal tyre noise limits: "We're actually several decibels lower than Government regulations require," says Yurkovich, "but with all new types of tyre, we always look at the arrangement of its elements and the relative sequencing of parts of the tread design, to try to minimise noise level."
Kovac admits there is concern over some applications of large-section radials or wide-singles in the US, especially on double-trailer configurations: "We're looking at the use of super-wides and lowprofiles on all axles. A lot of benefits such as fuel economy, handling and mileage come from low profiles," he says.
He stresses that these benefits are most pronounced when large-section or wide-singles are applied to off-road uses, and also to some trailer and drive axles. "The low aspect ratio super-single is not being used on steering axles on line-haul. In fact, the super-single has never been as popular in the States as in Europe," says Kovac.
"One good explanation could be that the roads in Europe were made to carry battle-tanks, whereas the US highways were not. Those super-singles just tear the hell out of the infrastructure . . ."
by Ken Rogers