Mercedes-Benz is determined to increase its share of the specialist
8th September 1988
Page 32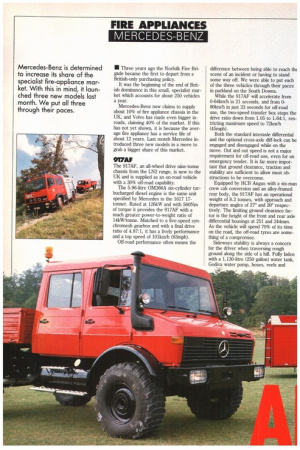 Page 33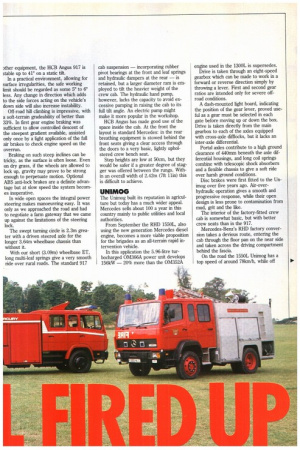 Page 34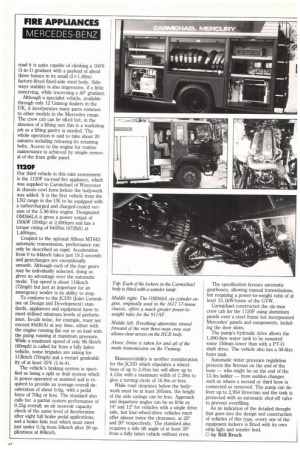 Page 32, 8th September 1988 —
Mercedes-Benz is determined to increase its share of the specialist
Close
fire-appliance market. With this in mind, it launched three new models last month. We put all three through their paces.
• Three years ago the Norfolk Fire Brigade became the first to depart from a British-only purchasing policy.
It was the beginning of the end of British dominance in this small, specialist market which accounts for about 250 vehicles a year.
Mercedes-Benz now claims to supply about 10% of fire appliance chassis in the UK, and Volvo has made even bigger inroads, claiming 40% of the market. If this has not yet shown, it is because the average fire appliance has a service life of about 12 years. Last month Mercedes introduced three new models in a move to grab a bigger share of this market.
917AF
The 917AF, an all-wheel drive nine-tonne chassis from the LN2 range, is new to the UK and is supplied as an on-road vehicle with a 30% off-road capability.
The 5.96-litre 0M366A six-cylinder turbocharged diesel engine is the same unit specified by Mercedes in the 1617 17tonner. Rated at 126kW and with 560Nm of torque it provides the 917AF with a much greater power-to-weight ratio of 14kW/tonne. Matched to a five-speed synchromesh gearbox and with a final drive ratio of 4.87:1, it has a lively performance and a top speed of 101km/h (63mph).
Off-road performance often means the difference between being able to reach UK scene of an incident or having to stand some way off. We were able to put each of the three vehicles through their paces in parldand on the South Downs.
While the 917AF will accelerate from 0-64km/h in 21 seconds, and from 0801un/h in just 33 seconds for off-road use, the two-speed transfer box steps the drive ratio down from 1.05 to 1.64:1, restricting maximum speed to 72km/h (45mph).
Both the standard interaxle differential and the optional cross-axle cliff-lock can be engaged and disengaged while on the move. Out and out speed is not a major requirement for off-road use, even for an emergency tender. It is far more important that ground clearance, traction and stability are sufficient to allow most obstructions to be overcome.
Equipped by HCB Angus with a six-man crew cab conversion and an alloy-framed rear body, the 917AF has an operational weight of 8.2 tonnes, with approach and departure angles of 270 and 20° respectively. The limiting ground clearance factor is the height of the front and rear axle differential housings at 251 and 244mm. As the vehicle will spend 70% of its time on the road, the off-road tyres are something of a compromise.
Sideways stability is always a concern for the driver when traversing rough ground along the side of a hill. Fully laden with a 1,130-litre (250 gallon) water tank, Godiva water pump, hoses, reels and Aber equipment, the HCB Angus 917 is stable up to 41° on a static tilt.
In a practical environment, allowing for surface irregularities, the safe working limit should be regarded as some 5° to 6° less. Any change in direction which adds to the side forces acting on the vehicle's down side will also increase instability.
Off-road hill climbing is impressive, with a soft-terrain gradeability of better than 33%. In first gear engine braking was sufficient to allow controlled descent of the steepest gradient available, assisted only once by a light application of the full air brakes to check engine speed on the overrun.
Braking on such steep inclines can be tricky, as the surface is often loose. Even on dry grass, if the wheels are allowed to lock up, gravity may prove to be strong enough to perpetuate motion. Optional ABS anti-lock brakes are a definite advantage but at slow speed the system becomes inoperative.
In wide open spaces the integral power steering makes manoeuvring easy. It was only as we approached the road and had to negotiate a farm gateway that we came up against the limitations of the steering lock.
The swept turning circle is 2.3m greater with a driven steered axle for the longer 3.64m wheelbase chassis than without it.
With our short (3.09m) wheelbase ET, long multi-leaf springs give a very smooth ride over rural roads. The standard 917 cab suspension — incorporating rubber pivot bearings at the front and leaf springs and hydraulic dampers at the rear — is retained, but a larger diameter ram is employed to tilt the heavier weight of the crew cab. The hydraulic hand pump, however, lacks the capacity to avoid excessive pumping in raising the cab to its full tilt angle. An electric pump might make it more popular in the workshop.
HCB Angus has made good use of the space inside the cab. At the front the layout is standard Mercedes: in the rear breathing equipment is stowed behind the front seats giving a clear access through the doors to a very basic, lightly upholstered crew bench seat.
Step heights are low at 50cm, but they would be safer if a greater degree of stagger was offered between the rungs. Within an overall width of 2.42m (7ft llin) this is difficult to achieve.
UNIMOG
The Unirnog built its reputation in agriculture but today has a much wider appeal. Mercedes sells about 100 a year in this country mainly to public utilities and local authorities.
From September the RHD 1550L, also using the new generation Mercedes diesel engine, becomes a more viable proposition for the brigades as an all-terrain rapid intervention vehicle.
In this application the 5.96-litre turbocharged 0M366A power unit develops 156kW — 20% more than the 0M352A engine used in the 1300L is supersedes.
Drive is taken through an eight-speed gearbox which can be made to work in a forward or reverse direction simply by throwing a lever. First and second gear ratios are intended only for severe offroad conditions.
A dash-mounted light board, indicating the position of the gear lever, proved useful as a gear must be selected in each gate before moving up or down the box. Drive is taken directly from the main gearbox to each of the axles equipped with cross-axle difflocks, but it lacks an inter-axle differential.
Portal axles contribute to a high ground clearance of 440mm beneath the axle differential housings, and long coil springs combine with telescopic shock absorbers and a flexible chassis to give a soft ride over harsh ground conditions.
Disc brakes were first fitted to the Unimog over five years ago. Air-overhydraulic operation gives a smooth and progressive response, while their open design is less prone to contamination from mud, grit and the like.
The interior of the factory-fitted crew cab is somewhat basic, but with better crew seats than in the 917.
Mercedes-Benz's RHD factory conversion takes a devious route, entering the cab through the floor pan on the near side and taken across the driving compartment behind the fascia.
On the road the 1550L Unirnog has a top speed of around 78krn/h, while off road it is quite capable of climbing a 100% (1-in-1) gradient with a payload of about three tonnes in its small (2x1.89m) factory-fitted fixed-side steel body. Sideways stability is also impressive, if a little unnerving, while traversing a 40° gradient.
Although a specialist vehicle, available through only 12 Unirnog dealers in the UK, it incorporates many parts common to other models in the Mercedes range. The crew cab can be tilted but, in the absence of a lifting ram this is a workshop job as a lifting gantry is needed. The whole operation is said to take about 20 minutes including releasing its retaining bolts. Access to the engine for routine maintenance is achieved by simple removal of the front grille panel.
1120F
Our third vehicle in this mini assessment is the 1120F on-road fire appliance, which was supplied to Carmichael of Worcester in chassis-cowl form before the bodywork was added. It is the first vehicle from the LN2 range in the UK to be equipped with a turborcharged and charged-cooled version of the 5.96-litre engine. Designated 0M366LA it gives a power output of 150kW (204hp) at 2,600rpm and has a torque rating of 640Nm (4721bft) at 1,40Orpm.
Coupled to the optional Allison MT643 automatic transmission, performance can only be described as rapid. Acceleration from 0 to 64km/h takes just 19.5 seconds and gearchanges are exceptionally smooth. Although each of the four gears may be individually selected, doing so gives no advantage over the automatic mode. Top speed is about 116km/h (72mph) but just as important for an emergency tender is its ability to stop.
To conform to the JCDD (Joint Committee on Design and Development) standards, appliances and equipment have to meet defined minimum levels of performance. In-cab noise, for example, must not exceed 85dB(A) at any time, either with the engine running flat out or on load with the pump running at maximum pressure. While a maximum speed of only 96.5Icrn/h (60mph) is called for from a fully laden vehicle, some brigades are asking for 113km/h (70mph) and a restart gradeability of at least 25% (1-in-4).
The vehicle's braking system is specified as being a split or dual system which is power-operated or assisted and is required to provide an average overall deceleration of about 0.6g, with a pedal force of 70kg or less. The standard also calls for: a partial system performance of 0.25g overall; an air resevoir capacity check of the same level of deceleration after eight full brake pedal applications; and a brake fade test which must meet just under 0.5g from 50km/h after 20 applications at 80km/h. Manoeuvrability is another consideration for the JCDD which stipulates a wheelbase of up to 3.81m but will allow up to 4.12m with a maximum width of 2.29m to give a turning circle of 16.8m or less.
While road clearance below the bodywork must be at least 305min, the height of the axle casings can be less. Approach and departure angles can be as little as 14° and 12° for vehicles with a single drive axle, but four-wheel-drive vehicles must offer almost twice the clearance, at 25° and 20° respectively. The standard also requires a side tilt angle of at least 35° from a fully laden vehicle without crew. The specification favours automatic gearboxes, allowing manual transmissions, but requiring a power-to-weight ratio of at least 12.1kW/tonne of the GVW.
Carmichael constructed the six-man crew cab for the 1120F using aluminium panels over a steel frame but incorporated Mercedes' panels and components, including the door skins.
The pump's hydraulic drive allows the 1,800-litre water tank to be mounted some 150nun lower than with a PT-0 shaft drive. The vehicle also has a 50-litre foam tank.
Automatic water pressure regulation protects the fireman on the end of the hose — who might be on the end of the 13.5m ladder — from sudden changes such as where a second or third hose is connected or removed. The pump can deliver up to 2,954 litres/min and the tank is protected with an automatic shut-off valve to prevent overfilling.
As an indication of the detailed thought that goes into the design and construction of vehicles of this type, every one of the equipment lockers is fitted with its own strip light and wander lead.
El by Bill Brock