Curtain must pay
8th September 1988
Page 25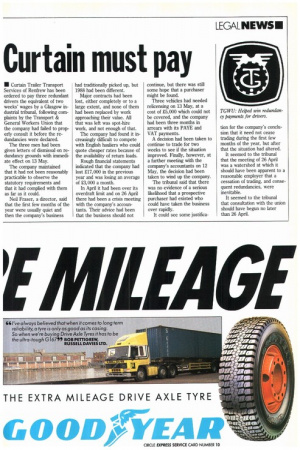 Page 25, 8th September 1988 —
Curtain must pay
Close
• Curtain Trailer Transport Services of Renfrew has been ordered to pay three redundant drivers the equivalent of two weeks' wages by a Glasgow industrial tribunal, following complaints by the Transport & General Workers Union that the company had failed to properly consult it before the redundancies were declared.
The three men had been given letters of dismissal on redundancy grounds with immediate effect on 13 May.
The company maintained that it had not been reasonably practicable to observe the statutory requirements and that it had complied with them as far as it could.
Neil Fraser, a director, said that the first few months of the year were usually quiet and then the company's business had traditionally picked up, but 1988 had been different.
Major contracts had been lost, either completely or to a large extent, and none of them had been replaced by work approaching their value. All that was left was spot-hire work, and not enough of that.
The company had found it increasingly difficult to compete with English hauliers who could quote cheaper rates because of the availability of return loads.
Rough financial statements indicated that the company had lost £17,000 in the previous year and was losing an average of £3,000 a month.
In April it had been over its overdraft limit and on 26 April there had been a crisis meeting with the company's accountants. Their advice had been that the business should not continue, but there was still some hope that a purchaser might be found.
Three vehicles had needed relicensing on 13 May, at a cost of £5,000 which could not be covered, and the company had been three months in arrears with its PAYE and VAT payments.
A decision had been taken to continue to trade for two weeks to see if the situation improved. Finally, however, at a further meeting with the company's accountants on 12 May, the decision had been taken to wind up the company.
The tribunal said that there was no evidence of a serious likelihood that a prospective purchaser had existed who could have taken the business over rapidly.
It could see some justifica tion for the company's conclusion that it need not cease trading during the first few months of the year, but after that the situation had altered.
It seemed to the tribunal that the meeting of 26 April was a watershed at which it should have been apparent to a reasonable employer that a cessation of trading, and consequent redundancies, were inevitable.
It seemed to the tribunal that consultation with the union should have begun no later than 26 April.