Sales boom at CV auctions
8th September 1988
Page 20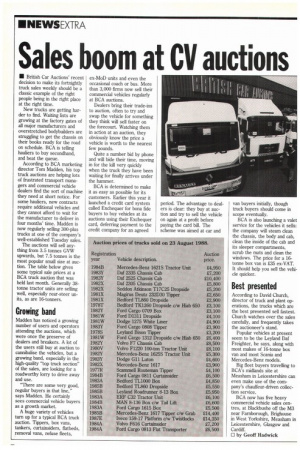 Page 20, 8th September 1988 —
Sales boom at CV auctions
Close
• British Car Auctions' recent decision to make its fortnightly truck sales weekly should be a classic example of the right people being in the right place at the right time.
New trucks are getting harder to find. Waiting lists are growing at the factory gates of all major manufacturers and overstretched bodybuilders are struggling to get the chassis on their books ready for the road on schedule. BCA is telling hauliers to buy secondhand, and beat the queue.
According to BCA marketing director Tom Madden, his top truck auctions are helping lots of frustrated transport managers and commercial vehicle dealers find the sort of machine they need at short notice. For some hauliers, new contracts require additional vehicles and they cannot afford to wait for the manufacturer to deliver in four months' time. Madden is now regularly selling 300-plus trucks at one of the company's well-established Tuesday sales.
The auctions will sell anything from 3.5 tonnes GVW upwards, but 7.5 tonnes is the most popular small size at auction. The table below gives some typical sale prices at a BCA truck auction that was held last month. Generally 38tonne tractor units are selling well, especially rear-steer units, as are 16-tonners.
Growing band
Madden has noticed a growing number of users and operators attending the auctions, which were once the preserve of dealers and breakers. A lot of the users still buy at auction to cannibalise the vehicles, but a growing band, especially in the high-quality "top truck section" of the sales, are looking for a roadworthy lorry to drive away and use.
"There are some very good, regular buyers in that line," says Madden. He certainly sees commercial vehicle buyers as a growth market.
A huge variety of vehicles turn up for a typical BCA truck auction. Tippers, box vans, tankers, curtainsiders, flatbeds, removal vans, refuse fleets, ex-MoD units and even the occasional coach or bus. More than 3,000 firms now sell their commercial vehicles regularly at BCA auctions.
Dealers bring their trade-ins to auction, often to try and swap the vehicle for something they think will sell faster on the forecourt. Watching them in action at an auction, they obviously know the price a vehicle is worth to the nearest few pounds.
Quite a number bid by phone and wffi bide their time, moving in for the kill very quickly when the thick they have been waiting for finally arrives under the hammer.
BCA is determined to make it as easy as possible for its customers. Earlier this year it launched a credit card system called Exchequer for bona fide buyers to buy vehicles at its auctions using their Exchequer card, deferring payment to the credit company for an agreed period. The advantage to dealers is clear: they buy at auction and try to sell the vehicle on again at a profit before paying the card bill. The scheme was aimed at car and van buyers initially, though truck buyers should come in scope eventually.
BCA is also launching a valet service for the vehicles it sells: the company will steam clean the chassis, the body and cab, clean the inside of the cab and its sleeper compartments, scrub the mats and dean the windows. The price for a 16tonne box van is E35 ex-VAT. It should help you sell the vehicle quicker.
Best presented
According to David Church, director of truck and plant operations, the trucks which are the best presented sell fastest. Church watches over the sales carefully, and frequently takes the auctioneer's stand.
Popular vehicles at present seem to be the Leyland Daf Freighter, he says, along with most makes of 16-tonne box van and most Scania and Mercedes-Benz models.
Big fleet buyers travelling to BCA's midlands site at Measharn in Leicestershire can even make use of the company's chauffeur-driven collection service.
BCA now has five heavy commercial vehicle sales centres, at Blackbushe off the M3 near Farnborough, Brighouse in West Yorkshire, Measham in Leicestershire, Glasgow and Cardiff.
D by Geoff Hadwick