On a beeline to Ribble
8th September 1988
Page 17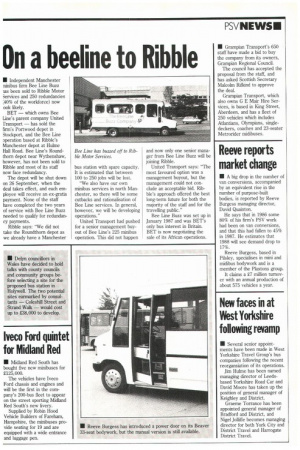 Page 17, 8th September 1988 —
On a beeline to Ribble
Close
• Independent Manchester minibus firm Bee Line Buzz as been sold to Ribble Motor services and 250 redundancies ;40% of the workforce) now ook likely.
BET — which owns Bee Line's parent company United Transport — has sold the firm's Portwood depot in Stockport, and the Bee Line bperation based at Ribble's Manchester depot at Hulme Hall Road. Bee Line's Roundthorn depot near Wythenshaw, however, has not been sold to Ribble and most of its staff now face redundancy.
The depot will be shut down on 26 September, when the deal takes effect, and each employee will receive an ex-gratia payment. None of the staff have completed the two years of service with Bee Line Buzz needed to qualify for redundancy payments.
Ribble says: "We did not take the Roundthorn depot as we already have a Manchester
bus station with spare capacity. It is estimated that between 100 to 250 jobs will be lost.
"We also have our own minibus services in north Manchester, so there will be some cutbacks and rationalisation of Bee Line services. In general, however, we will be developing operations."
United Transport had pushed for a senior management buyout of Bee Line's 225 minibus operation. This did not happen and now only one senior manager from Bee Line Buzz will be joining Ribble.
United Transport says: "The most favoured option was a management buyout, but the management could not conclude an acceptable bid. Ribble's approach offered the best long-term future for both the majority of the staff and for the travelling public."
Bee Line Buzz was set up in January 1987 and was BET's only bus interest in Britain. BET is now negotiating the sale of its African operations.