Irish reefers go for gold
8th September 1988
Page 12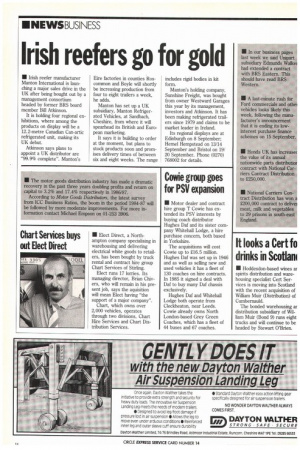 Page 12, 8th September 1988 —
Irish reefers go for gold
Close
• Irish reefer manufacturer Manton International is launching a major sales drive in the UK after being bought out by a management consortium headed by former BRS board member Bill Atkinson.
It is holding four regional exhibitions, where among the products on display will be a 12.2-metre Canadian Can-artic refrigerated unit, making its UK debut.
Atkinson says plans to appoint a UK distributor are "99.9% complete". Manton's Eire factories in counties Roscommon and Boyle will shortly be increasing production from four to eight trailers a week, he adds.
Manton has set up a UK subsidiary, Manton Refrigerated Vehicles, at Sandbach, Cheshire, from where it will spearhead its British and European marketing.
It says it is building to order at the moment, but plans to stock products soon and promises delivery times of between six and eight weeks. The range includes rigid bodies in kit form.
Manton's holding company, Sunshine Freight, was bought from owner Westward Garages this year by its management, investors and Atkinson. It has been making refrigerated trailers since 1979 and claims to be market leader in Ireland.
Its regional displays are at Edinburgh on 8 September; Hemel Hempstead on 13/14 September and Bristol on 19/ 20 September. Phone (0270) 768002 for details.