Ford's reward
8th September 1988
Page 10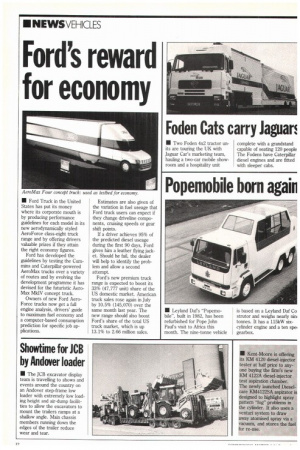 Page 10, 8th September 1988 —
Ford's reward
Close
for economy • Ford Truck in the United States has put its money where its corporate mouth is by producing performance guidelines for each model in its new aerodynamically styled AeroForce class-eight truck range and by offering drivers valuable prizes if they attain the right economy figures.
Ford has developed the guidelines by testing the Cummins and Caterpillar-powered AeroMax trucks over a variety of routes and by evolving the development programme it has devised for the futuristic AeroMax MkIV concept truck.
Owners of new Ford AeroForce trucks now get a full engine analysis, drivers' guide to maximum fuel economy and a computer-based consumption prediction for specific job applications. Estimates are also given of the variation in fuel useage that Ford truck users can expect if they change driveline components, cruising speeds or gear shift points.
If a driver achieves 95% of the predicted diesel useage during the first 90 days, Ford gives him a leather flying jacket. Should he fail, the dealer will help to identify the problem and allow a second attempt Ford's new premium truck range is expected to boost its 33% (47,777 unit) share of the US domestic market. American truck sales rose again in July by 10.5% (145,070) over the same month last year. The new range should also boost Ford's share of the total US truck market, which is up 13.1% to 2.66 million sales.