Glasgow Claims Higher Fares
8th October 1948
Page 80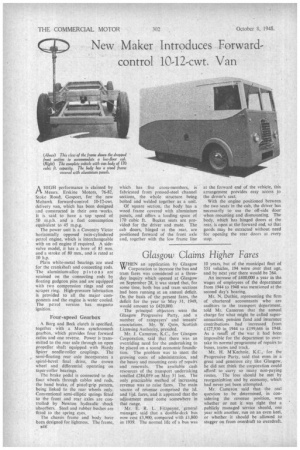 Page 80, 8th October 1948 —
Glasgow Claims Higher Fares
Close
WHEN an application by Glasgow rf Corporation to increase the bus and tram fares was considered at a threeday inquiry which opened at Glasgow on September 28, it was stated that, for some time, both bus and tram sections had been running at an annual deficit. On the basis of the present fares, the deficit for the year to May 31, 1949, would amount to £420,000.
The principal objectors were the Glasgow Progressive Party, and a number of ratepayers' and tenants' associations. Mr. W. Quin, Scottish Licensing Authority, presided.
Mr. J. Cameron, K.C., for Glasgow Corporation, said that there was an overriding need for the undertaking to be placed on a sound economic foundation. The problem was to meet the growing costs of administration, and the heavy and mounting costs of repairs and renewals. The available cash resources of the transport undertaking totalled £284,059 on May 31 last. The only practicable method of increasing revenue was to raise fares. The main source of revenue comprised the Id. and lid. fares, and it appeared that the adjustment must come somewhere in that range.
Mr. E. R. L. Fitzpayne, general manager, said that a double-deck bus now cost 0,9010, compared with £1,800 in 1939. The normal life of a bus was 10 years, but of the municipal fleet of 551 vehicles, 194 were over that age, and by next year there would be 264.
An increase of £400,000 a year in the wages of employees of the department from 1944 to 1948 was mentioned at the second day's hearing.
Mr. N. Duthie, representing the firm of chartered accountants who are auditors to the transport department, told Mr. Cameron that the annual charge for what might be called superannuation, pension fund and insurance contributions had increased from £127,930 in 1944 to £199,646 in 1948. As a rest& of the war it had been impossible for the department to overtake its normal programme of repairs to buses, trams and track.
Mr. H. M'Kechnie, K.C., for the Progressive Party, said that even in a great and generous city like Glasgow, he did not think the corporation could afford to carry so many non-paying routes. The loss should be met by reorganizAtion and by economy, which had never yet been attempted.
Mr. Cameron said that the real question to be determined, in considering she revenue position, was whether or not it was right that a publicly managed service should, one year with another, run on an even keel, or whether it should be allowed to stagger on from overdraft to overdraft.