"Streamlined"
8th October 1948
Page 77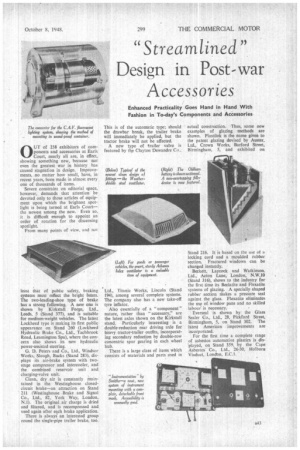 Page 78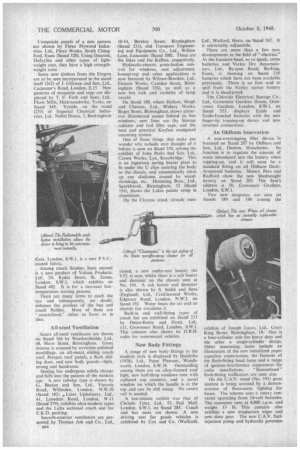 Page 79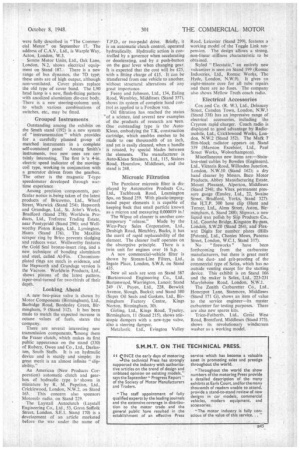 Page 77, 8th October 1948 —
"Streamlined"
Close
Design in Post-war
Accessories
0 UT of 238 exhibitors of components and accessories at Earls Court, nearly all are, in effect, showing something new, because not even the greatest war in history has caused stagnation in design. Improvements, no matter how small, have, in recent years, been made in almost every one of thousands of items.
Severe constraint on editorial space, however, demands that attention be devoted only to those articles of equipment upon which the brightest spotlight is being turned at Earls Court— the newest among the new. Even so, ii is difficult enough to appoint an order of rotation for the discerning spotlight.
From many points of view, and not least that of public safety, braking systems must reflect the bright beam. The two-leading-shoe type of brake has a strong following. A new one is shown by Kirkstall Forge, Ltd., Leeds, 5 (Stand 377), and is suitable for medium-weight vehicles. The latest Lockheed type is making its first public appearance on Stand 260 (Lockheed Hydraulic Brake Co., Ltd., Tachbrook Road, Leamington Spa), where the concern also shows its new hydraulic power-assisted steering.
G. D. Peters and Co., Ltd., Windsor Works, Slough, Bucks (Stand 283), displays its air-brake system with twostage compressor and intercooler, and the combined reservoir unit and charging-valve unit.
Clean, dry air is constantly maintained in the Westinghouse closedcircuit brake—an attraction on Stand 211 (Westinghouse Brake and Signal Co., Ltd., 82, York Way, London, N.I). The original air charge is dried and filtered, and is recompressed and used again after each brake application.
There is always an interested group round the single-pipe trailer brake, too.
This is of the automatic type; should the drawbar break, the trailer brake will immediately be applied, but the tractor brake will not be affected.
A new type of 'trailer valve is featured by the Clayton Dewandre Co..
Ltd., Titanic Works, Lincoln (Stand 194), among several complete systems. The company also has a new take-off Lyre inflator.
Also essentially of a "component" nature, rather than "accessory," are the latest axles shown on the Kirkstall stand. Particularly interesting is a double-reduction rear driving axle for heavy tractor-trailer outfits, incorporating secondary reduction by double-row concentric spur gearing in each wheel hub.
There is a large class of items which consists of materials and parts used in actual construction. Thus, some new examples of glazing methods are shown. Plastilok is the name given to the patent glazing devised by Auster, Ltd., Crown Works, Barford Street, Birmingham, 5, and exhibited on Stand 216. It is based on the use ot a locking cord and a moulded rubber section. Fractured windows can be changed instantly.
Beckett, Laycock and Watkinson, Ltd., Acton Lane, London, N.W.10 (Stand 316), shows to the industry for the first time its Beclatite and Flexatite systems of glazing. A specially shaped rubber section Makes a pressure seal against the glass. Flexatite eliminates the use of window pans and no skilled labour= is necessary.
Everseal is shown by the Glass Sealer Co., Ltd., 28, Pickford Street, Birmingham, 5, on Stand 302. The latest American improvements are incorporated.
For the first time a complete range of asbestos automotive plastics is dis'played, on Stand 359, by the Cape Asbestos Co., Ltd., 26-30, Holborn Viaduct, London, E.C.1. Composite panels of a new pattern arc shown by Flexo Plywood Industries, Ltd., Flexo Works, South Chingford, Essex (Stand 320). Using Onazote, Dufaylite and other types of lightweight core, they have a high strengthweight ratio Some new timbers from the Empire are to be seen incorporated in the stand itself (262) of J. Gliksten and Son, Ltd., Carpenter's Road, London. E.15 New patterns of moquette and repp are displayed by T. F. Firth and Sons, Ltd., Flush Mills, Heckmandwike, Yorks, on Stand 349. Vynide, on the stand (253) of Imperial Chemical Industries, Ltd.. Nobel House, 2, Buckingham Gate, London, S.W.1, is a new P.V.C.coated fabric.
Among coach finishes, Insta enamel is a new product of Vulcan Products, Ltd., 24, Ryder Street, St. James, London, S.W.1, which exhibits on Stand 402. It is for a two-coat lowtemperature stoving process.
There are many items to catch the eye and subsequently, no doubt, enhance the product of the bus and coach Builder. Most of them are ' streamlined," either in form or in idea.
All-steel Ventilation
Smart all-steel ventilators are shown on Stand 366 by Weathershields. Ltd., 48, Moor Street, Birmingham. Great. interest is aroused by screwless polished mouldings, an all-metal, sliding coach roof. Perspex roof panels, a flush sliding door, and new body guards--light, strong and handsome.
Seating has undergone subtle change and falls into the pattern of the modern "age. A new tubular type is shown by G. Beaton and Son, Ltd., Victoria Road, Willesden, London, N.W.I0 (Stand 182). , Latex Upholstery, Ltd., 41, Lonsdale Road, London, W.1 (Stand 279), exhibits ultra-modern types and the Lulta sectional coach seat for C.K.D. packing.
Smooth-exterior ventilators are presented by Thomas Ash and Co., Ltd., B44 10-14, Bernley Street, Birmingham (Stand 231), and Transport Engineering and Equipment Co., Ltd., Willow Lane. Lancaster (Stand 308). These are the Inlex and the Kelbus, respectively.
Hydraulic-electric press-button control for windows, seat adjustment. bonnet-top and other applications is now featured by Wilmot-Breeden. Ltd., Eastern Works. Camden Street, Birmingham (Stand 326), as well as a new bus lock arid varieties of lamp mould.
On Stand 180, where Hallam. Sleigh and Cheston, Ltd., Widney Works, Bagot Street, Birmingham, shows attractive illuminated scenes behind its bus windows, new lines are the Sinicap radiator and fuel filler caps; and the neat and practical Keyfast mudguard mounting system.
One of those things that make one wonder why nobody ever thought of it before is seen on Stand 374, among the exhibits of John Perks and Soh, Ltd., Crown Works, Lye, Stourbridge. This is an ingenious spring bearer plate to fit under the U clips securing the body to the chassis, and automatically takes up any slackness caused by woodshrinkage, etc. Hemming Bros., Ltd., Sparkbrook. Birmingham, 12 (Stand 156), shows the Lakes patent ramp in aluminium.
On the Clayton stand, already men firmed, a new under-seat heater, the V25, is seen, whilst there is a cab heater and demister on the chassis seen at No. 194. A cab heater and demister is also shown by S. Smith and Sons (England), Ltd., Cricklewood Works, Edgware Road, London, N.W.2, on Stand 192. 'Water heats the air and an electric fan circulates it.
Built-in and wall-fitting types of coach fan are exhibited on Stand 213 by Delco-Remy and Hyatt. Ltd., 111, Grosvenor Road, London, S.W.I. This concern also shows its D.R.H. radio for commercial vehicles.
New Body Fittings
A range of new body fittings in the modern style is displayed by Quicktho (1928), Ltd., Point Pleasant, Wandsworth, London, S.W.18. Outstanding among them are an alloy-framed roof light, new half-drop windows (one with radiused top corners), and a novel window on which the handle is at the top and can be slid along. No centre rail is needed.
A last-minute exhibit was that of Christie Tyler, Ltd.. 55, Pall Mall, London, S.W.1, on Stand 285. Coach and bus seats are shown. A new driving seat for goods vehicles is exhibited by Cox and Co. (Watford), Ltd., Watford, Herts. on Stand 367. It is universally adjustable.
There are more than a few new developments in the field of "electrics." At the fountain-head, so to speak, come batteries, and Varley Dry Accuinulators, Ltd., By-pass .Road, Barking, Essex, is showing on Stand 210 batteries which have not been available previously. There is no free acid to spill from the Varley starter battery and it is shockproof.
The Chloride Electrical Storage Co., Ltd., Grosvenor Gardens House, Grosvenor Gardens. London, S.W.1, on Stand 323, displays Exide and Exide-Ironclad batteries with the new finger-tip topping-up device and new terminal connections.
An Oldham Innovation
A non-overtopping filler device is featured on Stand 207 by Oldham and Son, Ltd.. Denton, Manchester. Its function is to regulate the amount of water introduced into the battery when topping-up, and it will soon be a standard fitting on all Oldham DemiArmoured batteries. Messrs. Peto and Radford show the new Shednought battery on Stand 205. The firm's address is 50, Grosvenor Gardens. London, S.W.1.
Two new magnetos are seen on Stands 189 and 190 among the exhibits of Joseph Lucas, Ltd., Great King Street, Birmingham, 19. One is a four-cylinder unit for heavy duty and the other a single-cylinder design. Other interesting items include an illustration of the new metallized paper capacitor construction, the features of the flush-fitting head lamp and a range of ignition-interference suppressors for radio installations. "Streamlined" flush-fitting trafticators are seen also.
On the C.A.V. stand (No. 191) great interest is being aroused by a demonstration of fluorescent lighting for buses. The scheme uses a rotary converter operating from 24-volt batteries. The converter runs at 8,000 r.p.m. and weighs 13 lb. This concern also exhibits a new windscreen wipet and new door gear. The new C.A.V. fuelinjection pump and hydraulic governor were fully described in "The Commercial Motor" on September 17. The address of C.A.V., Ltd., is Warple Way, Acton, .London, W.3.
Siinms Motor Units, Ltd., Oak Lane, London, Ni. shows electrical equipment on Stand 187. There is a new range of bus dynamos, the 7D type; these units are of high output, although non-ventilated. Cover plates replace the old type of cover band. The L90 head lamp is a new, flush-fitting pattern with anodized aluminium die-cast body. There is a new steering-column unit, to which various combinations of switches, etc., may be fitted.
Grouped Instruments
Outstanding among the exhibits on the Smith stand (192) is a new system of 'instrumentation" which provides for a carefully planned group of matched instruments in a complete self-contained panel Among Smith's instruments, two new ones are certainly interesting. The first is 'a 4-in. electric speed indicator of the movingcoil type, working in conjunction with a generator driven from the gearbox. The other is the magnetic T-type speedometer developed through wartime experience Among precision components, particular notice is,being taken of the latest products of Bricovmo, Ltd., Wharf Street, Warwick (Stand 254); Hepworth and Grandage, Ltd., Si. John's Works, Bradford (Stand 278); Worldwin Products, Ltd., Treforest Trading Estate, near Pontypridd (Stand 296); and Wellworthy Piston Rings, Ltd., Lymingion, Hants (Stand 176). The Maxilite scraper ring by Brico prevents sludging and reduces.wear. Wellworthy features the Gold Seal bronze-insert ring, and a new technique of bonding aluminium
and steel, called Al-Fin. Chromiumplated rings are much in evidence, and the Hepworth and Grandage version is the Vacrom. Worldwin Products, Ltd., shows pistons of the latest pattern, taper-oval-turned for two-thirds of their depth.
Looking Ahead
• A new two-piece valve is shown by Motor Components (Birmingham), Ltd., Burbidge Road, Bordesley Green, Birmingham, 9 (Stand 312). It has been made to match the expected increase in octane values of fuels, states the company.
There are several interesting new transmission components, °among them the Fraser clutch, which makes its first public appearance on the stand (330) of Rubery. Owen and Co, Ltd., Darlaston, South Staffs. It is an hydraulic device and is sturdy and simple; its great merit is an almost infinite "slipability."
An American (New Products Corporation) automatic clutch and gearbox of hydraulic type is • shown in miniature by R. M. Papelian, Ltd.. Cricklewood, London, N.W2. on Stand 163. This concern also sponsors Motorola radio, on Stand 229.
The LaystalI Autoclutch (Laystall Engineering Co., Ltd., 53, Great. Suffolk Street, London, KEA. Stand 170) is a development of an article marketed before the war under the name of T.P.D., or two-pedal drive. Briefly, it is an automatic clutch control, operated hydraulically. Hydraulic action is controlled by a governor when accelerating or decelerating, and by a push-button on the gear lever when changing gear. It is expected that the cost will be £25, with a fitting charge of £15. It can be transferred from one vehicle to another, without structural alterations of any great importance Feeny and Johnson, Ltd., 134, Ealing Road, Wembley, Middlesex (Stand 357), shows its system of complete hand control as applied to a Fordson van.
Oil filtration has reached the status of a science, And several new examples of the products of research are teen. One outstanding type is the AutoKlean, embodying the T.K. construction cartridge, which enables meshes to be made to one thousandth of an inch, and yet is easily cleaned, when a handle is rotated, by special blades between
the elements. The man ufacttirer is Auto-Klean Strainers, Ltd., 115, Staines Road, Hounslow, Middlesex, and the stand is 248. ,
Micronic Filtration 'The Purolator micronie filter is displayed by Automotive Products Co., Ltd., Tachbrook Road, Leamington Spa, on Stand 259, With plastic-impregnated paper elements it is capable of keeping back that small particle known as a micron and measuring 0.000039 in.!
The Wipac oil cleaner is another_con temporary "release." Made by the Wico-Pacy Sales Corporation, Ltd., Denbigh Road, Bletchley, Bucks, it has the merit of rapid replaceability of the element. The cleaner itself operates on the absorptive principle. There is a twin unit for engines over 16 h.p.
A new commercial-vehicle filter is shown by Stream-Line Filters, Ltd., 1ngate Place, London, S.W.8, on Stand 435.
New oil seals are seen on Stand 387 (Buttonwood Engineering •Co., Ltd., Burtonwond, Warrington, Lanes); Stand 249 (V. Payen, Ltd.. 228, Berwick Avenue. Slough, Bucks); and Stand 380 (Super Oil Seals and Gaskets. Ltd., Birmingham Factory Centre, Kings Norton. Birmingham, 30).
Girling. Ltd., Kings Road, Tyseley, Birmingham, II (Stand 215), shows telescopic dampers with a new-type valve, also a steering damper, Metalasiic Ltd., Evington Valley Road, Leicester (Stand 299), features a working model of the Toggle Link suspension. The design allows a strong. non-linear stiffness characteristic to be obtained.
Styled " Elecstatic," an entirely new vulcanizer is seen on Stand 199 (Rornac Industries, Ltd., Romac Works, The Hyde, London. N.W.9). It gives an eight-minute cure for all tube repairs and there are no fuses. The company also shows Mellow Truth coach radio.
Electrical Accessories
Cox ,and Co. (R. W.), Ltd., Delancey Street, Camden Town, London. N.W.1 (Stand 338) has an impressive range of electrical accessories, including the Crypton rapid charger. Coach radio is displayed to good advantage by Radiomobile, Ltd., Cricklewood Works, London, N,W.2 (Stand 352). The Mark 7 film-block radiator appears on Stand 339 (Marston Excelsior, Ltd., Paul Street Works, Wolverhampton).
Miscellaneous new items are:—Stainless-steel cables by Bowden (Engineers), Ltd., Victoria Road, Willesden Junction, London, N.W.I0 (Stand 162); a dry hand cleaner by Messrs. Baca Motor Products. Abbey Manufacturing Estate. Mount Pleasant, Alperton, Middlesex (Stand 294); the Vitex permanent pressure gauge (Emsley, Ltd., 22, Swaine Street, Bradford, Yorks, Stand 327): the H.T.P. 300 hose clip (Hunt and Turner, Ltd., Alma Street, Aston, Birmingham, 6, Stand 288); Slipwax. a new liquid wax polish by Slip Products Co., Ltd.. Coombe Bridge, Kingston By-pass. London, S.W.20 (Stand 264), and Flexw-yt Digits for number plates (Hills [Patents), Ltd., Chenies Mews, Pancras Street, London, W.C.1, Stand 317).
No " fireworks " have been forthcomlng from the carburetter manufacturers, but there is great merit in the dustand grit-proofing of the commercial type of Solex, which has no outside venting except for the starting device. This exhibit is on Stand 166 and the maker is Solex, Ltd., 223-231 Marylebane Road, London, N.W.1.
The Zenith Carburetter CO., Ltd.. Honcypot Lane, Stanmore, Middlesex (Stand 171 G), shows an item of value to the service engineer—its master carburetter for testing purposes. There are also new spares kits.
Trico-Folberth. Ltd., Great West Road, Brentford, Middlesex (Stand 373), shows its revolutionary windscreen washer as a working model.
Tags
Locations
:
Camden Town
,
Lancaster
,
Slough
,
Leeds
,
Leicester
,
Birmingham
,
Bradford
,
Wolverhampton
,
Manchester
,
Burtonwond
,
London
,
Lincoln