What's New in
8th October 1948
Page 72
Page 73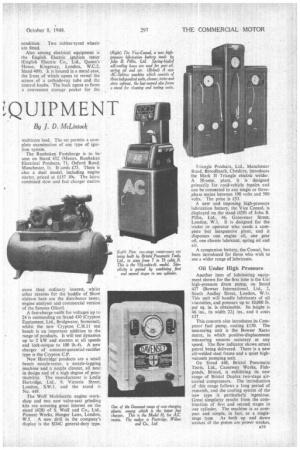 Page 74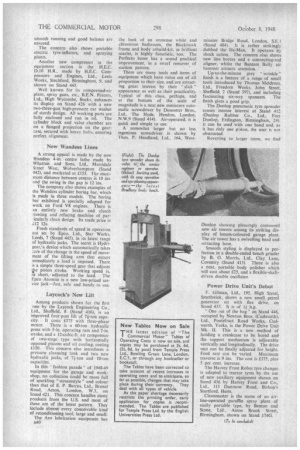 Page 72, 8th October 1948 —
What's New in
Close
SERVICE QUIPMENT
By J. D. McLintock
THE keen, far-seeing transport engineer finds much to attract and interest him in the transport service equipment section at Earls Court. There is much that is entirely new, too, in the way of equipment and devices designed to ease maintenance and save money and labour. The workshop, as well as the vehicle, is becoming "streamlined," and the old sombre machinery gives way to a gleaming and colourful array.
Typical of this tendency towards cleaning-up the tools, as well as the vehicle, is the latest design of t.be Black and Decker Valve Shop which has been introduced for the first time at the Show. This is on Stand 419 and the manufacturer is Black and Decker, Ltd., Harmondsworth, Middlesex.
Eye and Hand Appeal The cabinet has been rounded handsomely; the accessory drawer has subdivisions, and the storage cabinet beneath cannot be opened until the drawer is pulled out. Contents of the shop include the Valve-Master refacer, a complete Vibro-Centric grinding kit and a carbon-removing kit. The entire cabinet can be plugged into one power point.
This concern also shows the new 16-gauge Lectro-Shear, with its twoposition handle, which offers an easy means for cutting all classes of sheet material and will cut to a radius of
Making its first appearance at the Show is the latest kedition of the a38
well-knov,ii Bradbury brake-refacing
machine, the Universal. It is essentially modern in appearance, well finished in three bright colours and with working parts enclosed. The new machine has a universal mounting with belt drive; there is a built-in lamp to throw a strong light on the work.
Speed of operation has been enhanced and drill economy increased by the use of separate pedals for riveting and drilling, with different sensitivity. The drill spindle is mounted on anti-friction bearings. Improvements have been made to the grinding mechanism. Another new Bradbury product is the Jackette—a well-designed small trolley jack with quick-approach action,
finished in vermilion. The manufacturer is Joseph Bradbury and Sons, Ltd., New • Street Works, Braintree, Essex, and the stand is No. 411 J-K.
An important development in workshop operation is the import from the U.S.A. of the fast-charging technique for batteries. On Stand 433, Partridge Wilson and Co.,' Ltd., Evington Valley Road, Leicester, is showing the Davenset fast charger which made its d6but at the Show and constantly attracts attention. It will recharge starter batteries in about an hour and is stated to be foolproof. The wheeled Chassis makes it highly mobile, and incorporates a selenium metal rectifying unit. This concern also shows a novel pistol-grip battery tester of ultra-modern shape.
Another exponent of the new technique is Legg (Industries), Ltd., Williamson Street, Wolverhampton, which exhibits the Legg fast charger on Stand 453. It is supplied for connection to a 200-250-volt 50-cycle singlephase A.C. supply and costs £107 10s. to the trade. The battery need not be taken from the vehicle and the average time required for a substantial charge is 30-55 minutes, dependent on size and condition. Two rubber-tyred wheels are fitted.
Also among electrical equipment is the English Electric ignition tester (English Electric Co., Ltd., Queen's House, Kingsway, London, W.C.2, Stand 409). It is housed in a metal case, the front of which opens to reveal the screen of a cathode-ray tube and the control knobs. The back opens to form a convenient storage pocket for the multicore lead. The set permits a complete examination of any type of ignition system.
The Runbaken Fastcharge is to be seen on Stand 432 (Messrs. Runbaken Electrical Products, 71, Oxford Road. Manchester, 1). It costs £75. There is also a dual model, including engine starter, priced at £137 10s. The latest combined slow and fast charger excites more than ordinary interest, whilst other reasons for the huddle of Show visitors here are the distributor tester, engine analyser and commercial version of the famous (Nicoll.
A fast-charge outfit for voltages up to 24 is outstanding on Stand 430 (Crypton Equipment, Ltd., Bridgwater, Somerset), whilst the new Crypton C.H.11 test bench is an important addition to the range of products. It will test dynamos up to 2 kW and starters at all speeds and lock-torque to 100 lb.-ft. A new charger of constant-potential-rectifier type is the Crypton C.P.
New Hartridgeproducts are a small bench nozzle-tester, a nozzle-lapping machine and a nozzle cleaner, all neat in design and of a high degree of practicability. The manufacturer is Leslie Hartridge, Ltd., 9. Victoria Street, London, S.W.1, and the stand is No. 449.
The Wolf Mobilectric engine workshop and two new valve-seat grinding kits are arousing great interest on the stand (428) of S. Wolf and Co., Ltd., Pioneer Works, Hanger Lane, London, W.5. A new drill in the company's display is the SD4C general-duty type. Triangle Products, Ltd., Manchester Road, Broadheath, Cheshire, introduces the Mark H Triangle electric welder. A 50-amp, plant, it is designed primarily for road-vehicle repairs and can be connected to any single or threephase mains between 190 volts and 500 volts. The price is £53.
A new and imposing high-pressure lubrication battery, the Vice Consul, is displayed on the stand (420) of John B. Pillin, Ltd., 46, Grosvenor Street, London, W.1. It is designed for the trader or operator who needs a complete but inexpensive plant, and it dispenses one engine oil, one gear oil, one chassis lubricant, spring oil and air.
A companion battery, the Consul, has been introduced for those who wish to use a wider range of lubricants.
Oil Under High Pressure
Another item of lubricating equipment shown for the first time is the Uni high-pressure drum pump, on Stand 437 (Bowser International, Ltd., 2, South Audley Street, London, W. I). This unit will handle lubricants of all viscosities, and pressure up to 10,000 lb. per sq. in. is obtainable. Its height is 46 ins., its width 221 ins., and it costs £37 This concern also introduces its Computor fuel pump, costing £150. The measuring unit is the Bowser Xacto meter, in which positive-displacement measuring ensures accuracy at any speed. The flow indicator shows actual petrol being delivered. There is a new all-welded steel frame and a quiet highvacuum pumping unit.
On Stand 448, Bristol Pneumatic Tools, Ltd., Causeway Works, Fishponds, Bristol, is exhibiting its new range of Bristol Duplex two-stage aircooled compressors. The introduction of this range follows a long period of research, and the cooling system of the new type is particularly ingenious. Great simplicity results from the combination of first and second stages in one cylinder. The machine is as compact and simple, in fact, as a singlestage type. As both up and down strokes of the piston are power strokes,
smooth running and good balance are ensured.
The concern also shows portable electric tyre-inflators, and spraying plants.
Another new compressor in the equipment section is the H.E.C. D.10 11.R., made by H.E.C. Compressors and Engines, Ltd., Levis Works, Stechford, Birmingham, 9, and shown on Stand 443.
Well known for its compressed-air plant, spray guns, etc., B.E.N. Patents, Ltd., High Wycombe, Bucks, enhances its display on Stand 426 with a new two-three-gun high-pressure car washer of sturdy design. All working parts are fully enclosed and run in oil. The cylinder block and valve chamber are on a flanged projection on the gearcase, secured with heavy bolts, ensuring perfect alignment.
New Wandess Lines
A strong appeal is made by the new Wandess 4-in, centre lathe made by Whatton and Sons, Ltd., Merridale Street West, Wolverhampton (Stand 442), and marketed at £155. The maximum distance between centres is 10 ins. and-the swing in the gap is 12 ins.
The company also shows examples of the Wandess cylinder boring bar, which is made in three models. The boring bar exhibited is specially adapted for work on Ford V8 engines. There is an entirely new brake and clutch riveting and refacing machine of paricularly clean design. Its trade price is '412 12s.
Fresh standards of speed in operation are set by Epco, Ltd., Star Works, Leeds, 7 (Stand 445), in its latest range of hydraulic jacks. The secret is Hydrigear,'a device which automatically takes are of the change in the speed of movement of the lifting arm that occurs immediately a load is imposed. There is a simple three-speed gear that adjusts law piston stroke. Working speed is, in short,adjusted to the load. The Epco Atomite is a new low-priced service jack—fast. safe and handy to use.
Laycock's New Lift
Among products shown for the first ime by the Laycock Engineering Co., Ltd., Sheffield, 8(Stand 416), is an improved four-post lift of 7i-ton capacity. It costs £375 with three-phase motor. There is a 60-ton hydraulic• press with 5-in, operating ram and 7-in. stroke, and a 12-cubic-ft. air compressor of two-stage type with horizontally opposed pistons and oil cooling, costing £150. This concern also introduces a pressure cleansing tank and two new hydraulic jacks, of 7-ton and 10-ton capacities.
In this' fashion parade" of 1948-49 equipment for the garage and workshop, no collection could be more full of sparkling "streamstyle" and colour than that of E. P. Barrus, Ltd. Brunel Road, Acton, London, NV.3, on Stand 421. This concern handles many products from the U.S. and most of these are of the latest pattern. They include almost every Conceivable kind of reconditioning tool, large and small.
The Aro lubrication equipment has MO the look of an immense white and chromium bathroom, the Blackhawk frame and body rebuild-kit, in brilliant scarlet, is highly futuristic, too. The Perfecto borer has a sound pradtical improvement, in a swarf remover of suction pattern.
' There are many tools and items of equipment which have value out of all proportion to their size, and are attracting great interest by their " slick " appearance as well as their practicality. Typical of this class, perhaps, and at the bottom of the scale of magnitude is a neat new miniature automatic screwdriver by Desouttcr Bros., Ltd., The Hyde, Hendon, London, N.W.9 (Stand 414). Air-operated, it is quick and simple to use.
A somewhat larger but no less ingenious screwdriver is shown by Thos. P. Headland. Ltd., 164, West minster Bridge Road, London. S.E.1 (Stand 404). It is rather strikingly dubbed the He-Man. It operates by shock action. The concern also shows new line borers and a connecting-rod aligner, whilst the Bantam Bully air hammer attracts attention.
Up-to-the-minute grey "wrinkle" finish is a feature of a range of small tools introduced by Thomas Meldrum, Ltd., Freedom Works, John Street, Sheffield, 2 (Stand 397), and including fascinating six-way spanners. The finish gives a good grip.
The Dunlop pneumatic tyre spreader causes intense interest at Stand 412 (Dunlop Rubber Co., Ltd., Fort Dunlop, Erdington, Birmingham, 24). It can be used with one hand and, as it has only one piston, the user is not obstructed.
Reverting to larger items, we find Dunlop showing pleasingly contoured new air towers among its striking display of lemon-coloured garage plant. The air tower has a swivelling head and retracting hose.
Smooth styling is displayed to perfection in a double-ended bench grinder by B. 0. Morris, Ltd., Clay Lane. Coventry (Stand 413). There is also a neat, portable body polisher which will cost about £25, and a flexible-shaftdriven double oscillator.
Power Drive Unit's Debut
F. Gilman, Ltd., 195, High Street, Smethwick, shows a new small petrol generator set with flex drive, on Stand 455. It is of h.p.
"One .mt of the bag" on Stand 446, occupied by Newton Bros. (Cudworth). Ltd., Pontefract Road Works, Cudworth, Yorks, is the Power Drive Unit Mk. 11. This is a new method of holding a crankcase to be bored and the support mechanism is adjustable vertically and longitudinally. The drive unit can be finally adjusted for height. Feed rate can be varied. Maximum traverse is 9 ins. The cost is £175, plus 5 per cent. increase.
The Haivey Frost Robot tyre changer is adapted to tractor tyres by the use of new auxiliary equipment shown on Stand 436 by Harvey Frost and Co., Ltd., 113 Dunmow Road, Bishop's Stortford, Herts.
Cleanmaster is the name of an airline-operated paraffin spray plant of easily portable type, by Benton and Stone, Ltd., Aston Brook Street, Birmingham, shown on Stand .174G.