Results of Tyre Research
8th October 1948
Page 54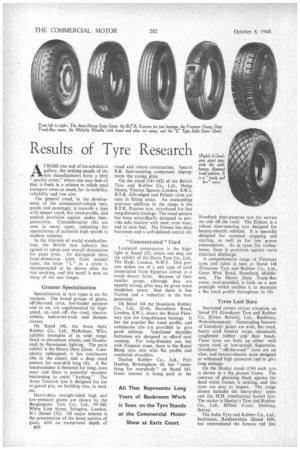 Page 55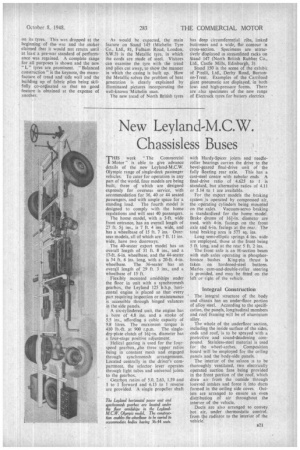 Page 54, 8th October 1948 —
Results of Tyre Research
Close
CROSS one end of the exhibition gallery, the striking stands of the tyre manufacturers form a little "quality street," where one may find all that is fresh in a science to which road transport owes so much, for its mobility, reliability and low cost.
The general trend, in the development of the commercial-vehicle tyre, goods and passenger, is towards a type with deeper tread, flat tread-profile, and studied provision against undue heatgeneration. Circumferential ribs are seen in many types, indicating the appreciation of potential high speeds in modern vehicles.
In the interests of world standardization, the British tyre industry has agreed to adopt new overall dimensions for giant tyres. To distinguish these large-dimension tyres from normal types, the letter "L" in a circle is recommended to be shown after the size marking, and this motif is seen on many of the new ranges.
Greater Specialization
Specialization in tyre types is on the increase. The broad groups of giants, off-the-road tyres, low-loader patterns and so on, are supplemented by high
speed. on off the road, electricvehicle, industrial-truck and dumper classes.
On Stand 146, the Avon India Rubber Co., Ltd., Melksham, Wilts, exhibits examples of its wide range, fitted to chromium wheels, and illuminated by fluorescent lighting. The main exhibit is the Heavy Duty Giant, Completely redesigned, it has continuous ribs in the centre, and a deep tread pattern for non-skid long life. A flat tread-contour is featured for long, even wear and there is powerful shoulder buttressing to resist "kerbing." The Avon Traction tyre is designed for use in gravel pits, on building sites, in mud, etc.
Heavy-duty straight-sided high and low-pressure giants are shown by the Bergougnan Tyre Co.. Ltd., 95-100, White Lion Street, Islington, London, N I (Stand 152). Of major interest is the presentation of the latest pattern of giant, with an exceptional depth of
B20 tread and robust construction. Special 13.13. heat-resisting compound impregnates the casing plies.
On the stand (141-142) of the British Tyre and Rubber Co., Ltd., Herga House, Vincent Square, London, S.W.I, B.T.R. Gilt-edged and Palmer tyres are seen in fitting array. An outstanding post-war addition to the range is the B.T.R. Express tyre, introduced for fast long-distance haulage. The tread pattern has been scientifically designed to provide safe traction with slow, even wear, and to save fuel. The Palmer has deep buttresses and a well-defined central rib.
"Concentrated" Cord
Lasticord construction is the highlight at Stand 153, where one may see the exhibit of the Davis Tyre Co., Ltd., The Hyde, London, N.W.9. This process makes use of a new type of cord constructed from Egyptian cotton in a much denser form, Because of their smaller gauge, although they are equally strong, plies may be given more insulation space; thus there is less friction and a reduction in the heat generated.
On Stand 144 the Dominion Rubber Co., Ltd., 62-64, Horscferry Road, London, S.W.I, shows the Royal Fleetway tyre for long-distance haulage. It has the popular flat tread profile, and continuous ribs are provided to give good mileage. Ventilated shoulder buttresses are designed to afford cool running. For long-distance use, but with frequent stops, there is the Royal Block tyre, also with flat profile and ventilated shoulders.
Dunlop Rubber Co., Ltd., Fort Dunlop, Birmingham, 24, has "something for everybody" on Stand 143. Great interest is being paid to the Roadtrak dual-purpose tyre for service on and offthe road. The Elektra is a robust slow-wearing tyre designed for battery-electric vehicles. It is specially designed for constant stopping and starting, as well as for low power consumption. As in tyres for trolleybuses, there is provision against static electrical discharge.
A comprehensive range of Firestone tyres and tubes is seen at Stand 148 (Firestone Tyre and Rubber Co., Ltd., Great West Road, Brentford, Middlesex). The Heavy Duty Truck-Bus cover, oval-moulded, is built on a new principle which enables it to maintain a flat tread profile throughout its life.
Tyres Laid Bare
Sectioned covers attract attention on Stand 151 (Goodyear Tyre and Rubber Co. [Great Britain], Ltd., Bushbury, Wolverhampton). Outstanding features of Goodyeqr giants are wide, flat tread, heavy cord breaker strips, chemically toughened rubber and dual beads. These tyres are built up either with rayon cord or low-stretch Supertwist. Goodyear " off-the-road " tyres are on view, and battery-electric tyres designed to withstand high pressures and to giva long mileage. '
On the Henley stand (154) each tyre is shown in a big picture frame. The contrast of gleaming black against the dead white frames is striking, and the tyres are easy to inspect. The range shown includes the heavy-duty types and the M.H. (mechanical horse) tyre. The maker is Henley's Tyre and Rubber Co., Ltd., Milton Court, Dork.ing, Surrey.
The India Tyre and Rubber Co., Ltd., Inchinnan, Renfrewshire (Stand 149). has reintroduced the famous red line on its tyres. This was dropped at the beginning of the. war and the maker claimed that it would not return until at least a pre-war standard of performance was regained. A complete range for all purposes is shown and the new "L" tyres are prominent. "Balanced construction" is the keynote, the manufacture of tread and side wall and the building up of fabric plies being skilfully co-ordinated so that no good feature is obtained at the expense of another. As would be expected, the main feature on Stand 145 (Michelin Tyre Co., Ltd., 81, Fulham Road, London, S.W.3) is the Metallic tyre, in which the cords are made of steel. Visitors can examine the tyre with the tread and plies cut away, to show the manner in which the casing is built up. How the Metallic solves the problem of heat generation is clearly explained by illuminated pictures incorporating the well-known 'Michelin man.
The new tread of North British tyres has deep circumferential ribs, linked buttresses and a wide, fiat contour :n cross-section. Specimens are attractively displayed in streamlined racks on Stand 147 (North British Rubber Co., Ltd.. Castle Mills, Edinburgh, 31.
Stand 150 is the scene of the exhibit of Pirelli, Ltd., Derby Road, Burtonon-Trent. Examples of the Carriload giant pneumatic are displayed, in both lowand high-pressure forms. There are also specimens of the new range of Electruck tyres for battery electrics.