News of the Week
8th October 1948
Page 44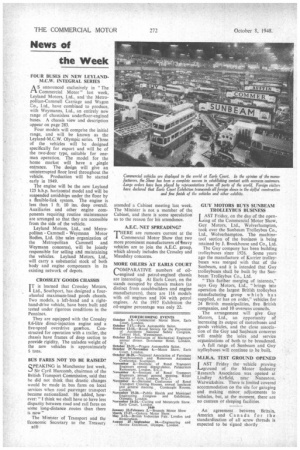 Page 45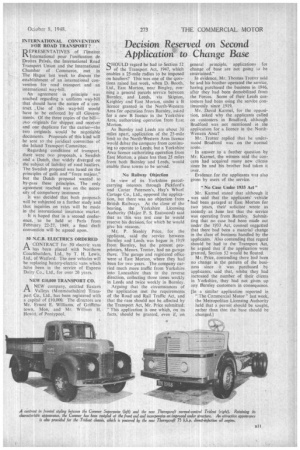 Page 44, 8th October 1948 —
News of the Week
Close
Keywords :
British Leyland
,
Electric Vehicles
,
Rootes
,
Sunbeam
,
Guy Motors
,
Crossley Motors
,
Leyland Motors
,
Buses
,
Crossley
,
Trolleybus
,
Battery Electric Vehicle
,
Motat Collections
FOUR BUSES IN NEW LEYLANDM.C.W. INTEGRAL SERIES
AS announced exclusively in "The Commercial Motor" last week, Leyland Motors, Ltd., and the Metropolitan-Cammell Carriage and Wagon Co., Ltd., have combined to produce, with Weymanns, Ltd., an entirely new range of chassisless underfloor-engined buses. A chassis view and description appear on page 283.
Four models will comprise the initial range, and will be known as the Leyland-M.C.W. Olympic series. Three of the vehicles will be designed specifically for export and will be of the two-door type, suitable for oneman operation. The model for the home market will have a 4ingle entrance. The design will give an uninterrupted floor level throughout the vehicle. Production will be started early in 1949.
The engine will be the new Leyland 125 b.h.p. horizontal model and will be suspended amidships under the floor by a flexible-link system. The engine is less than 1 ft. 10 ins, deep overall. Auxiliaries and other engine components requiring routine maintenance are arranged so that they are accessible from the side of the vehicle.
Leyland Motors, Ltd., and Metropolitan Cammell Weymann Motor Bodies, Ltd. (the sales organization of the Metropolitan Cammell and Weymann concerns), will be jointly responsible for selling arid maintaining the vehicles. Leyland Motors, Ltd., will carry a substantial stock of both body and engine components in its existing network of depots.
CROSSLEY GOODS CHASSIS
IT is learned that Crossley Motors, 1 Ltd., Southport, has designed a fourwheeled maximum-load goods chassis. Two models, a left-hand and a righthand-drive vehicle, have been built and tested under rigorous conditions in the Pennines.
They are equipped with the Crossley 8.6-litre direct-injection engine and a five-speed overdrive gearbox. Constructed for operation with a trailer, the chassis have frames of deep section to provide rigidity. The unladen weight of the new vehicles is approximately 6 tons.
BUS FARES NOT TO BE RAISED?
QPEAKING in Manchester last week, 0 Sir Cyril Hurcomb, chairman of the British Transport Commission, said that he did not think that drastic changes would be made in bus fares on local services when road pasrenger transport became nationalized, lie added, however: "I think we shall have to have less disparity between road and rail fares on some long-distance routes than there is now"
The Mirrister of Transport and the Economic Secretary to the Treasury nI0 attended a Cabinet meeting last week. The Minister is not a member of the Cabinet, and there is some speculation as to the reason for his attendance.
A.E.C. NET SPREADING?
THERE are rumours current at the I Commercial Motor Show that two more prominent manufacturers of +heavy vehicles are to join the A.E.C. group, which already includes the Crossley and Maudslay concerns.
MORE OILERS AT EARLS COURT COMPARATWE numbers of oilengined and petrol-engined chassis are interesting. At Earls Court, on the stands occupied by chassis makers (as distinct from coachbuilders and engine manufacturers), there are 116 models with oil engines and 104 with petrol engines. At the 1937 Exhibition the oil-engine percentage was only 22.
GUY MOTORS BUYS SUNBEAM TROLLEYBUS BUSINESS
L f AST Friday, on the day of the open
ing of the Commercial Motor Show, Guy Motors, Ltd., Wolverhampton, took over the Sunbeam Trolleybus Co., Ltd., Wolverhampton. The machinetool section of the business is being retained by J. Brockhouse and Co., Ltd.
The Guy company has been building trolleybuses since 1926. Some years ago the manufacture of Karrier trolleybuses was merged with that of the Sunbeam, and it is intended that Guy trolleybuses shall be built by the Sunbeam Trolleybus Co., Ltd.
"This further merging of interests," says Guy Motors, Ltd., brings into operation the largest British trolleybus manufacturing group wh ich ha s supplied, or has on order," vehicles for 24 British municipalities, five British companies, and 10 overseas councils.
The arrangement will give Guy Motors, Ltd., an opportunity of increasing its output of motorbuses and goods vehicles, and the close association of the Guy and Sunbeam concerns will enable the 'sales and service organizations of both to be broadened.
A full range of Sunbeam and Guy trplleybuses will continue to be built.
M.I.R.A. TEST GROUND OPENED
LAST Friday the vehicle proving ground of the Motor Industry Research Association was opened at Lindley Airfield, near Nuneaton, Warwickshire. There is limited covered accommodation on the site for garaging and making minor adjustments to vehicles, but, at the moment, there are no canteen or sleeping facilities.
An agreement between Britain, America and Canada for the standardization of all screw threads is expected to be signed shortly INTERNATIONAL CONVENTION FOR ROAD TRANSPORT?
REPR ESENTAT I V ES of stitut
International pour l'unification de Droites Prives, the International Road Transport Union and the International Chamber of Commerce, met in The Hague last week to discuss the establishment of an international convention for road transport and an international way-bill.
An agreement in principle was reached regarding a uniform way-bill that should have the nature of a contract. Use of this way-bill would have to be enforced by all Governments. Of the three copies of the bill— two originals for shipper and receiver and one duplicate for the carrier—the two originals would be negotiable documents. Proposals of this kind will be sent to the juridical committee of the Inland Transport Committee.
Regarding conditions of transport, there were two proposals. a Swedish and a Dutch, that widely diverged on the subject of liability of road hauliers. The Swedish proposal was based on the principles of guilt and "force majeur," but the Dutch proposal wanted to by-pass these principles. The only agreement reached was on the necessity of compulsory insurance.
It was decided that both proposals will be subjected to a further study and that inquiries on rates will be made in the international insurance market.
It is hoped that in a second conference, to be held at Paris from February 22-27, 1949, a final draft convention will be agreed upon.
50 N.C.B. ELECTR1CS ORDERED
A CONTRACT for 50 electric vans -t has been placed with Northern Coachbuilders, Ltd., by T. H. Lewis, Ltd., of Watford. The new vehicles will be replacing battery-electric vans which have been in the service of Express Dairy Co., Ltd., for over 20 years.
NEW £10,000 TRANSPORT CO.
ANEW company, entitled Eastern Valleys (Monmouthshire) Transport Co., Ltd., has been registered with a capital of £10,000. The directors are Mr. Ernest E. Williams, of Griffithstown, Mon, and Mr. William H. Hewitt, of Pontypool.