" Be British."
8th October 1914
Page 2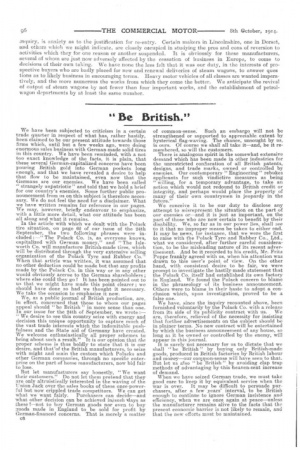 Page 2, 8th October 1914 —
" Be British."
Close
Keywords :
We have been subjected to criticism in a certain trade quarter in respect of what has, rather hastily, been claimed to be our present attitude towards those firms which, until but a few weeks ago, were doing enormous sales business with German-made solid tires in this country. We have been reminded, with a not too exact knowledge of the facts, it is plain, that these several German-capitalized concerns have been pouring British gold into German pockets long enough, and that we have revealed a desire to help that flow to be maintained, even now that the Germans are our enemies. We have been called " strangely unpatriotic " and told that we hold a brief for our country's enemies. Some further public pronouncement from us on this subject is therefore necessary. We do not feel the need for a disclaimer. What we have written re-mains for reference in our pages. We may. however, briefly endeavour to emphasize, with a little more detail, what our attitude has been all along and what it remains.
In the article with which we dealt with the Polack tire situation, on page 62 of our issue of the 24th September, the two following phrases were included : —" The Polack Co. is, as everyone knows, capitalized with German money," and "The Isle-worth Co. will manufacture British-made tires, which will be distributed through the very extensive selling organization of the Polack Tyre and Rubber Co." When that article was written, it was assumed that no other deduction could be made but that any profits made by the Polack Co. in this way or in any other would obviously accrue to the German shareholders ; where else could they go ? It has been pointed out to us that we might have made this point clearer ; we should have done so had we thought. it necessary. We take the occasion to emphasize it now.
We, as a public journal of British production, are, in effect, concerned that those to whom our pages appeal should "be British " in more sense than one. In .our issue for the 24th of September, we wrote :— "We desire to see this country seize with energy and decision this unique opportunity to capture much of the vast trade interests which the indomitable pushfulness and the State aid of Germany have created. We welcome enthusiastically all proper schemes to bring about such a result." It is our opinion that the proper scheme is thus boldly to state that it is our desire, and that'of the British manufacturers, to seize with might. and main the custom which PoIacks and other German companies, through no specific enterprise on the part of home manufacturers, now bid fair to lose.
But let manufacturers say honestly, "We want their customers." Do not let them pretend that they are only altruistically interested in the waving of the Union Jack over the .sales books of these once-powerful but now -crippled trade competitors. We can get what we want fairly. Purchasers can decide—and what other decision can be achieved ire) such idays as these ?—not to buy German goods nor even to buy goods made in England to be sold for profit by German-financed concerns. That is merely a matter
c8 of common-sense. Such an embargo will not be strengthened or supported to appreciable extent by hysterical flag-waving. The chance, unsought by us, is ours. Of course we shall all take it—and, be it remembered, so will the customers. There is analogous spirit in the somewhat extensive demand which has been made in other industries for the unrestricted confiscation of all British patents, designs, and trade marks, owned or controlled by enemies. Our contemporary " Engineering" rebukes applicants for such vindictive measures as being "willing, for a temporary advantage, to take an action which would not redound to British credit or integyity., and perhaps would place the property of many of their own countrymen in jeopardy in the future."
We conceive it to be our duty to disclose any attempt to misrepresent the situation on the part of our enemies or—and it is just as important, on the part -of those who are now certain to benefit by their disability. We, so far as in -our power lies, shall ice to it that no improper means be taken to either end. It may be news, for instance, that we were the first to raise with the Polack Tyre and Rubber Co., Ltd., what we considered, after further careful consideration, to be the misleading nature of its recent advertisement. And be it recorded to his credit, Mr. Fritz Poppe frankly agreed with us, when his attention was drawn to this user's point •of view. On the other hand, with consistent desire to be fair, we were prompt to investigate the hastily-made statement that the Polack Co. itself had established its own factory in England. We found the Polack concern to blame in the phraseology of its business announcement. Others were to blame in their haste to adopt a conclusion which, upon investigation, proved to be a false one.
We have, since the inquiry recounted above, been furnished voluntarily by the Polack Co. with a release from its side of its publicity contract with us. We are, therefore, relieved of the necessity for insisting that further advertisements on the subject should be in plainer terms. No new contract will be entertained by which the business announcement of any house, so long as it be owned or controlled by the enemy, will appear in this journal. It is surely not necessary for us to dictate that we shall "be British" by buying only British-made goods, produced in British factories by British labour and money—our corvine/I-sense will have seen to that. But let us also "be 'British" by avoiding clap trap methods of advantaging by this heaven-sent increase of demand.
When we have seized German trade, we must take good care to keep it by equivalent service when the war is over. It may be difficult to persuade purchasers, after a few years' interval, to be British enough to continue to ignore German insistence and efficieney, when we are once again at peace—unless the manufacturer remains alive to the facts that the present economic barrier is not likely to remain, and that the new efforts must be maintained.