Ten Artics Granted to McKelvie Company
8th November 1963
Page 57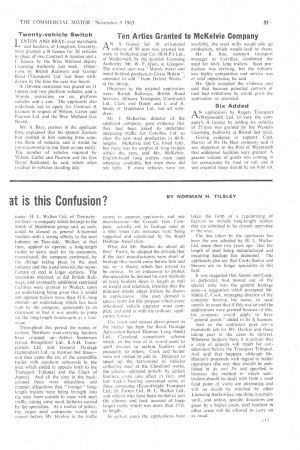 Page 57, 8th November 1963 —
Ten Artics Granted to McKelvie Company
Close
N A licence for 10 articulated 1-1 vehicles of 98 tons was granted last week lo McKelvie and Co. (B.M.P.) Ltd., of Motherwell, by the Scottish Licensing Authority, Mr. W. F. Quin, in Glasgow. The normal user was " Mainly metal and metal-finished products in Great Britain amended to add "from Dalziel Works at the sitting.
Objectors to the original application were: British Railways, British Road Services, Allisons Transports (Contracts) Ltd., Clark and Dutch and J. and A. Smith of Maddiston Ltd.. but all withdrew.
Mr. J. McKelvie, director of the applicant company, gave evidence that they had been asked to undertake increasing traffic for Colvilles Ltd. to clear the new steel production in 40-ft. lengths. McKelvie and Co. hired fully, but there was no surplus of long trailers within the area, said Mr. McKelvie. English-based long trailers were used wherever available, but even these did not help. If extra vehicles were not
available, the steel mills would pile up production, which would lead to chaos.
Mr. R. Rae, assistant transport manager at Colvilles, confirmed the need for 40-ft. long trailers. Steel production was reviving, but the industry was highly competitive and service was of vital importance, he said.
Mr. Quin accepted the evidence and said that because potential carriers of steel had withdrawn he would grant the application as amended.
Six Added AN application by Rogers Transport (Weymouth) Ltd. to vary the company's A licence by adding six vehicles of 27 tons was granted by the Western Licensing Authority at Bristol last week.
• Giving evidence in support, Capt. -Harvey of the De Heer company said it was important to the Port of Weymouth that additional facilities were granted. A greater volume of goods was coming in for conveyance by road or rail and it was essential there should be no hold up.