Guide to safely unload rafters issued
8th May 2008
Page 8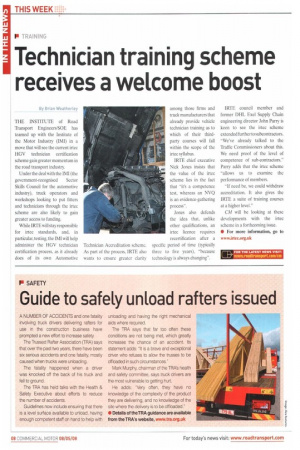 Page 8, 8th May 2008 —
Guide to safely unload rafters issued
Close
A NUMBER OF ACCIDENTS and one fatality involving truck drivers delivering rafters for use Ln the construction business have prompted a new effort to increase safety.
The Trussed Rafter Association (TRA) says that over the past two years, there have been six serious accidents and one fatality, mostly caused when trucks were unloading.
The fatality happened when a driver was knocked off the back of his truck and fell to ground.
The TRA has held talks with the Health & Safety Executive about efforts to reduce the number of accidents.
Guidelines now include ensuring that there is a level surface available to unload, having enough competent staff on hand to help with unloading and having the right mechanical aids where required.
The TRA says that far too often these conditions are not being met, which greatly increases the chance of an accident. Its statement adds: "It is a brave and exceptional driver who refuses to allow the trusses to be off loaded in such circumstances."
Mark Murphy, chairman of the TRA's health and safety committee, says truck drivers are the most vulnerable to getting hurt.
He adds: "Very often, they have no knowledge of the complexity of the product they are delivering, and no knowledge of the site where the delivery is to be off loaded."
• Details of theTRA guidance are available from the IRA's website, www.tra.org.uk