SAFETY FIRST
8th May 2008
Page 7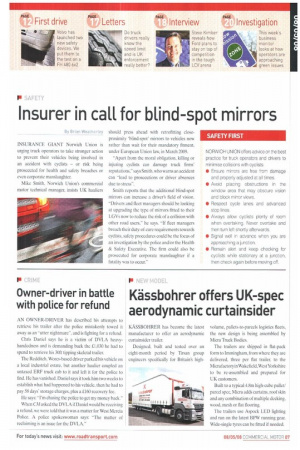 Page 7, 8th May 2008 —
SAFETY FIRST
Close
NORWICH UNION offers advice on the best practice for truck operators and drivers to minimise collisions with cyclists: • Ensure mirrors are free from damage and properly adjusted at all times.
• Avoid placing obstructions in the window area that may obscure vision and block mirror views.
• Respect cycle lanes and advanced stop lines.
• Always allow cyclists plenty of room when overtaking. Never overtake and then turn left shortly afterwards.
• Signal well in advance when you are approaching a junction.
• Remain alert and keep checking for cyclists while stationary at a junction, then check again before moving off.