Economic slowdown begins to bite hauliers
8th May 2008
Page 6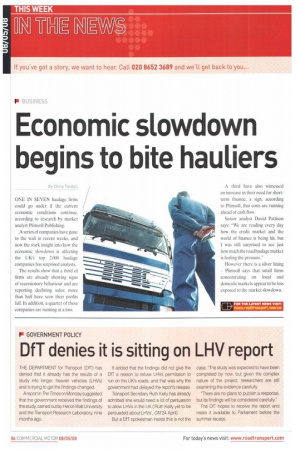 Page 6, 8th May 2008 —
Economic slowdown begins to bite hauliers
Close
By Chri5 Tindall ONE IN SEVEN haulage firms could go under if the current economic conditions continue, according to research by market analyst Plimsoll Publishing.
A series of companies have gone to the wall in recent weeks, and now the stark insight into how the economic slowdown is affecting the UK's top 2.000 haulage companies has surprised analysts.
The results show that a third of firms are already showing signs of recessionary behaviour and are reporting declining sales; more than half have seen their profits fall. In addition, a quarter of these companies are running at a loss. A third have also witnessed an increase in their need for shortterm finance, a sign, according to Plimsoll, that costs are running ahead of cash flow.
Senior analyst David Pattison says: "We are reading every day how the credit market and the world of finance is being hit, but I was still surprised to see just how much the road haulage market is feeling the pressure."
However there is a silver lining — Plimsoll says that small firms concentrating on local and domestic markets appear to be less exposed to the market slowdown.