OBSTACLE COURSE
8th May 2008
Page 49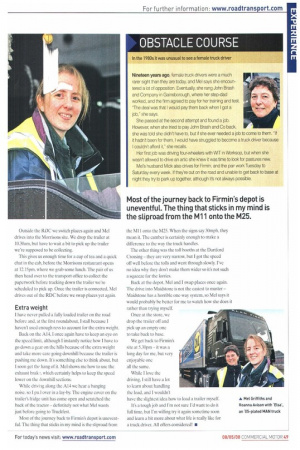 Page 49, 8th May 2008 —
OBSTACLE COURSE
Close
In the 1980s it was unusual to see a femate truck driver Nineteen years ago, female truck drivers were a much rarer sight than they are today, and Mel says she encountered a lot of opposition. Eventually, she rang John Brash and Company in Gainsborough, where her step-dad worked, and the firm agreed to pay for her training and test. The deal was that I would pay them back when I got a job," she says.
She passed at the second attempt and found a job. However, when she tried to pay John Brash and Co back, she was told she didn't have to, but if she ever needed a job to come to them. 'If it hadn't been for them, I would have struggled to become a truck driver because I couldn't afford it,' she recalls.
Her first jab was driving four-wheelers with WIT in Worksop, but when she wasn't allowed to drive an artic she knew it was time to look for pastures new.
Mel's husband Mick also drives for Firmin. and the pair work Tuesday to Saturday every week. If they're out on the road and unable to get back to base at night they try to park up together, although it's not always possible.