Following last year's inaugural show, Tip-Ex 08 has taken off
8th May 2008
Page 44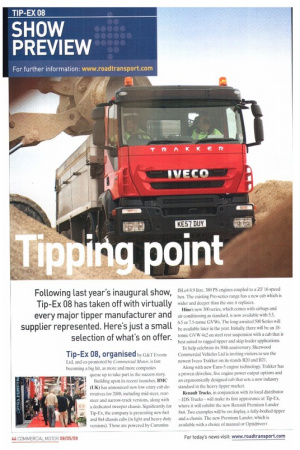 Page 45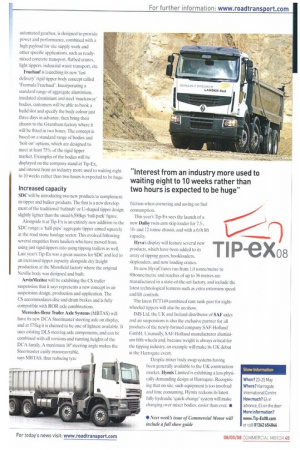 Page 44, 8th May 2008 —
Following last year's inaugural show, Tip-Ex 08 has taken off
Close
with virtually every major tipper manufacturer and supplier represented. Here's just a small selection of what's on offer.
Tip-Ex 08 organised by G&T Events Ltd, and co-promoted by Commercial Motor, is fast becoming a big hit, as more and more companies queue up to take part in the success story.
Building upon its recent launches, BMC (UK) has announced new low-entry cab derivatives for 2008, including mid-steer, rearsteer and narrow-track versions, along with a dedicated sweeper chassis. Significantly for Tip-Ex, the company is presenting new 6x4 and 8x4 chassis cabs (in light and heavy duty versions). These are powered by Cummins ISLe4 8.9 litre. 380 PS engines coupled to a ZE 16-speed box. The existing Pro-series range has a new cab which is wider and deeper than the one it replaces.
Hino's new 300 series, which comes with airbags and air conditioning as standard, is now available with 5.5, 6.5 or 7.5-tonne GVWs. The long-awaited 500 Series will be available later in the year. Initially, there will be an 18tonne GVW 4x2 on steel rear suspension with a cab that is best suited to rugged tipper and skip loader applications.
To help celebrate its 30th anniversary, Sherwood Commercial Vehicles Ltd is inviting visitors to see the newest Iveco Trakker on its stands B20 and B21.
Along with new Euro-5 engine technology, Trakker has a proven driveline, five engine power output options and an ergonomically designed cab that sets a new industry standard in the heavy tipper market.
Renault Trucks, in conjunction with its local distributor — IDS Trucks — will make its first appearance at Tip-Ex, where it will exhibit the new Renault Premium Lander 8x4. Two examples will be on display, a fully-bodied tipper and a chassis. The new Premium Lander, which is available with a choice of manual or Optidriver+ automated gearbox. is designed to provide power and performance, combined with a high payload for site supply work and other specific applications, such as readymixed concrete transport, flatbed cranes. tight tippers, industrial waste transport. etc.
Fruehauf is launching its new 'fast delivery' rigid tipper body concept called 'Formula Fruehauf'. Incorporating a standard range of aggregate aluminium, insulated aluminium and steel 'muckaway' bodies, customers will be able to book a build slot and specify the body colour just three days in advance, then bring their chassis to the Grantham factory where it will be fitted in two hours. The concept is based on a standard range of bodies and 'bolt-on' options, which are designed to meet at least 75% of the rigid tipper market. Examples of the bodies will be displayed on the company stand at Tip-Ex, and interest from an industry more used to waiting eight to 10 weeks rather than two hours is expected to be huge.
Increased capacity
SDC will be introducing two new products to complement its tipper and bulker products. The first is a new development of the traditional 'bathtub' or U-shaped tipper design; slightly lighter than the usual 6,500kgs 'ball-park' figure.
Alongside it at Tip-Ex is an entirely new addition to the SDC range: a 'half-pipe' aggregate tipper aimed squarely at the road stone haulage sector. This evolved following several enquiries from hauliers who have moved from using just rigid tippers into using tipping trailers as well. Last year's Tip-Ex was a great success for SDC and led to an increased tipper capacity alongside dry freight production at the Mansfield factory where the original Neville body was designed and built.
ArviuMeritor will be exhibiting the CS trailer suspension that it says represents a new concept in air suspension design, production and application. The CS accommodates disc and drum brakes and is fully compatible with ROR axle combinations.
Mercedes-Benz Trailer Axle Systems (IsABTAS) will have its new DCA Steermaster steering axle on display, and at 575kg it is claimed to be one of lightest available. It uses existing DLS steering axle components, and can be combined with all versions and running heights of the DCA family. A maximum 16° steering angle makes the Steermaster easily manoeuvrable, says MBTAS. thus reducing tyre friction when cornering and saving on fuel consumption.
This year's Tip-Ex sees the launch of a new Dalby twin-arm skip loader for 7.5-, 10and I2-tonne chassis, and with a 6.0t lift capacity.
Hyva's display will feature several new products, which have been added to its an-ay of tipping gears, hookloaders, skiploaders. and now loading cranes.
Its new HyvaCranes run from 1.0 tonne/metre to 80tonne/metre and reaches of up 10 36 metres are manufactured in a state-of-the-art factory, and include the latest technological features such as extra extension speed and lift controls.
The latest FCT149 combined ram-tank gear for eightwheeled tippers will also be on show.
IMS Ltd, the UK and Ireland distributor of SAF axles and air suspensions is also the exclusive partner for all products of the newly-formed company SAF-Holland GmbH. Unusually, SAF-Holland manufactures aluminium fifth wheels and, because weight is always critical for the tipping industry, an example will make its UK debut at the Harrogate event.
Despite mixer body swap systems having been generally available to the UK construction market. Hymix Limited is exhibiting a less physically demanding design at Harrogate. Recognising that on-site, such equipment is too involved and time consuming, Hymix reckons its latest fully hydraulic 'quick-change' system will make changing over mixer bodies, easier than ever. •