To base a CV's rating on one aspect atone doesn't
8th May 2008
Page 37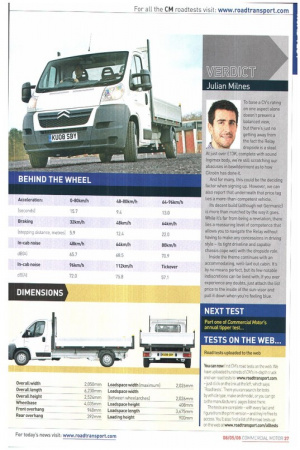 Page 37, 8th May 2008 —
To base a CV's rating on one aspect atone doesn't
Close
present a balanced view, but there's just no getting away from the fact the Relay dropside is a steal. At just over E13K, complete wth sound inginiex body, were still scratching our abacuses in bewilderment as to how Citroen has done it.
And for many, this could be the deciding factor when signing up. However, we can also report that underneath that price tag lies a more-than-competent vehicle.
Its decent build (although not Germanic) is more than matched by the way it goes. While it's far from being a revelation, there lies a reassuring level of competence that allows you to navigate the Relay without having to make any concessions in driving style its tight driveline and capable chassis cope well with the dropside role.
Inside the theme continues with an accommodating, well-laid out cabin. It's by no means perfect, but its few notable indiscretions can be lived with. If you ever experience any doubts, just attach the list price to the inside of the sun-visor and putt it down when you're feeling blue.