TC refuses licence on competence grounds
8th May 2008
Page 22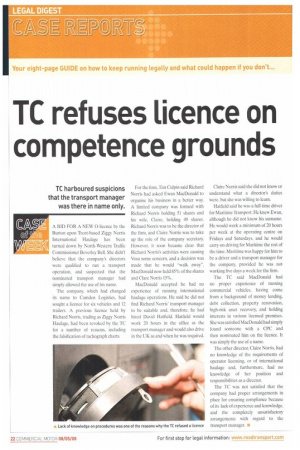 Page 22, 8th May 2008 —
TC refuses licence on competence grounds
Close
TC harboured suspicions that the transport manager was there in name only.
A BID FOR A NEW 0-licence by the Burton upon Trent-based Ziggy Norris International Haulage has been turned down by North-Western Traffic Commissioner Beverley Bell. She didn't believe that the company's directors were qualified to run a transport operation, and suspected that the nominated transport manager had simply allowed the use of his name.
The company, which had changed its name to Camden Logistics, had sought a licence for six vehicles and 12 trailers. A previous licence held by Richard Norris, trading as Ziggy Norris Haulage, had been revoked by the TC for a number of reasons, including the falsification of tachograph charts. For the firm, Tim Culpin said Richard Norris had asked Ewan MacDonald to organise his business in a better way. A limited company was formed with Richard Norris holding 51 shares and his wife, Claire, holding 49 shares. Richard Norris was to be the director of the firm, and Claire Norris was to take up the role of the company secretary. However, it soon became clear that Richard Norris's activities were causing Vosa some concern, and a decision was made that he would "walk away". MacDonald now held 85% of the shares and Clare Norris 15%.
MacDonald accepted he had no experience of running international haulage operations. He said he did not find Richard Norris' transport manager to be suitable and, therefore, he had hired David Hatfield. Hatfield would work 20 hours in the office as the transport manager and would also drive in the UK as and when he was required. Claire Norris said she did not know or understand what a director's duties were, but she was willing to learn.
Hatfield said he was a full-time driver for Maritime Transport. He knew Ewan, although he did not know his surname. He would work a minimum of 20 hours per week at the operating centre on Fridays and Saturdays, and he would carry on driving for Maritime the rest of the time. Maritime was happy for him to be a driver and a transport manager for the company, provided he was not working five days a week for the firm.
The TC said MacDonald had no proper experience of running commercial vehicles, having come from a background of money lending, debt collection, property renovation, high-risk asset recovery, and holding interests in various licensed premises. She was satisfied MacDonald had simply found someone with a CPC and then nominated him on the licence. It was simply the use of a name.
The other director, Claire Norris, had no knowledge of the requirements of operator licensing, or of international haulage and, furthermore, had no knowledge of her position and responsibilities as a director.
The TC was not satisfied that the company had proper arrangements in place for ensuring compliance because of its lack of experience and knowledge, and the completely unsatisfactory arrangements with regard to the transport manager. e