Staying one step ahead
8th May 2008
Page 18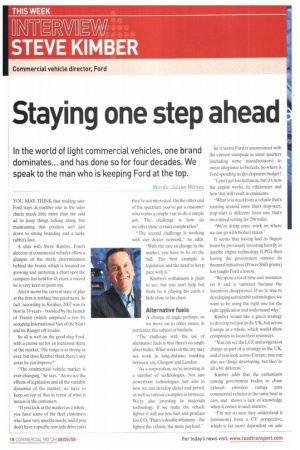 Page 19
Page 18, 8th May 2008 —
Staying one step ahead
Close
In the world of light commercial vehicles, one brand dominates.., and has done so for four decades. We speak to the man who is keeping Ford at the top.
Words: Julian Milnes
YOU MAY THINK that making sure Ford stays at number one in the sales charts needs little more than the odd ad to keep things ticking along, but maintaining that position isn't just down to strong branding and a lucky rabbit's foot.
A chat with Steve Kimber, Ford's director of commercial vehicles offers a glimpse of the steely determination behind the brand, which is focused on growing and nurturing a chart spot the company has held for 43 years, a record he is very keen to point out.
And it seems the current state of play at the firm is nothing but good news. In fact, according to Kimber, 2007 was its best in 18 years boosted by the launch of Transit (which surprised a few by scooping International Van of the Year) and its Ranger off-roader.
So all is well on the good ship Ford, with a course set for an increased share of the market. The range is as strong as ever, but does Kimber think there's any areas he can improve?
"The commercial vehicle market is ever-changing," he says. "As we see the effects of legislation and all the variable dynamics of the market, we have to keep on top of that in terms of what it means to the customers.
"If you look at the market as a whole, you have some of the fleet customers who have very specific needs, and if you don't have a specific rear axle drive ratio they're not interested. On the other end of the spectrum. you've got a customer who wants a simple van to do a simple job. The challenge is how do we offer those certain complexities?
"The second challenge is working with our dealer network," he adds. -With the rate of change in the market, you have to be on the ball. The best example is legislation and the need to keep pace with it."
Kimber's enthusiasm is plain to see, but you can't help but think he is playing his cards a little close to his chest.
Alternative fuels
A change of angle perhaps, so we move on to other issues, in particular, the subject of biofuels.
-The challenge with the use of alternative fuels is that there's no single silver bullet. What works in the city may not work in long-distance trunking between. say, Glasgow and London.
"As a corporation, we're investing in a number of technologies. Not just powertrain technologies, but also in how we can develop diesel and petrol, as well as various examples in between. We're also investing in materials technology. If we make the vehicle lighter it will use less fuel and produce less CO". That's a double whammy the lighter the vehicle, the more payload." So it seems Ford is unconvinced with the current stampede in some quarters (including some manufacturers) to swear allegiance to biofuels. So where is Ford spending its development budget?
-1 can't get too technical, but it's how the engine works, its efficiencies and how that will result in emissions.
"What you need from a vehicle that's running around town that's stop-start, stop-start is different from one that's on a speed setting for 200 miles.
"We're doing some work on where we can go with biofuel It seems that having had its fingers burnt by previously investing heavily in specific engine technology (LPG) then having the government remove its financial initiatives (Power Shift grants) has taught Ford a lesson.
"We spent a lot of time and resources on it and it vanished because the incentives disappeared. If we're true to developing sustainable technologies, we want to be using the right one for the right application and understand why."
Kimber would like a green strategy to develop not just in the UK, but across Europe as a whole, which would allow companies to focus their resources.
-You can see the LEZ and congestion charge as part of a strategy in the UK, and if you look across Europe, you can also see things developing, but they're all a bit different."
Kimber adds that the enthusiasm among government bodies to chase exhaust emission ratings puts commercial vehicles in the same boat as cars, and shows a lack of knowledge when it comes to such matters.
"I'm not so sure they understand it [emissions] from a CV perspective, which is far more dependent on axle ratio, roof height. what type of load you have — a whole range of factors.
-So returning to London, you could have one vehicle that's beneath it [emissions level] and one that's over due to, say, a different individual vehicle spec; that's very confusing."
So it's back to the mighty 'Blue Oval' and I'm feeling emboldened enough to test for chinks in Kimber's corporate armour. I suggest that the Ford range is lacking a presence in a few sectors occupied by its rivals. But my use of 'swear' words [Vauxhall] to provoke a reaction is met with a calculated and measured response.
Checking the competition "If I look at the Ford CV range, there are few sectors we're not in," he says. "Astravan is an obvious example, and we'll continue to look at that to understand what it offers that we don't have. We will continue to look at each segment, seeing what we've got and what our competition has got?" Obviously not a Focus van at this point. Interpreting Kimber's words, the numbers don't add up. So how about something a little smaller? Say, the new mini-van from Fiat/PS A Group?
"We're watching that with interest, but I suspect it's more for the Southern European markets than the UK."
And staying with small vans, how about a date for the new Fiesta van?
"We'll announce the future of the Fiesta van in Hannover [23 Septemberr . I plead for more. only to be met with a polite smile and a visual prompting for my next question. Tough crowd...
I ask him about the continuing development of technology.
"For years. vans were the poor relation of the car. Technology you'd see in cars you wouldn't see in vans for ages. This has accelerated considerably. Most thing you get in a car, you can get in Transit "The technologies you'll see develop in commercial vehicles are ones that will help manage loading and unloading more safely. But they have to be economical. We could load masses of technology in, but people wouldn't buy them. It's about having technology that adds value to the commercial user." IN