The role of the local institute centre
8th May 1970
Page 74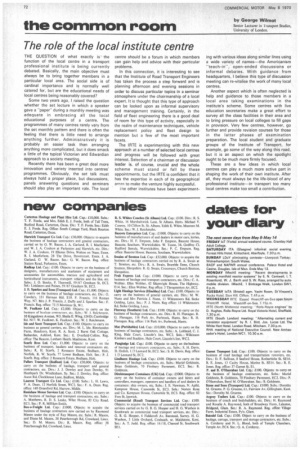 Page 74, 8th May 1970 —
The role of the local institute centre
Close
THE QUESTION of what exactly is the function of the local centre in a transport professional institute is being currently debated. Basically, the main objective must always be to bring together members in a particular local area. The social side is of cardinal importance and is normally well catered for, but are the educational needs of local centres being reasonably covered?
Some two years ago, I raised the question whether the set lecture in which a speaker gave a "paper" during a monthly meeting was adequate in embracing all the local educational purposes of a centre. The programmes of many centres rarely vary from the set monthly pattern and there is often the feeling that there is little need to arrange anything further. Administratively it is probably an easier task than arranging anything more complicated, but it does smack a little of the typical Victorian and Edwardian approach to a society meeting.
Recently there has been a great deal more innovation and variety inserted into centres' programmes. Obviously, the set talk must always hold a proper place, but discussions, panels answering questions and seminars should also play an important role. The local centre should be a forum in which members can gain help and advice with their particular problems.
In this connection, it is interesting to see that the Institute of Road Transport Engineers has taken the process a step forward and is planning afternoon and evening sessions in order to discuss particular topics in a seminar atmosphere under the chairmanship of a local expert. It is thought that this type of approach can be looked upon as informal supervisory and management training. Certainly, in the field of fleet engineering there is a good deal of room for this type of activity, especially in the realm of maintenance techniques, vehicle replacement policy and fleet design to mention but a few of the most important facets.
The IRTE is experimenting with this new approach at a number of selected local centres and progress will be followed with great interest. Selection of a chairman or discussion leader is. of course, crucial and the whole scheme must stand or fall by these appointments, but the IRTE is confident that it has the expertise in each of its geographical arrias to make the venture highly successful.
he other institutes have been experiment
ing with various ideas along similar lines using a wide variety of names-the Americanism "teach-in", open-ended discussions or informal debates. With guidance from headquarters, I believe this type of discussion meeting can re-vitalise the work of many local centres.
Another aspect which is often neglected is help and guidance to those members in a local area taking examinations in the institute's scheme. Some centres with live education secretaries make a great effort to survey all the class facilities in their area and to bring pressure on local colleges to fill gaps in provision. Very few centres, however, go further and provide revision courses for those in the latter phases of examination preparation. The local student and graduate groups of the Institute of Transport, for example, go some of the way along this road, but it is an aspect on which the spotlight ought to be much more firmly focused.
These are a few ideas in which local centres can play a much more active part in shaping the work of their own institute. After all, they must always be the life-blood of any professional institute--in transport too many local centres make too small a contribution.