managemen matters
8th May 1970
Page 72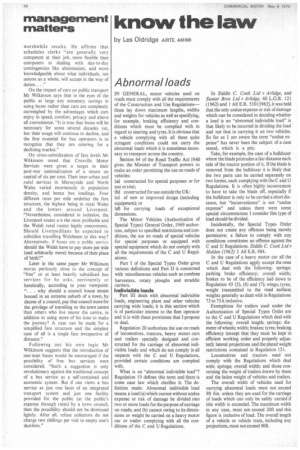 Page 72, 8th May 1970 —
managemen matters
Close
worthwhile results. He affirms that schedules clerks "are generally very competent at their job, more flexible than computers in dealing with day-to-day contingencies like absenteeism, and more knowledgeable about what individuals, not unions as a whole, will accept in the way of duties.
On the impact of cars on public transport Mr Wilkinson says that in the eyes of the public at large any monetary savings in using buses rather than cars are completely outweighed by the advantages which cars enjoy in speed, comfort, privacy and above all convenience. "It is true that buses will be necessary for some several decades yet, but their usage will continue to decline, and the first essential for bus operators is to recognize that they are catering for a declining market."
On cross-subsidization of fare levels Mr Wilkinson noted that Crosville Motor Services were given a target in their post-war nationalization of a return on capital of six per cent. Their inter-urban and rural services in Merseyside and North Wales varied enormously in population density, and hence bus loadings. Four different rates per mile underlay the fare structure, the highest being in rural Wales and the lowest around Liverpool. "Nevertheless, considered in isolation, the Liverpool routes a -e the most profitable and the Welsh rural routes highly uneconomic. Should Liverpudlians be expected to subsidize travelling Welshmen in this way? Alternatively. if' buses are a public service should the Welsh have to pay more per mile (and arbitrarily more) because of their place of birth?"
Later in the same paper Mr Wilkinson moves perilously close to the concept of "free" or at least heavily subsidized bus services for he asks, pertinently or heretically, according to your viewpoint: ".• . why should a council house tenant housed in an extreme suburb of a town, by. decree of a council, pay that council more for the privilege of travelling to the town centre than others who live nearer the centre, in addition to using more of his time to make the journey? A case can be made for a simplified fare structure and the simplest case of all is a single fare irrespective of distance."
Following out his own logic Mr Wilkinson suggests that the introduction of one-man buses would be encouraged if the possibility of free bus services were considered. "Such a suggestion is only revolutionary against the traditional concept of a bus service as a self-contained and economic system. But if one views a bus service as just one facet of an integrated transport system and just one facility provided for the public (at the public's expense through rates) by a town council, then the possibility should not be dismissed lightly. After all, refuse collectors do not charge two shillings per visit to empty one's dustbins."