know the law
8th May 1970
Page 72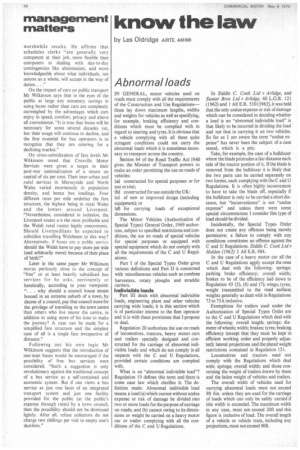 Page 72, 8th May 1970 —
know the law
Close
by Les Oldridge AIRTE, AMIMI
Abnormal loads
IN GENERAL, motor vehicles used on roads must comply with all the requirements of the Construction and Use Regulations— these lay down maximum lengths, widths and weights for vehicles as well as specifying, for example, braking efficiency and conditions which must be complied with in regard to steering and tyres. It is obvious that a vehicle complying with all these quite stringent conditions could not carry the abnormal loads which it is sometimes necessary to transport across the country.
Section 64 of the Road Traffic Act 1960 gives the Minister of Transport powers to make an order permitting the use on roads of vehicles: (a) constructed for special purposes or for test or trial; (b) constructed for use outside the UK: (c) of new or improved design (including equipment); or (d) for carrying loads of exceptional dimensions.
The Motor Vehicles (Authorization of Special Types) General Order, 1969 authorizes, subject to specified restrictions and conditions, the use on roads of special vehicles for special purposes or equipped with special equipment which do not comply with all the requirements of the C and U Regulations.
Part I of the Special Types Order gives various definitions and Part H is concerned with miscellaneous vehicles such as combine harvesters, rotary ploughs and straddle carriers.
Indivisible loads Part III deals with abnormal indivisible loads, engineering plant and other vehicles carrying wide loads; it is this section which is of particular interest to the fleet operator and it is with these provisions that I propose to deal.
Regulation 20 authorizes the use on roads of locomotives, tractors, heavy motor cars and trailers specially designed and constructed for the cordage of abnormal indivisible loads and which do not comply in all respects with the C and U Regulations, provided certain conditions are complied with.
What is an "abnormal indivisible load"? Regulation 19 defines this term and there is some case law which clarifies it. The definition reads: Abnormal indivisible load means a load (a) which cannot without undue expense or risk of damage be divided into two or more loads for the purpose of carriage on roads; and (b) cannot owing to its dimensions or weight be carried on a heavy motor car or trailer complying with all the conditions of the C and U Regulations.
In Siddle C. Cook Ltd v Arlidge, and Sunter Bros Ltd v Arlidge, 60 L.G.R. 121 (1962) and 1 All E.R. 510 (1962), it was held that the only undue expense or risk of damage which can be considered in deciding whether a load is an "abnormal indivisible load" is that Likely to be incurred in dividing the load and not that in carrying it on two vehicles. So far as I am aware the term "undue expense" has never been the subject of a case stated, which is a pity.
Take, for example, the case of a bulldozer where the blade protrudes a fair distance each side of the tractor portion of it. If the blade is removed from the bulldozer it is likely that the two parts can be carried separately on two lorries, each complying with the C and U Regulations. It is often highly inconvenient to have to take the blade off, especially if the bulldozer is only to be carried a short distance, but "inconvenience" is not "undue expense" and unless there were some special circumstances I consider this type of load should be divided.
Incidentally, the • Special Types Order does not create any offences being merely permissive; a failure to comply with any conditions constitutes an offence against the C and U Regulations. Siddle C. Cook Ltd v Holden (1961) 3 All E.R. 984.
In the case of a heavy motor car all the C and U Regulations apply except the ones which deal with the following: springs; parking brake efficiency; overall width; brakes to be of the efficiency laid down in Regulation 45 (5), (6) and (7); wings; tyres; weight transmitted to the road surface; weights generally as dealt with in Regulations 73 to 75A inclusive.
Exemptions for trailers used under the Authorization of Special Types Order are to the C and U Regulations which deal with the following: overall length; springs; diameter of wheels; width; brakes; tyres; braking efficiency (except that they must be kept in efficient working order and property adjusted); lateral projections and the plated weight restrictions contained in Regulation 121.
Locomotives and tractors need not comply with the Regulations which deal with: springs; overall width; and those concerning the weight of trailers drawn by them and the laden weight of vehicles and trailers.
The overall width of vehicles used for carrying abnormal loads must not exceed 9ft 6in. unless they are used for the carriage of loads which can only be safely carried if this width is exceeded. The maximum width in any case, must not exceed 20ft and this figure is inclusive of load. The overall length of a vehicle or vehicle train, including any projections, must not exceed 90ft.