A jumbo job
8th May 1970
Page 64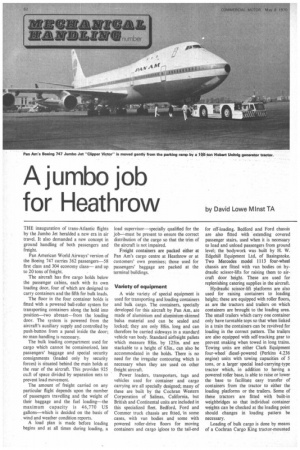 Page 65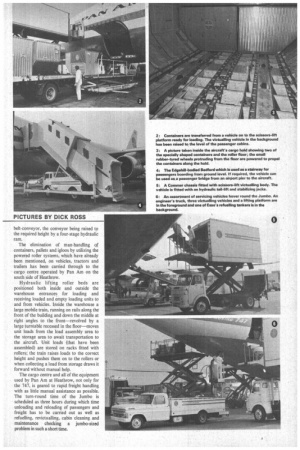 Page 64, 8th May 1970 —
A jumbo job
Close
Keywords :
Transport
,
Technology
,
Shipping
,
Engineering Vehicles
,
Intermodal Containers
,
Containerization
,
Cargo
,
Freight Rail Transport
,
Tractor
,
Ground Support Equipment
,
Intermodal Freight Transport
,
Hospitality / Recreation
for Heathrow by David Lowe Minst TA
THE inauguration of trans-Atlantic flights by the Jumbo Jet heralded a new era in air travel. It also demanded a new concept in ground handling of both passengers and freight.
Pan American World Airways' version of the Boeing 747 carries 362 passengers-58 first class and 304 economy class— and up to 20 tons of freight.
The aircraft has five cargo holds below the passenger cabins, each with its own loading door, four of which are designed to carry containers and the fifth for bulk loads.
The floor in the four container holds is fitted with a powered ball-roller system for transporting containers along the hold into position—two abreast—from the loading door. The system is powered from the aircraft's auxiliary supply and controlled by push-button from a panel inside the door; no man-handling is necessary.
The bulk loading compartment used for cargo which cannot be containerized, late passengers' baggage and special security consignments (loaded only by security forces) is situated behind the main holds at the rear of the aircraft. This provides 925 cu.ft of space divided by separation nets to prevent load movement.
The amount of freight carried on any particular flight depends upon the number of passengers travelling and the weight of their baggage and the fuel loading—the maximum capacity is 46,770 US gallons—which is decided on the basis of wind and weather condition reports.
A load plan is made before loading begins and at all times during loading, a load supervisor—specially qualified for the job—must be present to ensure the correct distribution of the cargo so that the trim of the aircraft is not impaired.
Freight containers are packed either at Pan Am's cargo centre at Heathrow or at customers' own premises; those used for passengers' baggage are packed at the terminal buildings.
Variety of equipment A wide variety of special equipment is used for transporting and loading containers and bulk cargo. The containers, specially developed for this aircraft by Pan Am, are made of aluminium and aluminium-skinned balsa material and can be sealed and locked; they are only 88in, long and can therefore be carried sideways in a standard vehicle van body. Standard airfreight pallets which measure 88in. by 125in. and are stackable to a height of 63in., can also be accommodated in the holds. There is no need for the irregular contouring which is necessary when they are used on other freight aircraft.
Power loaders, transporters, tugs and vehicles used for container and cargo carrying are all specially designed; many of these are built by the Cochran Western Corporation of Salinas, California, but British and Continental units are included in this specialized fleet. Bedford, Ford and Commer truck chassis are fitted, in some cases, with van bodies and some with powered roller-drive floors for moving containers and cargo igloos to the tail-end for off-loading. Bedford and Ford chassis are also fitted with extending covered passenger stairs, used when it is necessary to load and unload passengers from ground level; the bodywork was built by H. W. Edgehill Equipment Ltd, of Basingstoke. Two Mercedes model 1113 four-wheel chassis are fitted with van bodies on hydraulic scissor-lifts for raising them to aircraft door height. These are used for replenishing catering supplies in the aircraft.
Hydraulic scissor-lift platforms are also used for raising containers to loading height; these are equipped with roller floors, as are the tractors and trailers on which containers are brought to the loading area. The small trailers which carry one container only have turntable tops so that when linked in a train the containers can be revolved for loading in the correct pattern. The trailers are also equipped with self-tracking gear to prevent snaking when towed in long trains. Towing units are either Clark Equipment four-wheel diesel-powered (Perkins .4.236 engine) units with towing capacities of 5 tons, or a larger special load-carrying-type tractor which, in addition to having a powered roller base, is able to raise or lower the base to facilitate easy transfer of containers from the tractor to either the loading platforms or the trailers. Some of these tractors are fitted with built-in weighbridges so that individual container weights can be checked at the loading point should changes in loading pattern be necessary.
Loading of bulk cargo is done by means of a Cochran Cargo King tractor-mounted belt-conveyor, the conveyor being raised to the required height by a four-stage hydraulic ram.
The elimination of man-handling of containers, pallets and igloos by utilizing the powered roller systems, which have already been mentioned, on vehicles, tractors and trailers has been carried through to the cargo centre operated by Pan Am on the south side of Heathrow.
Hydraulic lifting roller beds are positioned both inside and outside the warehouse entrances for loading and receiving loaded and empty loading units to and from vehicles. Inside the warehouse a large mobile train, running on rails along the front of the building and down the middle at right angles to the front—revolved by a large turntable recessed in the floor—moves unit loads from the load assembly area to the storage area to await transportation to the aircraft. Unit loads (that have been assembled) are stored on racks fitted with rollers; the train raises loads to the correct height and pushes them on to the rollers or when collecting a load from storage draws it forward without manual help.
The cargo centre and all of the equipment used by Pan Am at Heathrow, not only for the 747, is geared to rapid freight handling with as little manual assistance as possible. The turn-round time of the Jumbo is scheduled as three hours during which time unloading and reloading of passengers and freight has to be carried out as well as refuelling, revictualling, cabin cleaning and maintenance checking a jumbo-sized problem in such a short time.