Mechanical aids
8th May 1970
Page 59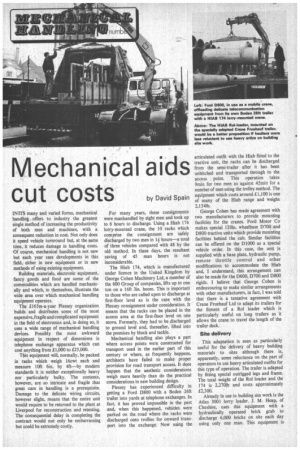 Page 60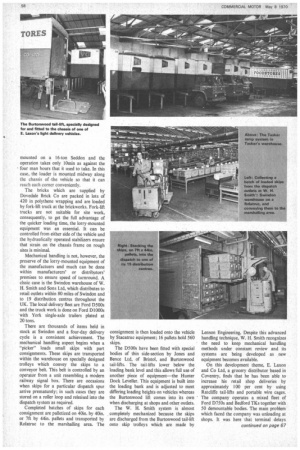 Page 69
Page 59, 8th May 1970 —
Mechanical aids
Close
cut costs by David Spain
IN ITS many and varied forms, mechanical handling offers to industry the greatest single method of increasing the productivity of both men and machines, with a consequent reduction in cost. Not only does it speed vehicle turnround but, at the same time, it reduces damage in handling costs. Of course, mechanical handling is not new but each year sees developments in this field, either in new equipment or in new methods of using existing equipment.
Building materials, electronic equipment, fancy goods and food are some of the commodities which are handled mechanically and which, in themselves, illustrate the wide area over which mechanical handling equipment operates.
The £165m-a-year Plessey organization builds and distributes some of the most expensive, fragile and complicated equipment in the field of electronics and, in doing so, it uses a wide range of mechanical handling devices. Possibly the most awkward equipment in respect of dimensions is telephone exchange apparatus which can cost anything from £1,000 to £25,000.
This equipment will, normally, be packed in racks which weigh 16cwt each and measure 10ft 6in. by 4ft—by modern standards it is neither exceptionally heavy nor particularly bulky. The contents, however, are so intricate and fragile that great care in handling is a prerequisite. Damage to the delicate wiring circuits, however slight, means that the entire unit would require to be returned to the plant at Liverpool for reconstruction and retesting. The consequential delay in completing the contract would not only be embarrassing but could be extremely costly. For many years, these consignments were manhandled by eight men and took up to 6 hours to discharge. Using a Hiab 174 lorry-mounted crane, the 10 racks which comprise the consignment are safely discharged by two men in 1-1hours—a total of three vehicles compared with 48 by the old method. In these days, the resultant saving of 45 man hours is not inconsiderable.
The Hiab 174, which is manufactured under licence in the United Kingdom by George Cohen Machinery Ltd, a member of the 600 Group of companies, lifts up to one ton on a 16ft 3in. boom. This is important to those who are called upon to discharge at first-floor level as is the case with the Plessey consignment under consideration. It means that the racks can be placed in the access area at the first-floor level on one move. Formerly, they had to be discharged to ground level and, thereafter, lifted into the premises by block and tackle.
Mechanical handling also plays a part where access points were constructed for transport used in the earlier part of this century or where, as frequently happens, architects have failed to make proper provision for road transport access. It does happen that the aesthetic considerations weigh more heavily than do the practical considerations in new building design.
Plessey has experienced difficulty in getting a Ford D800 with a Baden 26ft trailer into yards at telephone exchanges. In fact, it has proved impossible in the past and, when this happened, vehicles were parked on the road where the racks were discharged onto trollies for onward transport into the exchange. Now using the articulated outfit with the Hiab fitted to the tractive unit, the racks can be discharged from the semi-trailer after it has been unhitched and transported through to the access point. This operation takes 9min for two men as against 45min for a number of men using the trolley method. The equipment which costs around £1,100 is one of many of the Hiab range and weighs 2,1341b.
George Cohen has made agreement with two manufacturers to provide mounting facilities for the cranes. Ford Motor Co makes special 120m. wheelbase D700 and D800 tractive units which provide mounting facilities behind the cab. Similar facilities can be offered on the DI000 as a special vehicle order. In this case, the unit is supplied with a base plate, hydraulic pump, remote throttle control and other modifications to accommodate the Hiab and. I understand, this arrangement can also be made for the D600, D700 and D800 rigids. I believe that George Cohen is endeavouring to make similar arrangements with other manufacturers, in fact, I was told that there is a tentative agreement with Crane Fruehauf Ltd to adapt its trailers for the fitment of a Rol loader which is particularly useful on long trailers as it allows the crane to travel the length of the trailer deck.
Site delivery This adaptation is seen as particularly useful for the delivery of heavy building materials to sites although there is, apparently, some reluctance on the part of operators to use heavy articulated outfits for this type of operation. The trailer is adapted by fitting special outrigged legs and frame. The total weight of the Rol loader and the 174 is 2,2701b and costs approximately £2,300.
Already in use in building site work is the Atlas 3001 lorry loader. J. M. Heap, of Cheshire, uses this equipment with a hydraulically operated brick grab to discharge 6,000 bricks on site each day using only one man. This equipment is
mounted on a 16-ton Seddon and the operation takes only 10min as against the four man hours that it used to take. In this case, the loader is mounted midway along the chassis of the vehicle so that it can reach each corner conveniently.
The bricks which are supplied by Dovedale Brick Co are packed in lots of 420 in polythene wrapping and are loaded by fork-lift truck at the brickworks. Fork-lift trucks are not suitable for site work, consequently, to get the full advantage of the quicker loading time, the lorry-mounted equipment was an essential. It can be controlled from either side of the vehicle and the hydraulically operated stabilizers ensure that strain on the chassis frame on rough sites is minimal.
Mechanical handling is not, however, the preserve of the lorry-mounted equipment of the manufactuers and much can be done within manufacturers' or distributors' premises to ensure speed of turnround. A clssic case is the Swindon warehouse of W. H. Smith and Sons Ltd, which distributes to retail outlets within 80 miles of Swindon and to 19 distribution centres throughout the UK. The local delivery fleet are Ford D500s and the truck work is done on Ford D1000s with York single-axle trailers plated at 20 tons.
There are thousands of items held in stock at Swindon and a four-day delivery cycle is a consistent achievement. The mechanical handling aspect begins when a "picker" loads small skips with part consignments. These skips are transported within the warehouse on specially designed trolleys which convey the skips to a conveyor belt. This belt is controlled by an operator from a unit resembling a modern railway signal box. There are occasions when skips for a particular dispatch spur arrive prematurely; in such cases they are stored on a roller loop and released into the dispatch system as required.
Completed batches of skips for each consignment are palletized on 40in. by 40in. or 7ft by 44in pallets and transported by Rolatruc to the marshalling area. The consignment is then loaded onto the vehicle by Stacatruc equipment; 16 pallets hold 560 skips. • The D500s have been fitted with special bodies of thin side-section by Jones and Bence Ltd, of Bristol, and Burtonwood tail-lifts. The tail-lifts lower below the loading bank level and this allows full use of another piece of equipment—the Hunter Dock Leveller. This equipment is built into the loading bank and is adjusted to meet differing loading heights on vehicles whereas the Burtonwood lift comes into its own when discharging at shops and other outlets.
The W. H. Smith system is almost completely mechanized because the skips are discharged from the Burtonwood tail-lift onto skip trolleys which are made by Lenson Engineering. Despite this advanced handling technique, W. H. Smith recognizes the need to keep mechanical handling methods under constant review and its systems are being developed as new equipment becomes available.
On this development theme, E. Laxon and Co Ltd, a grocery distributor based in Coventry, finds that he has been able to increase his retail shop deliveries by approximately 100 per cent by using Ratcliffe tail-lifts and portable wire cages. The company operates a mixed fleet of Ford D750s and Bedford TKs together with 50 demountable bodies. The main problem which faced the company was unloading at shops. It was here that terminal delays increased the distribution costs because although the demountable system had provided greater flexibility in the fleet the goods were still being manhandled from vehicles at shop fronts and conveyed into the shop by small hand trolleys. The introduction of the tail-lift and wire cages had made a drastic reduction in turnround time. And the full benefit of mechanical handling at the warehouse is now apparent.
The Rank Hovis McDougall organization is shortly to benefit from a mechanical handling device to be used by British Road Services Ltd on its night delivery service. The equipment, Hydr-auto container handling systems, is built by Container Conveyors (Scotland) Ltd and is being fitted to a Ford D300 which will carry 14 wheeled containers. These containers will move on and off the vehicle using a built-in hydraulic side elevator. They will be moved within the vehicle by a mechanical carousei onto which they are anchored. The cost of this completely automatic system is around £980.
It is vitally important for those intending to use mechanical handling devices to consider where the bottle-necks occur in their distribution systems. Almost certainly, there is a piece of mechanical handling equipment available which will clear the bottle-neck and speed vehicle turnround. The companies I visited all stress one important factor that the system must be kept under constant review if the full benefits are to be achieved.,