Insurance
8th May 1970
Page 58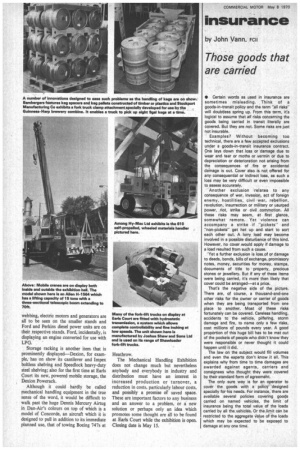 Page 58, 8th May 1970 —
Insurance
Close
by John Vann, FCII
Those goods that are carried
• Certain words as used in insurance are sometimes misleading. Think of a goods-in-transit policy and the term all risks" will doubtless spring up. From this term, its logical to assume that all risks concerning the goods being carried in transit literally are covered. But they are not. Some risks are just not insurable.
Examples? Without becoming too technical, there are a few accepted exclusions under a goods-in-transit insurance contract. One lays down that loss or damage due to wear and tear or moths or vermin or due to depreciation or deterioration not arising from the consequences of fire or accidental damage is out. Cover also is not offered for any consequential or indirect loss, as such a loss may be very difficult or even impossible to assess accurately.
Another exclusion relates to any consequence of war, invasion, act of foreign enemy, hostilities, civil war, rebellion, revolution, insurrection or military or usurped power, riot, strike or civil commotion. All these risks may seem, at first glance, somewhat remote. Yet violence can accompany a strike if "pickets" and "non-pickets" get het up and start to sort each other out. A lorry load may become involved in a possible disturbance of this kind. However, no cover would apply if damage to a load resulted from such a cause.
Yet a further exclusion is loss of or damage to deeds, bonds, bills of exchange, promissory notes, money, securities for money, stamps, documents of title to property, precious stones or jewellery_ But if any of these items were being carried, it's more than likely that cover could be arranged—at a price.
That's the negative side of the picture. There are, of course, a thousand-and-one other risks for the owner or carrier of goods when they are being transported from one place to another. Most of these risks fortunately can be covered. Careless handling, accidents to the vehicle, pilfering, storm damage and, fire, to name only a few risks, cost millions of pounds every year. A good proportion of this huge bill has to be met out of the pockets of people who didn't know they were responsible or never thought it could happen until it did.
The law on the subject would fill volumes and even the experts don't know it all. This explains why from time to time damages are awarded against agents, carriers and consignees who thought they were covered by their standard form of agreement.
The only sure way is for an operator to cover the goods with a policy designed specially for his needs. For instance, there are available several policies covering goods carried on named vehicles, the limit of insurance being the total value of the loads carried by all the vehicles. Or the limit can be restricted to the aggregate value of the loads which may be expected to be exposed to damage at any one time.