AT EARLS COURT bypav,d,.....,
8th May 1970
Page 54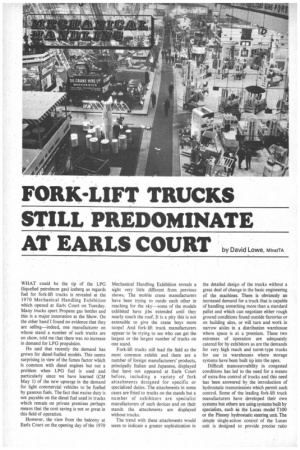 Page 55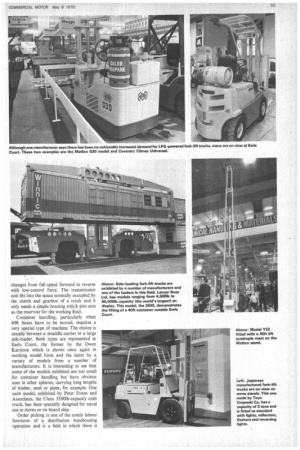 Page 56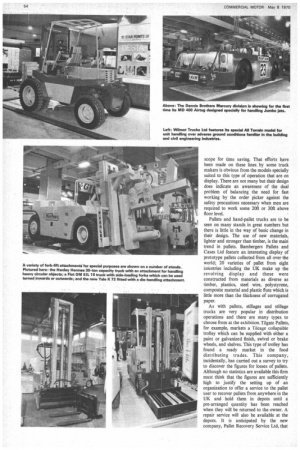 Page 57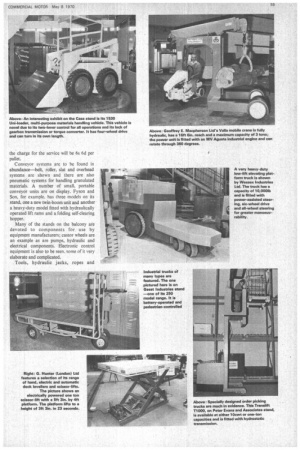 Page 58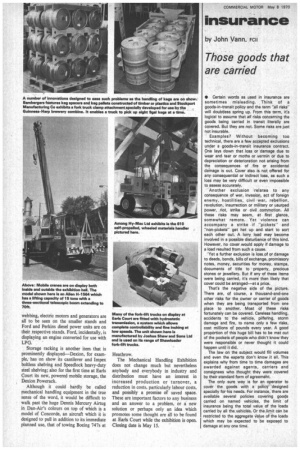 Page 54, 8th May 1970 —
AT EARLS COURT bypav,d,.....,
Close
Keywords :
Technology
,
Business
,
Transport
,
Engineering Vehicles
,
Packaging
,
Logistics
,
Supply Chain Management
,
Manufacturing
,
Forklift Truck
,
Pallet
,
Warehouse
,
Crane
WHAT could be the tip of the LPG (liquefied petroleum gas) iceberg as regards fuel for fork-lift trucks is revealed at the 1970 Mechanical Handling Exhibition which opened at Earls Court on Tuesday. Many trucks sport Propane gas bottles and this is a major innovation at the Show. On the other hand I found no evidence that they are selling—indeed, one manufacturer on whose stand a number of such trucks are on show, told me that there was no increase in demand for LPG propulsion.
He said that recently the demand has grown for diesel-fuelled models. This seems surprising in view of the fumes factor which is common with diesel engines but not a problem when LPG fuel is used and particularly since we have learned (CM May 1) of the new upsurge in the demand for light commercial vehicles to be fuelled by gaseous fuels. The fact that excise duty is not payable on the diesel fuel used in trucks which remain on private premises perhaps means that the cost saving is not so great in this field of operation.
However, the view from the balcony at Earls Court on the opening day of the 1970 Mechanical Handling Exhibition reveals a sight very little different from previous shows. The mobile crane manufacturers have been trying to outdo each other in reaching for the sky—some of the models exhibited have jibs extended until they nearly touch the roof. It is a pity this is not extensible to give the crane boys more scope! And fork-lift truck manufacturers appear to be trying to see who can get the largest or the largest number of trucks on one stand.
Fork-lift trucks still lead the field as the most common exhibit and there are a number of foreign manufacturers' products, principally Italian and Japanese, displayed that have not appeared at Earls Court before, including a variety of fork attachments designed for specific or specialized duties. The attachments in some cases are fitted to trucks on the stands but a number of exhibitors are specialist manufacturers of such devices and on their stands the attachments are displayed without trucks.
The trend with these attachments would seem to indicate a greater sophistication in the detailed design of the trucks without a great deal of change in the basic engineering of the machines. There is obviously an increased demand for a truck that is capable of handling something more than a standard pallet and which can negotiate either rough ground conditions found outside factories or on building sites, or will turn and work in narrow aisles in a distribution warehouse • where space is at a premium. These two extremes of operation are adequately catered for by exhibitors as are the demands for very high reach and turret-type trucks for use in warehouses where storage systems have been built up into the apex.
Difficult manoeuvrability in congested conditions has led to the need for a means of extra-fine control of trucks and this need has been answered by the introduction of hydrostatic transmissions which permit such control. Some of the leading fork-lift truck manufacturers have developed their own systems but others are using systems built by specialists, such as the Lucas model T100 or the Plessey hydrostatic steering unit. The simple single-action control of the Lucas unit is designed to provide precise ratio changes from full-speed forward to reverse with low-control force. The transmission unit fits into the space normally occupied by the clutch and gearbox of a truck and it only needs a simple housing which also acts as the reservoir for the working fluid. Container handling, particularly when 40ft boxes have to be moved, requires a very special type of machine. The choice is usually between a straddle carrier or a large side-loader. Both types are represented at Earls Court, the former by the Owen Karricon which is shown once again in working model form and the latter by a variety of models from a number of manufacturers. It is interesting to see that some of the models exhibited are too small for container handling but have obvious uses in other spheres, carrying long lengths of timber, steel or pipes, for example. One such model, exhibited by Peter Evans and Associates, the Cleco 35001b-capacity crab truck, has been specially designed for naval use in stores or on board ship. Order picking is one of the costly labour functions of a distribution warehousing operation and is a field in which there is
scope for time saving. That efforts have been made on these lines, by some truck makers is obvious from the models specially suited to this type of operation that are on display. There are not many but their design does indicate an awareness of the dual problem of balancing the need for fast working by the order picker against the safety precautions necessary when men are required to work some 20ft or 30ft above floor level.
Pallets and hand-pallet trucks are to be seen on many stands in great numbers but there is little in the way of basic change in their design. The use of new materials, lighter and stronger than timber, is the main trend in pallets. Bambergers Pallets and Cases Ltd feature an interesting display of prototype pallets collected from all over the world; 20 varieties of pallet from eight coiintries including the UK make up the revolving display and these were constructed from materials as diverse as limber, plastics, steel wire, polystyrene, composite material and plastic flute which is little more than the thickness of corrugated paper.
As with pallets, stillages and stillage trucks are very popular in distribution operations and there are many types to choose from at the exhibition. Tilgate Pallets, for example, markets a Tilcage collapsible trolley which can be supplied with either a paint or galvanized finish, swivel or brake wheels, and shelves. This type of trolley has found a ready market in the food distributing trades. This company, incidentally, has carried out a survey to try to discover the figures for losses of pallets. Although no statistics are available this firm must think that the figures are sufficiently high to justify the setting up of an organization to offer a service to the pallet user to recover pallets from anywhere in the UK and hold them in depots until a pre-arranged quantity has been reached when they will be returned to the owner. A repair service will also be available at the depots. It is anticipated by the new company, Pallet Recovery Service Ltd, that the charge for the service will be 6s 6d per pallet.
Conveyor systems are to be found in abundance—belt, roller, slat and overhead systems are shown and there are also pneumatic systems for handling granulated materials. A number of small, portable conveyor units are on display_ Fyson and Son, for example, has three models on its stand, one a new twin-boom unit and another a heavy-duty model fitted with hydraulically operated lift rams and a folding self-clearing hopper.
Many of the stands on the balcony are devoted to components for use by equipment manufacturers; castor wheels are an example as are pumps, hydraulic and electrical components. Electronic control equipment is also to be seen. some of it very elaborate and complicated.
Tools, hydraulic jacks, ropes and webbing, electric motors and generators are all to be seen on the smaller stands and Ford and Perkins diesel power units are on their respective stands. Ford, incidentally, is displaying an engine converted for use with LPG.
Storage racking is another item that is prominently displayed—Dexion, for example, has on show its cantilever and Impex boltless shelving and Speedlock heavy-duty steel shelving; also for the first time at Earls Court its new, powered mobile storage, the Dexion Powerack.
Although it could hardly be called mechanical handling equipment in the true sense of the word, it would be difficult to walk past the huge Dennis Mercury Airtug in Dan-Air's colours on top of which is a model of Concorde, an aircraft which it is designed to pull in addition to its immediate planned use, that of towing Boeing 747s at Heathrow.
The Mechanical Handling Exhibition does not change much but nevertheless anybody and everybody in industry and distribution must have an interest in increased production or turnover, a reduction in costs, particularly labour costs. and possibly a promise of saved space.
These are important factors to any business and an answer to a problem, or a new solution or perhaps only an idea which promotes some thought are all to be found at Earls Court while the exhibition is open. Closing date is May 15.