bird's eye view
8th May 1970
Page 46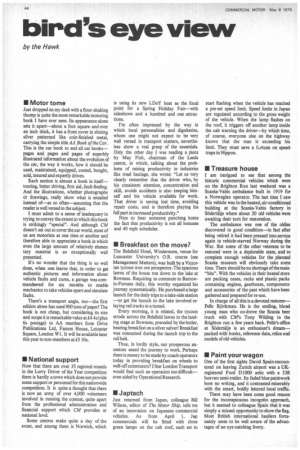 Page 46, 8th May 1970 —
bird's eye view
Close
Keywords :
Transport
,
Scania Ab
,
Södertälje Municipality
,
Land Transport
,
Trucks
,
Scania-vabis
,
Vabis
,
Marcus Wallenberg-hallen
,
Semi-trailer Truck
,
Ambulance
,
Truck Driver
,
Truck
by the Hawk • Motor tome
Just dropped on my desk with a floor-shaking thump is quite the most remarkable motoring book I have ever seen. Its appearance alone sets it apart—about a foot square and over an inch thick, it has a front cover in shining silver patterned like coin-finished metal, carrying the simple title AA Book of the Car. This is the car book to end all car books— pages and pages and pages of superbly illustrated information about the evolution of the car, the way it works, how it should be used, maintained, equipped, costed, bought, sold, insured and expertly driven.
Each section is almost a book in itself— touring, better driving, first aid, fault-finding. And the illustrations, whether photographs or drawings, really show what is entailed instead of—as so often—assuming that the reader is well versed in the subject.
I must admit to a sense of inadequacy in trying to convey the extent to which this book is strikingly "special". And although CM doesn't set out to cover the car world, most of us are motorists at one time or another and therefore able to appreciate a book in which even the large amount of relatively elemen tary material is so exceptionally well presented.
It's no wonder that the thing is so well done, when one learns that, in order to get authentic pictures and information about vehicle faults and cures, a garage was commandeered for six months to enable mechanics to take vehicles apart and simulate faults.
There's a transport angle, too—the first edition alone has used 900 tons of paper! The book is not cheap, but considering its size and scope it is remarkable value at £4 4s (plus bs postage) to AA members from Drive Publications Ltd, Fanum House, Leicester Square, London WI. It will be available later this year to non-members at £5 I Os.
• National support
Now that there are over 35 regional rounds in the Lorry Driver of the Year competition there is hardly a town which does not provide some support or personnel for this nationwide competition. It is quite a thought that there is now an army of over 4,000 volunteers involved in running the contest, quite apart from the professional administration and financial support which CM provides at national level.
Some centres make quite a day of the event, and among them is Norwich, which is using its new LDoY heat as the focal point for a Spring Holiday Fair—with sideshows and a hundred and one attractions.
I'm often impressed by the way in which local personalities and dignitaries, whom one might not expect to be very well versed in transport matters, nevertheless show a real grasp of the essentials. Only the other day I was reading a piece by May Fish, chairman of the Leeds centre, in which, talking about the problems of raising productivity in industries like road haulage, she wrote: "Let us very clearly remember that the driver who, by his consistent attention, concentration and skill, avoids accidents is also keeping himself and his vehicle available for work. That driver is saving lost time, avoiding repair costs, and is therefore playing his full part in increased productivity."
Nice to hear someone punching home the fact that productivity is not all bonuses and 40 mph schedules.
• Breakfast on the move?
The Belsfield Hotel, Windermere, venue for Lancaster University's O.R. course (see Management Matters), was built by a Victorian tycoon iron ore prospector. The spacious lawns of the house run down to the lake at Bowness. Requiring to commute to Barrowin-Furness daily, this worthy organized his journey systematically. He purchased a large launch for the daily trips to a lake-side station —to get the launch to the lake involved relaying rail tracks in a tunnel.
Every morning, it is related, the tycoon strode across the Belsfield lawns to the landing stage at Bowness, preceded by the butler, bearing breakfast on a silver salver! Breakfast. was consumed during the launch trip to the rail halt.
Thus, in lordly style, our prosperous ancestors eased the journey to work. Perhaps there is money to be made by coach operators today in providing breakfast on wheels to well-off commuters? I fear London Transport would find such an operation too difficult— even aided by Operational Research.
• Japtach
Just returned from Japan, colleague Bill Wilson, editor of The Motor Ship, tells me of an innovation on Japanese commercial vehicles. As from April 1, Jap commercials will be fitted with three green lamps on the cab roof, each set to start flashing when the vehicle has reached a pre-set speed limit. Speed limits in Japan are regulated according to the gross weight of the vehicle. When the lamp flashes on the roof, it triggers off another lamp inside the cab warning the driver—by which time, of course, everyone else on the highway knows that the man is exceeding his limit. They must save a fortune on speedtraps in Nippon.
• Treasure house
I am intrigued to see that among the historic commercial vehicles which were on the Brighton Run last weekend was a Scania-Vabis ambulance built in 1919 for a Norwegian operator. The last time I saw this vehicle was in the heated, air-conditioned building at the Scania-Vabis factory in SOdertalje where about 20 old vehicles were awaiting their turn for restoration.
The ambulance was one of the oldies discovered in good condition—in fact after being retired it had been pressed into service again in vehicle-starved Norway during the War. But some of the other veterans to be restored were in a deplorable state, and to complete enough vehicles for the planned Scania museum will obviously take some time. There should be no shortage of the main "bits". With the vehicles in their heated store are packing cases, racks and plastic packs containing engines, gearboxes, components and accessories of the past which have been gathered and prepared for re-use.
In charge of all this is a devoted restorerPelle Bjorkman. He is the smiling, blond young man who co-drove the Scania beer truck with CM's Tony Wilding in the Brighton run a few years back. Pelle's office at SOdertalje is an enthusiast's dream— packed with books, reference data, relics and models of old vehicles.
•• Paint your wagon
One of the first sights David Spain encountered on leaving Zurich airport was a UKregistered Ford D1000 artic with a 33ft boxvan semi-trailer. Its faded blue paintwork bore no writing, and it contrasted miserably with the smart, boldly lettered local traffic.
There may have been some good reason for the inconspicuous incognito approach, but it seemed to colleague Spain that it was simply a missed opportunity to show the flag. Most British international hauliers fortunately seem to be well aware of the advantages of an eye-catching livery.