meet
8th May 1970
Page 44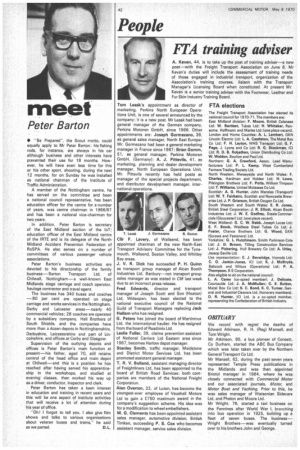 Page 44, 8th May 1970 —
meet
Close
Peter Barton
• "Be Prepared". the Scout motto, could equally apply to Mr Peter Barton; his fishing rods, for instance, are always in his car although business and other interests have prevented their use for 18 months. However, he will have even less time for this or his other sport, shooting, during the next 12 months, for on Sunday he was installed as national chairman of the Institute of Traffic Administration.
A member of the Nottingham centre, he has served on the committee and been a national council representative, has been education officer for the centre for a number of years. was centre chairman in 1966/67 and has been a national vice-chairman for two years.
In addition, Peter Barton is secretary of the East Midland section of the loT; education officer of the East Midland centre of the IRTE and is its delegate of the North Midland Accident Prevention Federation of RoSPA. He also serves on a number of committees of various passenger vehicle associations.
Peter Barton's business activities are devoted to his directorship of the family business— Barton Transport Ltd, of Chilwell, Nottingham—a well-known East Midlands stage carriage and coach operator, haulage contractor and travel agent.
The business has 340 buses and coaches —60 per cent are operated on stage carriage and works services in the Nottingham. Derby and Leicester areas—nearly 40 commercial vehicles: 26 coaches are operated by a subsidiary company, Hall Brothers of South Shields, and the companies have more than a dozen depots in Nottinghamshire, Derbyshire, Leicestershire and part of Lincolnshire, and offices at Corby and Glasgow.
Supervision of the outlying depots and offices is Peter Barton's main function at present—his father, aged 70, still retains control of the head office and main depot at Chilwell —and this is a position he has reached after having served his apprenticeship in the workshops, and studied at evening classes, then worked his way up as a driver, conductor, inspector and clerk.
Peter Barton has taken a keen interest in education and training in recent years and this will be one aspect of institute activities that will receive a lot of attention during his year of office.
"Oh ! I forgot to tell you, I also give film shows and talks to various organisations about veteran buses and trams," he said as we parted. D.L.