FTA training adviser
8th May 1970
Page 44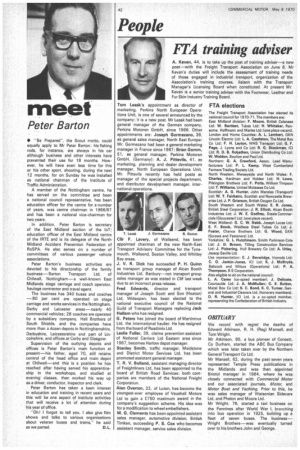 Page 44, 8th May 1970 —
FTA training adviser
Close
A. Kevan, 44, is to take up the post of training adviser--a new post—with the Freight Transport Association on June 8. Mr Kevan's duties will include the assessment of training needs of those engaged in industrial transport, organization of the Association's training courses, liaison with the Transport Manager's Licensing Board when constituted. At present Mr. Kevan is a senior training adviser with the Footwear, Leather and Fur Skin Industry Training Board.
Tom Leask's appointment as director of marketing, Perkins North European Operations Unit, is one of several announced by the company: it is a new post. Mr Leask had been general manager of the German company, Perkins Motoren GmbH, since 1966. Other appointments are: Joseph Gormezano, 39, as general sales manager, North East Europe: Mr. Gormezano had been a general marketing manager in France since 1967: Brian Gomm, 51, as general manager, Perkins Motoren GmbH, (Germany); A. J. Pittevils, 41, as marketing, planning and dealer development manager. North European Operations Unit. Mr. Pittevils recently has held posts as manager of the special projects department. and distributor development manager, international operations.
ClIr F. Lavery, of Wallsend, has been appointed chairman of the new North-East Transport Advisory Committee for the Tynemouth, Wallsend, Seaton Valley, and Whitley Bay areas.
J. V. R. Dick has succeeded P. H. Quinn as transport group manager of Alcan Booth Industries Ltd, Banbury-not transport group sales manager as was stated in CM last week due to an incorrect press release.
Fred Edwards, director and transport manager of Joseph Scott and Son (Heaton) Ltd, Wideopen, has been elected to the national executive council of the National Guild of Transport Managers replacing Jack Hallam who has resigned.
G. Peters has joined the board of Martintrux Ltd, the international haulier. He has resigned from the board of R ead i mix Ltd.
Leslie Fuller, 39, claims prevention assistant of National Carriers Ltd Eastern area since 1967, becomes Harlow depot manager. Stanley Smith, traffic manager, Maidstone and District Motor Services Ltd, has been promoted assistant general manager.
T. R. V. Bolland, assistant managing director of Freightliners Ltd. has been appointed to the board of British Road Services: both companies are members of the National Freight Corporation.
Alan Overton, 22, of Luton, has become the youngest-ever employee of Vauxhall Motors Ltd to gain a £750 maximum award in the company's suggestion scheme. His idea was for a modification to wheel embellishers.
M. G. Clements has been appointed assistant sales manager, automotive division. British Timken, succeeding P. S. Cox who becomes assistant manager, service sales division.
FTA elections
The Freight Transport Association has elected its national council for 1970-71. The members are:
East Midland division: F. Moore, British Celanese Ltd; W. Bar-Octet. Tubes Ltd: H. Whitaker, Ransomer Hoffmann and Merles Ltd: (one place vacant). London and Home Counties: A. L. Lambert, GKN Lincoln Electric Ltd; L. A. Castleton, The Metal Box Co Ltd; F. H. Layton, WHS Transport Ltd: G. F. Page, J. Lyons and Co Ltd; R. G. Stockman, ICI Ltd; R. D. B. Robathan, Union Distributing Co Ltd; W. Weldon, Boulton and Paul Ltd.
Northern: G. A. Crawford, Assoc. Lead Manufacturers Ltd: P. L. Kemp, West Cumberland Farmers Trading Society Ltd.
North Western. Merseyside and North Wales: F. Charles, Hardman and Holden Ltd; H. Lowe, Pilkington Brothers Ltd; F. Potts, William Timpson Ltd: T. Williams, United Molasses Co Ltd.
Scottish: A. G. Hunter, John Menzies (Transport) Ltd: W. T. Fairbairn, Scottish and Newcastle Breweries Ltd ; J. P. Grierson, British Oxygen Co Ltd. South Western and South Wales: E. R. Jones, British Steel Corporation: J. R. Elliott, Alcan Booth Industries Ltd; J. W. E. Godfrey, Steels Commercials (Gloucester) Ltd: (one place vacant).
West Midland: G. C. W. Nabb, Joseph Lucas Ltd; E. F. Brock, Weidess Steel Tubes Co Ltd; J. Foster, Chance Brothers Ltd; G. Wood, GKN (Screws and Fasteners) Ltd.
Yorkshire: G. L. Hutchinson. Smith Parkinson Cole Ltd; J. D. Brown, Tilling Construction Services Ltd: J. Pickering, Hull Brewery Co Ltd: A. Utley, Jessop Saville Ltd.
Use representation: E. J. Beveridge, Harrods Ltd;
C. 0. Jenkin-Jones, ICI Ltd; K. J. McBryde, Babcock and Wilcox (Operations) Ltd: P. A. Thompson, B S Corporation.
Also eligible to sit on the national council:
L. A. Carey Ico-opted member): J. Delicate, Counaulds Ltd; J. A. McMullen; C. E. Sutton, Metal Box Co Ltd; S. C. Bond, K. C. Turner, General and Industrial Cleaners Ltd, (honorary members).
D. R. Hunter, ICI Ltd. is a co-opted member, representing the Confederation of British Industry.
OBITUARY
We record with regret the deaths of Edward Atkinson, R. H. (Reg) Mansell, and Tom Wright.
Mr Atkinson, 85, a bus pioneer of Consett. Co Durham. started the ABC Bus Company which was later taken over by the Northern General Transport Co Ltd.
Mr Mansell, 62, during the past seven years represented Temple Press publications in the Midlands and was then appointed Bristol manager in 1964, where he was closely connected with Commercial Motor and our associated journals. Motor, and Motor Boat and Yachting Prior to this, he was sales manager of Watsonian Sidecars Ltd, and Phelon and Moore Ltd.
Mr Wright, 76. started a taxi business on the Pennines after World War I. branching into bus operation in 1925, building up a fleet of seven buses. The business— Wright Brothers—was eventually turned over to his brothers John and George.
Tags
People
:
Leslie Fuller
,
Wallsend
,
Jack Hallam
,
Maidstone
,
R. V. Bolland
,
A. J. Pittevils
,
H. (Reg) Mansell
,
Brian Gomm
,
A. Kevan
,
Stanley Smith
,
G. Peters
,
R. H. (Reg) Mansell
,
George
,
M. G. Clements
,
Tom Leask
,
Joseph Gormezano
,
K. C. Turner
,
P. S. Cox
,
Tom Wright
,
Edward Atkinson
,
Fred Edwards
,
Alan Overton
,
A. Carey Ico