LA refuses hgv licences
8th May 1970
Page 39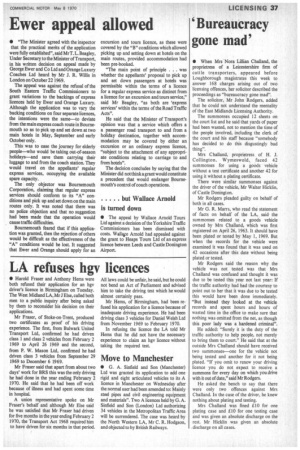 Page 39, 8th May 1970 —
LA refuses hgv licences
Close
• Harold Fraser and Anthony Hems were both refused their application for an hgv driver's licence in Birmingham on Tuesday. The West Midland LA, Mr J Else, called both men to a public inquiry after being asked by them to reconsider his decision on their applications.
Mr Fraser, of Stoke-on-Trent, produced two certificates as proof of his driving experience. The first, from Bulwark United Transport Ltd, confirmed he had driven class 1 and class 2 vehicles from February 2 1969 to April 26 1969 and the second, from P. W. Mason Ltd, confirmed he had driven class 3 vehicles from September 29 1969 to December 6 1969.
Mr Fraser said that apart from about two days' work for BRS this was the only driving he had done in the year ending February 2 1970. He said that he had been off work because of illness and had spent some time in hospital.
A union representative spoke on Mr Fraser's behalf and although Mr Else said he was satisfied that Mr Fraser had driven for five months in the year ending February 2 1970, the Transport Act 1968 required him to have driven for six months in that period. All laws could be unfair, he said, but he could not bend an Act of Parliament and advised him to take the driving test which he would almost certainly pass.
Mr Hems, of Birmingham, had been refused his application for a licence because of inadequate driving experience. He had been driving class 3 vehicles for Daniel Welsh Ltd from November 1969 to February 1970.
In refusing the licence the LA told Mr Hems that he did not have the necessary experience to claim an hgv licence without taking the required test.
Move to Manchester
• G. A. Sinfield and Son (Manchester) Ltd was granted its application to add one rigid and eight articulated vehicles to its A licence in Manchester on Wednesday after the normal user had been amended to: Mainly steel pipes and civil engineering equipment and materials". Two A licences held by G. A. Sinfield and Son (London) Ltd authorizing 34 vehicles in the Metropolitan Traffic Area will be surrendered. The case was heard by the North Western LA, Mr C. R. Hodgson. and objected to by British Railways.